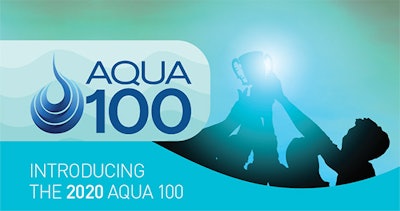 The AQUA 100 competition recognizes exceptional pool and spa retailers across the nation.
While this year's class of inductees all bring something new to the table, they do share a common trait: passion. These retailers have a deep passion not only for their business but to better the pool and spa industry as a whole.
A lot of the retailers you'll read about on the following pages have humble beginnings — some started out retailing from their homes. All of them have deep family values and invest in their employees. They are even educating their workers to become the next generation of pool and spa professionals.
Now, selected by our independent panel of judges, AQUA is very pleased to introduce the 2020 AQUA 100 winners:
DesRochers Backyard Pools & Spas
Hot Spring Spas of Sioux Falls
Richard's Total Backyard Solutions
Southern Pools and Spas Kingsport
About the Judges
The AQUA 100 was judged by an independent panel:
Rene Huston is the president of Patio Pleasures Pools & Spas located in Sun Prairie, Wis. and Madison, Wis. Patio Pleasures is a previous AQUA 100 winner. Rene has spent the last 13 years building the Patio Pleasures brand and infrastructure, playing a key role in financial management and operations. She has a strong passion for the pool and spa industry and sits on the board for the Midwest Pool & Hot Tub Alliance.
Adrianne DeSelle earned her degree in sales and marketing. She was also part of the Disney marketing internship where she had the opportunity to work with one of the most successful companies in the world to understand their success strategies. Adrianne has worked in the sales and marketing industry for 20-plus years. Her skills and drive have been a large factor in building a nationally recognized pool and spa retail store in Wisconsin — Patio Pleasures, a previous AQUA 100 winner. When not running her business, Adrianne is passionate about helping others and wellness. She enjoys running, health and wellness and spending time with her three boys.
Ted Lawrence, POOLCORP corporate retail category manager, has been in the specialty swimming pool industry for more than 25 years and is known as a leading authority on omnichannel retail. With his experience and proven methods, Lawrence coaches hundreds of small independent as well as large multistore chains on how to skyrocket revenues, increase consumer loyalty, plan for the future and reach the next level. He is an award-winning international presenter at dozens of industry events globally.
Merry Wise has been involved in all phases of the swimming pool industry for over 47 years. She was vice president of Wise Pool Company, an AQUA 100 Hall of Fame company and firm that won numerous regional and international design awards, including the prestigious APSP Chairman's Award. She is president of Retrospective Publishing and has authored a pool care book for the pool owner, "Cruising Through Pool Care the Wise Way," and is a freelance writer contributing to AQUA Magazine. Merry is also an industry speaker and consultant specializing in customer service, marketing and retail issues for some of the industry's most prestigious firms.