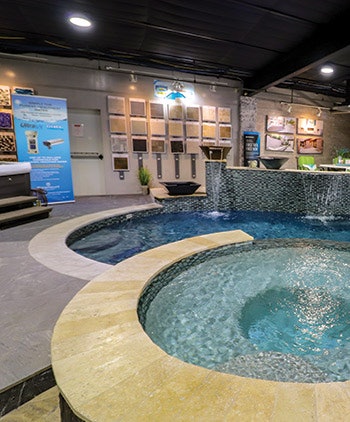 "We have evolved in the way we communicate with our clients."

—Cristina Nikolov
Social Media Marketing Manager, Richard's Total Backyard Solutions
"I started Richard's Total Backyard Solutions with every penny I had saved," says owner JR Richard. That commitment has turned JR and his wife, Julie, into an unstoppable management team for their builder, service and retail business.
Their company was founded on the "Do Right" philosophy: "Do Right" products, "Do Right" prices and "Do Right" services. Today, not only does the company boast over 7,000 satisfied customers, but the largest showroom in Texas at 10,000 sq. ft.
The AQUA 100 judges were very impressed with the company's use of technology to dramatically enhance the customer experience. For instance, it developed its own app with a dedicated homeowner portal. "The same app allows our team to manage their jobs from anywhere through their phone and tablets," says Cristina Nikolov, social media marketing manager at Richard's Total Backyard Solutions.
The app has streamlined the staff's communication and established better accuracy. Customers can not only adjust job schedules, change orders and communicate with their project manager, but can watch informational videos and see photos of their construction progress.
Richard's Total Backyard Solutions' showroom is a state-of-the-art experience. Customers can design their ideas virtually on the company website or in-store on touch- screen computers. "Every client can truly see their storyboard come to life with 3D designs and products we already have on display in our showroom," says Nikolov.
For clients wanting an even more immersive experience, Richard's offers virtual reality. Clients can walk through their design on-screen in the showroom, but by all appearances, they're in their very own backyards.
The staff also sends a personal video message to each customer expecting a delivery and each potential lead. "This way, the customer knows exactly who they are meeting," says Nikolov. Since incorporating texting in their communication methods, the company's leads have significantly increased.
As for marketing, Richard's has gone completely digital. "Our marketing money is invested heavily on Google Ads, Facebook ads and text ads to leads via our texting program."
The investment certainly paid off when HGTV saw one of the company's project photos on Google and asked to feature it on the series "Best. Pool. Ever.," which aired in July 2019.
"We didn't apply to be cast on the TV show," says Nikolov. "They found us. It was an amazing accomplishment for our entire team to be featured on national television."