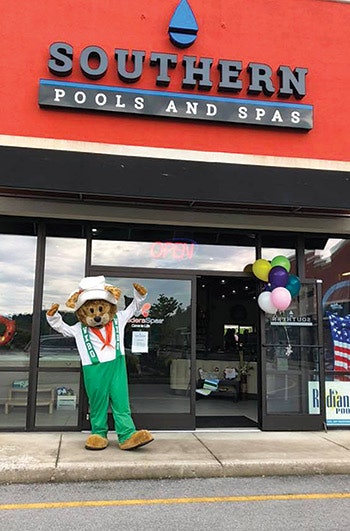 "We believe we give the best customer service in our market, and we will continue to strive to be better."

—Delena Slone
Store Manager, Southern Pools & Spas Kingsport
Rick Singleton, Owner of Southern Pools and Spas Kingsport, started his business much like a lot of people do — by asking for advice.
"I had some friends that had been in the spa business for awhile, so I met with them to learn more about the industry," says Singleton. He was given the confidence to open his first retail location and, after some success, opened a since-permanent location (one of two company storefronts) in Bristol, Va.
His son, Cory Singleton, became co- owner in 2017 after showing interest in the family business. "Rick and Cory together, with all their pool and spa knowledge, have led this company to become a powerhouse in the market today," says Delena Slone, store manager at Southern Pools and Spas Kingsport.
The business opened its second location in Kingsport, Tenn., in 2019 and has seen steady growth, large in part due to its excellent customer service. Its showroom also comes fully stocked with models to fit every customer's budget. "The customer is always first," says Slone. "That means we give them the best products and the best service they can get."
The staff's motto is, "Live a Little, You Deserve it!" Their quality care has certainly paid off, which is evident in the company's solid five-star rating on Google reviews, a statistic that impressed the AQUA 100 judges. And with such positive appraise, the company has even seen followers make large purchases without ever stepping in its store.
Giving back is also an important part of Southern Pools and Spas. "We teamed up with Marine Reserve Corp and participated in its annual Toys for Tots Drive," says Slone. Slone also contacted the company's neighboring businesses and encouraged them to participate. "A lot of them participated in the drive," she says.
The company's success has even caught the attention of one of its manufacturers, Caldera. "Caldera sent a production crew to our store for an interview and video for its Thrive 2020 event," says Slone. The Caldera Dealer Summit recognizes exceptional Caldera dealers and hosts a number of them for training, speakers and networking opportunities.
"We love what we do," says Slone. "And we hope it reflects in our work."