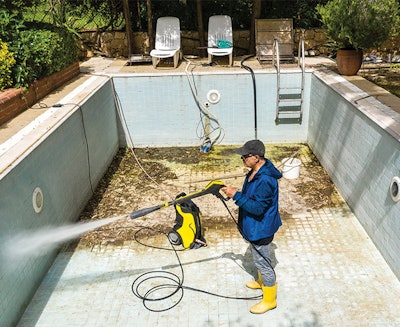 Even as things inch back toward "normal," the uncertainty that defined 2020 continues to challenge the service sector.
Successful pool service depends on the harmony of interacting variables — labor, equipment, chemicals, time frames — but demand and delays are still affecting the equation.
"I'm used to dealing with a certain time frame for remodeling a pool or installing something," says Rich Tarricone of Aquatic Pool Systems Pool Repair. "But there's a shortage of plastics, there's a shortage of employees, there's a shortage of chemicals, and some of those chemicals are used in the plastic industry...it's a lot of things that all trickle down."
"[Customers] call up and say, 'I need a quote on this, and when can you do it?' And I say, 'First of all, you need to understand what's going on in the pool industry bubble,'" he says. "'We'll find out if it's even available, and then we'll have to go from there. Because it might be delayed weeks, sometimes months. We just don't know.'"
GREAT EXPECTATIONS
This unpredictability necessitates careful management of customer expectations.
"Unmet expectation is the root of unhappiness. I try to tell people what to expect, but it's just hard," says Tarricone. "It's hard to give accurate expectations to people when I'm calling a subcontractor up to say, 'When are you coming?' And they say, 'You're on the list, but it might be another week,' or 'We're waiting for material.'"
Customer frustration becomes inevitable at some point. "I think people's personalities in general have been pushed to their limits. People have been cooped up in their homes. They're physically and mentally stressed, and they just want what they want — they want it now," he says.
With much out of their control, the best pool pros can do is communicate clearly and be transparent. For Tarricone, this meant the addition of a disclaimer.
RELATED: What Pool Service Is Like Now
"For the first time ever, I'm putting something on my pool renovation quotes that says, 'The homeowner understands that this quote reflects the current conditions,'" he explains. "And then it goes on to say, 'The contractor can't guarantee the availability of supplies and is not responsible for schedules.'
"Because I'm at the mercy of subcontractors, if one guy can't get something, it affects everybody in line."
Fortunately, most of his customers have been understanding. "They're like, 'Oh yeah, we're hearing that about the refrigerator we ordered. And we've been waiting for doors, and we've been waiting for windows,' and it just goes on and on," he says.
EQUIPMENT-DEFICIENT
Across the board, as the summer of 2021 reaches its zenith, equipment shortages show no signs of abating, says Tricia McCausland of Tri-City Pools in Fort Myers. "Automation parts, especially, have been delayed. We do our best to repair items and keep things running with as minimal replacement parts as we can get," she says.
Further up the coast on the Outer Banks, Jill Tillett of Nags Head Pools, LLC says some of her hot tub manufacturers' orders are now a year out. "Finding a hot tub to sell is like finding a needle in a haystack," she says. "And our hot tub covers are usually manufactured in three to four weeks, but now we're waiting three to four months."
Pool heaters are just as elusive, she adds. "We had to trade heat pumps with a local service company recently to find the size we needed for a replacement."
In the past, Dan Lenz of All Seasons Pools & Spas would always allow his sales team to discount installed pump heaters. "I took that off the table this year," he says. "[Customers] are going to need it. There's no point in us discounting it."
As a Snowbelt retailer, All Seasons would usually complete an early-buy in September. "We would normally buy maybe a third of our expected needs, and then place reorders throughout the year, every four to six weeks once the season starts for restocking," Lenz says.
RELATED: 2021 SOI Service Report
But this year, it's a different story. "Two weeks ago, we literally ordered the entire 2022 season based on our best guess of the product we'll need."
With enormous quantities on order and no way of knowing when they'll show up, there's definite potential for warehousing and cashflow headaches. "We don't have any control over when the stuff is shipped. So if they suddenly have a surplus of filters, next week I could have a semi truck show up bringing the rest of the filters I already have on order that I haven't gotten yet, along with all of next year's filters."
CHLORINE STING
Meanwhile, the saga of chlorine scarcity continues. Tales of rationing, borrowing and resorting to online orders are commonplace.
"We were one bucket away from being completely out of dichlor for the 150 properties we service on a weekly basis just last week," says Tillett. "For the first time ever, we were forced to look online for it. Thankfully, we found a distributor who had recently received a few buckets as a mistake, and we were able to grab them."
Lenz says All Seasons is lucky enough to have enough chlorine to make it through the year, but like countless others, they're rationing it. "We only let our customers buy from us what they bought from us last year in terms of poundage," he explains. "And any new customers that come in are limited to single purchases of small quantities."
Even though the industry has been aware of the situation for a while, there seems to be some disconnect with customer awareness.
"It's amazing how many people still don't even know there's a problem," says Lenz. "We even started calling anybody who hasn't yet bought all of the poundage that we've allotted to them based on last year — before we're potentially out of it. I would say 30% of the people are receptive to those calls. The other two-thirds of the people, half of them think it's a sales ploy, a marketing thing."
To manage their supply, All Seasons tracks customer sales. "We're doing our best to try to control and prevent hoarding and also ensure that our customers have what they need before we let non-customers come in and buy," Lenz says.
"We've had people try to con us. A husband comes in, and we say, 'Oh, you can only buy 20 lbs because that's what you bought last year.' And he leaves and sends his wife back later that evening wanting to buy her 20 lbs. But we track the sales by property address, so we're like, 'Sorry, you already bought one of these today.' Then, they send their teenage son in the next morning to try to create a new account, but when we asked to see his driver's license, the wheels came off of that, too."
VARIABLE SPEED, VARIABLE PRICING
Despite everything, adjustment to the new DOE regulations seems to be going smoothly.
We have been selling our customers on variable-speed pumps since 2009," says Tillett. "We only have a few ODP's left on our regular service route, but we have a few variable-speed pumps on hand ready to go."
RELATED: 33 Tricks of the Service Trade
But uncertainty remains, and business owners realize that sudden price hikes can cause havoc on a pool business. "There are bulletins at the counter of some of the suppliers saying that they can't lock in a price right now," says Tarricone. "We're basically in a response type of situation where at any given moment, the price to us can change without warning, and we have to pass that on."
Lenz believes these price increases are here to stay. "We're not going to see chemicals cheaper a year from now because the new plant is up and running. We're not going to see equipment manufacturers dropping their prices by 10% because they now have inventory," he says. "That doesn't happen. At some point when the wheels come off of this surge that we're all experiencing, it's going to be really interesting to see where things end up."
---
This article first appeared in the August 2021 issue of AQUA Magazine — the top resource for retailers, builders and service pros in the pool and spa industry. Subscriptions to the print magazine are free to all industry professionals. Click here to subscribe.
---