In the wake of an unforgettable year, the service sector entered 2021 with a flood of new pools demanding maintenance. But it also faces a serious drought: Supply seems to evaporate into thin air, and labor has become nearly as elusive as our return to "normal."
Among the most unprecedented challenges has been a change in the nature of the pool technician/ homeowner relationship.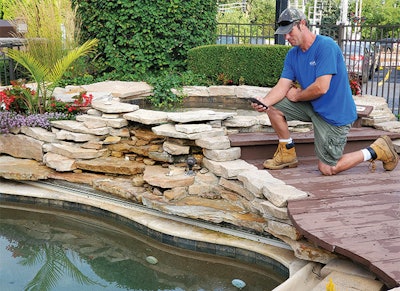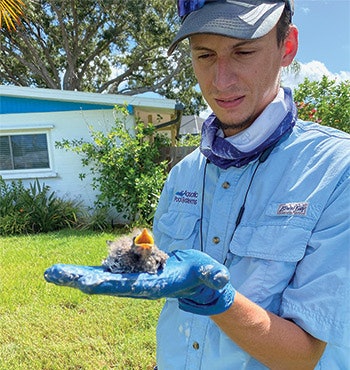 HONEY, THE CUSTOMERS ARE HOME!
As workplaces shifted toward remote operations, and employees adapted to working from home, a new kind of pool customer was born: the homebound homeowner.
This new type of client is a bittersweet addition. On one hand, we can thank homebound customers for the success that swept the industry off its feet last year. As people spent more time at home, they spent more money amping up their backyards, which fueled demand.
"We've been fortunate that our client base transitioned to remote work and became interested in upgrades," says Dick Abare of Algae Busters Pool Service in Tampa, Fla. "That's where our demand has increased tremendously. Whether it be putting in a heater or a salt system, or updating an automated system they've always wanted to get done, it's just been great."
On the other hand, the relative solitude once enjoyed by service pros on the jomb is a thing of the past. No longer are clients away at the office while technicians work sight unseen. These days, the customer roams the house at all hours, free to keep a close eye on what's happening in the backyard.
RELATED: Pleatco Crowns the 2020 Perfect PoolGuy & PoolGal!
One anecdote in particular — from Shannon Sellers of Jeff's Pool and Spa in New Brunswick, Ga. — resonates. A customer who'd been serviced by Sellers' company for several months had never engaged much with the technicians at work, until COVID hit.
"This specific customer was watching our technicians very closely and nitpicking every little thing," Sellers says. "Specifically, they left a penny on one of the steps to test my technician: Was he going to find this penny? Was he doing what he was being paid for? Thank goodness, we know that penny trick, and our technician caught it. It was an experience that he was able to bring back to our other technicians and share as a caution. Customers are home now, and you may not think they're watching, but they definitely are."
But for Sellers, this isn't intimidation — it's inspiration. Recently crowned 2020's Pleatco Perfect PoolGal, she knows a thing or two about good service, and she confidently embraces the watchful eye of her homebound customers.
"Personally, I'm a detail-oriented person anyway, so I could care less if they're watching me or not," Sellers says. "I know I'm doing what I'm supposed to be doing, and I know I'm a hard worker. If I'm on their property, I'm giving them 100%."
Abare sticks strictly to repairs at Algae Busters, but he shares a similar sentiment.
"Customers are home now, and quite honestly, I like it," he says. "They've always had questions. The more we can educate our customers, the more comfortable they're going to feel about their repairs. To me, an informed customer is my best customer."
To satisfy the attentive, informationhungry customer, some businesses are amping up communications to include more detailed information sent out more frequently. Tricia McCausland of Tri-City Pools in Fort Myers, Fla., says that email has become the fastest and easiest way to work with her customers.
"Our techs use a weekly tracking system," she says. "It allows them to input and track everything they do while on the job, which gets sent immediately to the customer via email."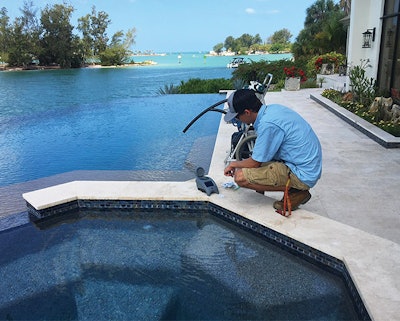 PRICE ADJUSTMENT
As demand for supplies rises, so do vendor costs. While most of this is due to record demand, some price increases are remnants of the general havoc that was 2020. Shipping delays from overseas and customs obstacles at the border took their toll on inventories across the country, and a chemical plant fire ignited by Hurricane Laura sent a portion of the industry's trichlor supply up in flames.
While some businesses have adjusted their prices to match vendor increases, Aquatic Pool Systems in Sarasota, Fla. has kept its prices relatively the same, says owner Rich Tarricone.
"In the pool service, people raise prices every year. It doesn't always seem to keep up with what prices should be doing, but it happens regardless," he says. "We were going to increase our prices in the spring, but I didn't know if that would be a moral or ethical thing to do, so we didn't. We held off on it, and we've been able to do okay."
But Tarricone believes this issue is something the industry will have to revisit in the upcoming year. "It's time to raise prices. Everything else is going up," he says.
THE GREAT SUPPLY DROUGHT
By now, COVID is the familiar culprit to blame for the industry's supply shortages. Demand for backyard additions and upgrades created backlogs and backorders like we'd never seen before.
"All the newer stuff — touch display, panel boards, control boards — is almost impossible to get your hands on right now," says Mari Lange of Algae Eaters in Tampa Bay, Fla. "And gas heaters are going really quickly, too."
Not to mention the tales of anxious stockpiling as businesses try to stay ahead of the game and avoid supply holdups in the new year.
Tarricone says getting products has been so difficult that he lost a customer over it.
RELATED: How to Save an Angry Customer
"A customer basically accused me of being a liar because I couldn't get salt," he says. "I had my supplier write a letter and send it to them, saying we couldn't get the product.
"The customer said, 'Well, I see them on the internet.'
"I said, 'Then buy them.' That's not how I run, I go through licensed distribution. And that's where it's been frustrating: People think that we're making up stories."
So, how are service pros dealing with supply shortage? At Tri-City Pools, McCausland opted to limit the amount going out at one time.
"Normally, each of our techs would be able to take a 50-lb bucket of chlorine tabs for each truck as they needed them," she says. "For now, we limit them to only take what they may need daily. That control has been working well for us. Plus, it helps to reduce unnecessary waste."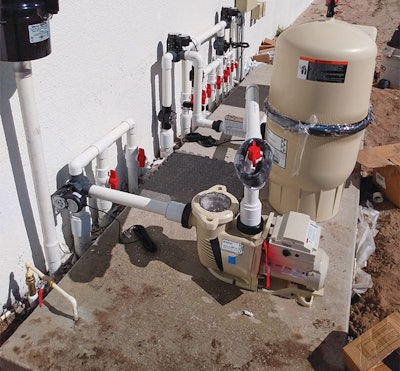 STOLEN GOODS
Right now, customers need new or replacement equipment, but often it's simply unavailable. This strain on supply has a bitter side effect: In some cases, it appears people are desperate enough for parts that they resort to stealing them.
Lange encountered this startling problem in a nearby neighborhood full of newly-built homes.
"There was a customer who hadn't moved into his new house yet, but they'd delivered a top-of-the-line Pentair system to the site," she says. "And it was stolen, the whole thing — the panel board, the heater, everything."
Technicians were forced to scramble replacements, but two weeks later, the customer finally moved in only to find the thieves had struck again — the pool's iChlor salt generator had been cut right out of the system. According to Lange, this happened in broad daylight.
"Why would anyone go to someone's brand-new home and steal their pool equipment?" she asks. "It's because they can't get it. The supply houses simply don't have it. Around here, salt generators are just being stolen right out of people's yards."
HELP WANTED
In a perfect world, service pros would have no problem keeping up with the rapid increase in demand and could adapt to take full advantage of every new opportunity. But even before COVID hit, pool talent was notoriously difficult to recruit and retain.
Small, family-run businesses like Tarricone's are — for the first time — considering expanding operations and hiring outside employees. But that's easier said than done.
"You don't want to lose demand while it exists," Tarricone says. "If you don't jump, you're outshopped...but I have friends that can't get help for the life of them. It's really hard to find people. It's hard to find anybody that has technical skills and wants to apply them toward the pool industry right now. And of course, it's always a hard time finding somebody to clean a pool, somebody who's going to stick around for a while."
RELATED: Meet the 2020 Pleatco Perfect PoolGuy and Gal
This is a delicate balance — to strike while this market is hot without being over-zealous. A unique gang of service pros known as the "Tampa Group" has helped Abare and his local colleagues achieve it.
The Tampa Group's cooperative nature allows them to take advantage of more opportunities without biting off more than they can chew. Together, the group can tackle large-scale projects they normally wouldn't be able to take on alone.
"We're all licensed contractors, and we all help each other out in overflow," Abare says. "One of us might need another set of hands, and we'll bring in part of the group."
For Abare, this is both professionally beneficial and a community to lean on.
"You don't appreciate what a tremendous group of men and women we have in the pool industry until you need help," Abare says. "And with everything going on, my wife has been an amazing help, as well."
EDUCATION OPPORTUNITIES
There in The Sunshine State, the Florida Swimming Pool Association has been taking on the labor problem directly. The Association is in talks with universities and vocational schools to create a pipeline of talent that can provide the workers needed to help the industry grow.
"They're trying to teach people skills and setting up the pool industry as a trade," Tarricone says. "Those courses are slowly coming to fruition. The pool industry is a genuinely reputable and respectable trade, and I think what we need to do is try and figure out more avenues to bring employees in.
"The neat thing is, everybody's teaching classes online or having seminars. There's a lot of training available now. That's an exciting thing, to see the next generation come in. They just might have a degree in swimming pools."
---
This article first appeared in the February 2021 issue of AQUA Magazine — the top resource for retailers, builders and service pros in the pool and spa industry. Subscriptions to the print magazine are free to all industry professionals. Click here to subscribe.