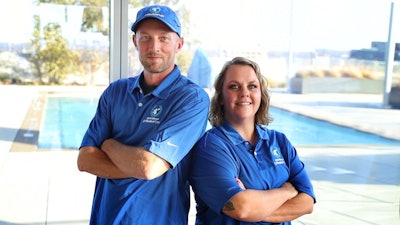 Pleatco, LLC, a leader in pool and spa filtration products, with longtime co-sponsors GENESIS and the Pool & Hot Tub Alliance along with media partners AQUA Magazine, proudly announced the winners of the 2020 Perfect PoolGuy and Gal Search! The annual Pleatco PoolGuy/Gal Search is an innovative way to honor the hardworking men and women of the pool and spa service industry. With more than 150 contestants, this year's entrants were as impressive as ever.
This year, Shannon Sellers of Jeff's Pool and Spa in Brunswick, Ga., won the prestigious title. In response to winning the award, Shannon stated, "When I first started 10 years ago, I never thought I'd be named Pleatco's Perfect PoolGal 2020. It feels good to have my hard work and dedication recognized. Thank you to my customers, co-workers and family for believing in me. Winning this award is an exciting achievement, and I'm proud to win such coveted recognition. This award is backed up by some outstanding co-workers/teachers and customers who helped me get this far. I'll remember this year because I won Pleatco Perfect PoolGal, not because of the pandemic or the election. Thank you to Pleatco, Genesis, AQUA Magazine and PHTA, for acknowledging the service side of the pool industry and giving me the confidence to be the Perfect PoolGal."
Jess Gist, Gallagher Pools and Spas, Westminster, Md., had been a runner up in a previous year and put a great deal of effort into making sure his nomination wound up at the top of the rankings by providing a full video and harnessing social media. Luckily for him his strategy worked. Jesse enthusiastically remarked, "Receiving this award has been the highlight of my career! It's a huge honor to be crowned the Pleatco Perfect PoolGuy 2020. I want to thank my wife and kids for putting up with my crazy hours, and my Gallagher Pools family! Lastly, I want to thank my new Pleatco family for choosing me as for this prestigious award. It means so much to me!"
With so many worthy entrants, Pleatco once again expanded the contest and created additional awards. "During our final interviews, we were impressed by the caliber and diversity of so many individuals that we felt it was proper to recognize the outstanding achievements of several other entrants," says Rick Von Drehle, CEO of Pleatco. "In that spirit, we selected contestants for Special Awards based on their contribution to their community and the pool and spa industry."
Pleatco Perfect PoolGuy 2020 Runner Up — Michael Baker, Tucson, Ariz.
Pleatco Perfect PoolGal 2020 Runner Up — Trish Mendenhall, Chandler, Ariz.
Pleatco Lifetime Achievement Award — Bob Charlton, Citrus Springs, Fla.
Pleatco Future Leadership Award — Josh Fletcher, Stockbridge, Ga.
Pleatco Industry Spirit Award — Matthew Boranian, Kailua Kona, Hawaii
Pleatco Customer Service Award — Ashley Rabbit, Mohegan Lake, N.Y.
Pleatco Community Service Award — Bryan Zettle, Johnstown, Pa.
Pleatco Young Achiever Award — Michael Birch, Good Hope, N.Y.
Pleatco Voters Choice Award — Ken Post, Poway, Calif.
"The service industry is extremely important when it comes to helping owners fully enjoy and appreciate their pools," adds GENESIS ambassador and co-founder Brian Van Bower. "We are proud to help honor our hard-working service professionals through the Pleatco contest!" This year's Perfect Pool Guy and Perfect Pool Gal will each be awarded a GENESIS course - C201: CONCRETE POOLS or C260: VINYL LINER/FIBERGLASS POOLS ($5,000 value) along with a bevy of other prizes from LaMotte, Mod-Lite, Skimlock and Bungee-Plug.