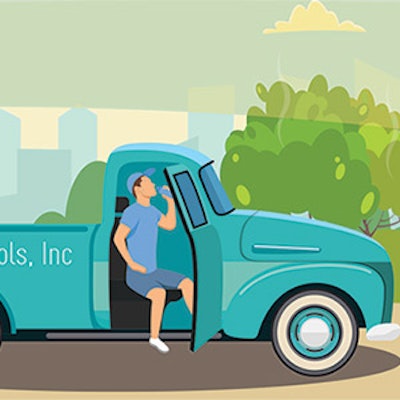 Everything from how to save time on the job to how to survive years of exposure to the elements, courtesy of your colleagues in the pool and spa service business. These bits of sage advice come from our annual SOI survey of pool and spa pros across the country.
1. "Pre-assemble things like Cover Rx, pool ladders, etc., at the shop, in bunches if possible. You're a lot faster at the shop."

2. "I carry a separate small tool set with tools and accessories for filter cleaning, with hose nozzles, washers, lube, hand cleaner, extra filter springs and nuts — anything I could possibly need — in that lightweight tool bag. So I just grab it and go. My tools never get mixed up with the tool box, and I don't have to make trips back and forth looking for anything. I don't have to carry as much when I'm installing a pump or panel, etc. Keeps both tool sets cleaner, too."

3. "Moving hot tubs was very difficult until I got a Spa Dolly...well worth the money."

4. "Wheelie pool vacs cut the work in half."

5. "Use a cordless drill for every possible fastener and to put anchors down. Five turns with a screwdriver is too many."

6. "I use diluted soap to clear the pool surface of debris. If you've never done this, try it."

7. "When we open a pool, we bulk vac the pool with a gas trash pump to lower the amount of solids left in the pool upon start up."

8. "Don't ring the doorbell, just start working."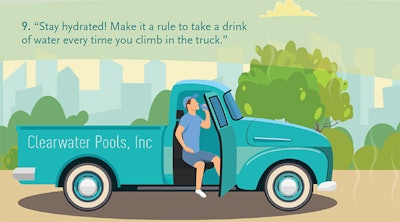 RELATED: 73 Ways to Make Pool Service Faster and More Profitable

10."Many of our pools don't have main drains and therefore vacuuming to waste can cause lots of down time with the pump, especially when cleaning up a green pool. We keep several 3-feet filter hoses on our truck along with hose adapters and hang the hose out the skimmer mouth into the pool to keep the water circulating."
11. "Heaters always get sticky spider webs down in the burn tray. Burn those out with a torch."
12. "Use new technology as much as you can, wherever you can. Pool cleaners, specialized tools, iPhone, software, etc. Almost all of them make you faster."
13. "Use the Langelier Index to keep water balanced."
14. "I take lots of pictures on my phone when removing wiring or special parts, so I have a guide to put everything back together."
15. "Group scheduled repairs by location, not the customer's convenience. You can lose an hour just driving."
16. "When servicing a pool, mark the level of the chemical bottles and then take a picture of them. This way you can keep track of what needs to be replaced."
WISDOM OF THE WATER TRADE
17. "Let the pool work for you. You try to fight the pool, you lose."
18. "Keep your work time — your work time. Don't mix the two."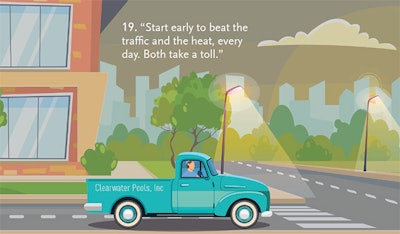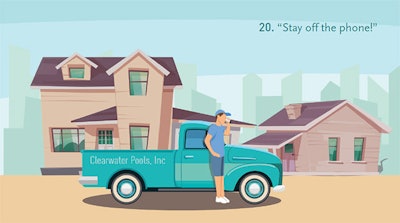 PRIME TIME-WASTERS
21. "Never allow yourself to waste time looking for tools or needed items. If you're doing that, you know you need a new system, or you're not following the one you have."
22. "BE RESTED, NOT HUNGOVER."
23. "Work hard to communicate well, on the phone, online and in person with your customers. If they know what to expect, you save a lot of time dealing with questions/complaints."
24. "The dictionary is the only place efficiency comes before preparation."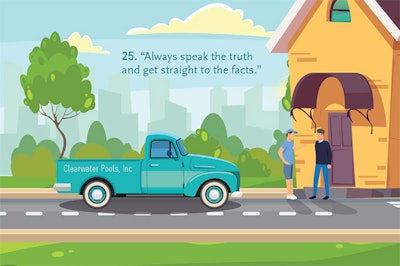 EMPLOYEES AND CUSTOMERS
26. "Train employees to do each job in the same order, the same way. Keep equipment in the same location on all of the trucks. Use tool checklists for different jobs. Color code your chemical buckets. All this makes them faster."
27. "Videotape your employee training and your customer orientations. Saves a ton of time."
RELATED: 15 Lessons All Service Techs Learn in the Field
28. "Have tool and job checklists ready for new staff. You don't need them, but you're going to have new staff."
29. "Empower customers to do some basic things on their own."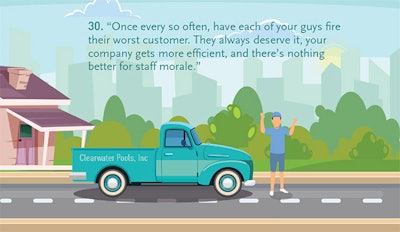 31. "I tell my customers, 'You do the swimming, and I'll do the rest.' They love that."
32. "Invest time questioning the homeowner about the work to be done before loading the truck with the necessary parts. Keeps your repairs to one trip."
33. "Ask your customers to text you pictures of their pad and the problem before you go."