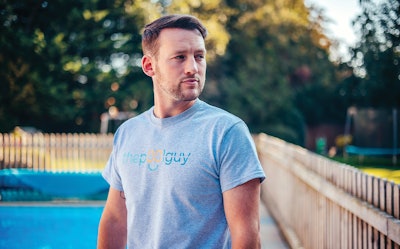 Photos courtesy Miles Laflin; by Emily Packman
After documenting his daily grind on TikTok, a service tech based in Britain has become something of a pool-cleaning celebrity.
Miles Laflin's videos give scrollers a quick glimpse into the pool maintenance process — and as it turns out, they just can't get enough. Routine sights and sounds are a big part of the "satisfying" appeal: the swish of a pool brush, the click of chlorine tablets, the sizzle of shock solution as it dissolves.
It all began after a pool-cleaning clip on Laflin's personal TikTok became popular. He decided to create a separate account dedicated solely to his craft, and the rest is history. "My first video blew up, and I realized people were very interested in my content," he says. It wasn't too long before he'd amassed over a million followers. "It really makes me enjoy my work a lot more, knowing people are watching from all over the world."
Laflin — alias thep00lguy — has been in the industry for 12 years. "It was never my ambition to be a pool guy. I just didn't have a job. Then one day I helped out my local pool firm, and they asked me to stay," he explains. "I never looked back."
This year, he made the decision to become his own boss. "I was working for a company when I started on TikTok. I always wanted to go on my own, so this year was a better time than any, and I did."
His popularity boost has been almost too good for business. "I get inquiries from all over the U.K. and even from America. I'm not sure everyone knows exactly where I'm from," he says.
Encouraged by the TikTok prosperity, Laflin expanded his content offerings across other social media platforms and even released a line of merchandise. To keep up with the latest, subscribe to thep00lguyml on YouTube or follow @thep00lguy on TikTok.
---
This article first appeared in the January 2022 issue of AQUA Magazine — the top resource for retailers, builders and service pros in the pool and spa industry. Subscriptions to the print magazine are free to all industry professionals. Click here to subscribe.