When judging the Truck & Van contest entries, we were truly struck by the array of impressive designs we saw. Sparkling water prints, grinning children, bold color schemes (including not one, but TWO all-pink trucks) and laugh-out-loud graphics, we saw it all.
RELATED: That's a Wrap!
The truck that ultimately won this year may surprise you — it seems simple, but looks are deceiving. We were impressed by the restraint that yielded this appealingly minimalistic, sleek wrap, one that is modern and unique in our industry. It's basically the Apple Store of truck wraps.
Below, read on to learn more about the winning wrap and see who won in our other special categories. And stay tuned — our 2019 contest is opening soon!
---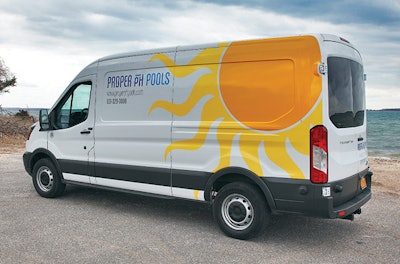 1st Place: Proper pH Pools (East Hampton, N.Y.)
In East Hampton, N.Y., the pool season passes in the blink of an eye — one moment, swells of vacationers are flocking to the coast, and the next, they're heading back home.
Because the pool season is so short, it's imperative that pool and spa companies in the area stand out from the competition. Bob Barzilay, president of Proper pH Pools, has found one of the best ways to do that is with his minimalistic truck wrap.
Unlike other trucks that list services, slogans, certifications, social media icons, etc., the vehicles at Proper pH Pools list the company name, website and phone number — and that's it. The large sun graphic helps catch the eye of passersby and also serves as a symbolic reflection of the region.
"The area that we're in, people come out here for the sun, the water, the swimming," Barzilay says. "That's why we wanted to incorporate it into the design."
The Design Process
Barzilay and his wife, Shira, launched Proper pH Pools in 1999 as a side gig, a way to earn money for a down payment on a home.
"The very first truck we had was a rusty pickup truck with magnetic signs stuck on the door," he says.
As the company grew into full-time careers for the Barzilays, they realized they needed to upgrade a few things — primarily, the look and feel of the business.
"We became more professional," he says. "We decided to do our logo, get some uniforms — we wanted to have a nice appearance. A couple of classes I had taken through APSP were saying it really makes a difference on how people perceive your business, so we really focused on that."
The truck wrap you see here was designed in 2012. In the early stages of the design process, Barzilay initially planned to pack it with information, a common instinct among industry pros.
"We listed all the services we did, liners and heaters and renovations, and we were looking at it like, 'This is a rolling billboard. Who has time when you zip by to read anything on there?" he says.
So he opted to go in the total opposite direction. Inspired by vehicles in other industries, Barzilay sought something that was simple, pure and modern.
"We looked at high-end construction companies, also landscape design, because they're in the design industry with architects. They have very minimal, very neat, very modern, up-to-date trucks," he says.
This wrap, designed by a local graphic designer, is now on each of the company's 23 vehicles, from the Prius driven by the company's estimator to dump trucks to the Ford Transit pictured here. And while Barzilay certainly enjoys the wrap, it was a bonus to learn his customers enjoyed it, too.
"Customers tell us they don't mind having us park in front of their house or in their driveway," he says. "…It shows our professionalism, we take pride in how our employees dress and what we drive."
---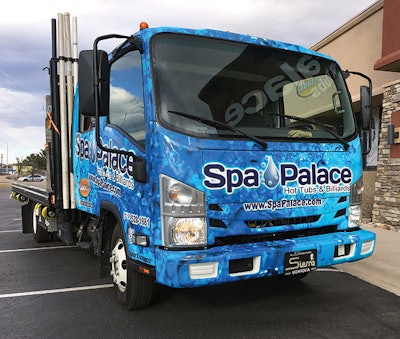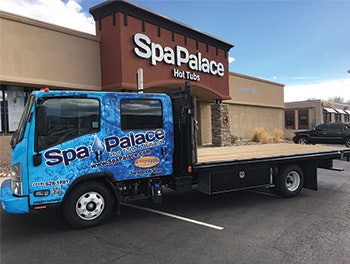 2nd Place: Spa Palace (Colorado Springs, Co.)
This truck from Spa Palace is hard to miss on the road, partly because of its beautiful sapphire color scheme, but also because it's simply big. Spa Palace's 2017 Chevy 4500 HD is outfitted explicitly for hot tub deliveries: It can seat up to five people and hold just about any tool needed for the job, helping the Spa Palace team get the job done right on the first visit.
---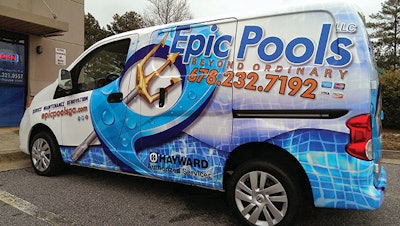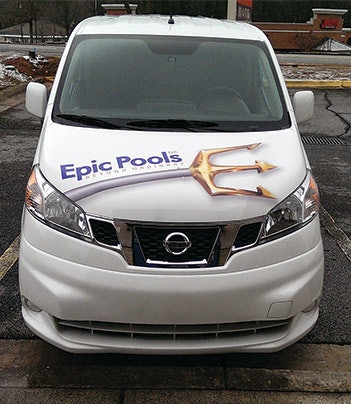 3rd Place: Epic Pools (Woodstock, Ga.)
A name like "Epic Pools" calls for an equally impressive truck wrap, and the Epic Pools team delivered. The wrap on this Nissan NV200 cargo van wowed us with its dynamic, splashy graphics — especially the trident, which you simply don't see every day — without being kitschy. It's also thoughtfully put together; the contact info, the most important part of any wrap, is easily visible thanks to a savvy use of orange, blue's complementary color.
---
Most Unique Work Vehicle: (Tie)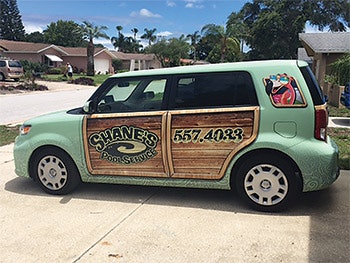 Shane's Pool Service | Sminole, Fla.
Florida pros know service companies can come and go quickly, and standing out is key to long-term success. But that clearly is no problem for Shane Foglio, owner of Shane's Pool Service, who drives a Scion xB wrapped to resemble an old-school woody wagon — complete with a friendly flamingo friend in a back "window." As Foglio wrote in his entry, "This is the second xB we have wrapped to look like this, and we've found it to be a lot of fun to break up the monotony of white service vehicles and water graphics."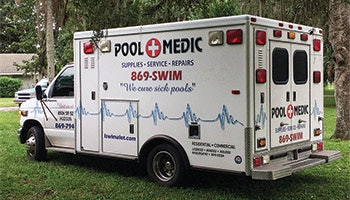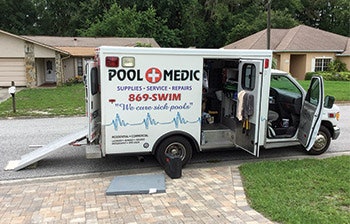 Pool Medic | Hudson, Fla.
It shouldn't be surprising that a company called "Pool Medic" drives an ambulance, but somehow, it still is. In addition to being thematically appropriate, the vehicle is great for the on-the-go service technician. As Service Manager Ted Kayne wrote in his submission, "There are so many compartments that there was hardly any setup." In addition to drawing crowds, making it a great promotional tool, there's an unexpected bonus to driving the ambulance: "When you're driving down a busy highway, the cars in front of you have a tendency to move out of your way!
---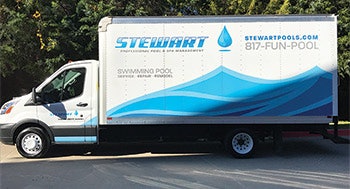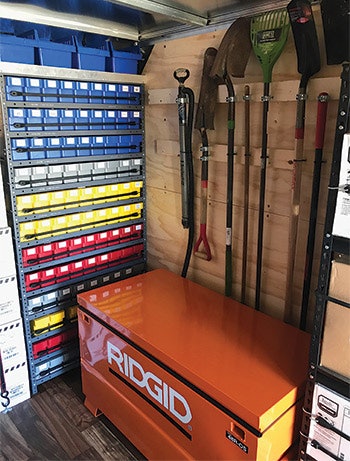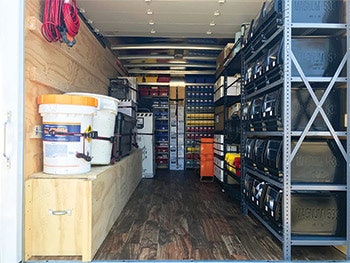 Most Organized Truck:
Stewart Pools | Fort Worth, Texas
Trust us when we say we've never seen a truck as clean and organized as this one. Stewart Pools' 2017 Ford Transit 16-foot box truck features an entirely custom shelving system made by pool guys, for pool guys. "All four branches of the U.S. military, Google, Facebook, Apple, Nike, Dell and Motorola all use the exact same bin/shelving system in their industrial plants," writes Aron Stewart, company president. Thanks to efficient storage, the team can store just about everything, from PVC fittings in a range of sizes to pumps and underwater lighting to an entire pressure cleaner system, which cuts down on trips back to the office. (And with just about everything on the truck, upsells are a breeze.) "Seriously...challenge us! Ask if we stock something on the truck...I betcha we have it!" Stewart writes. After looking at this immaculate truck, we believe him.
---
Honorable Mentions: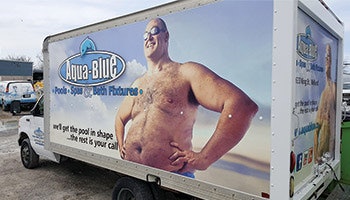 Funniest Truck Wrap: Aqua-Blue Pools, Spas & Bath Fixtures | Welland, Ontario
The wraps we saw this year featured a range of imagery: bubbles, water drops, project shots, fun mascots, etc. But only one company decided to use a man with a beer belly as the star of its truck wrap: Aqua-Blue Pools, Spas & Bath Fixtures. We enjoyed this wrap because it so boldly subverts all the conventional tropes we saw throughout the contest, and also because it's hilarious. Just read the beautiful tagline: "We'll get the pool in shape…the rest is your call." All together, it's a wrap you certainly won't forget.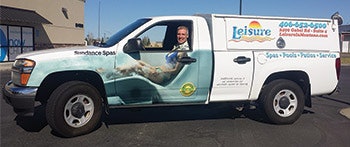 Funniest Truck Wrap: Leisure in Montana, Inc. | Billings, Mont.
As Michael McGullam, owner/operator of Leisure in Montana, wrote in his entry, "Branding ourselves as the 'Relaxation Specialists,' we definitely do not take ourselves too seriously!" We got to say, you really can't take yourself too seriously when driving around town looking like a bikini-clad woman from the shoulders down. That said, Leisure's truck wowed us with its inventive use of spa imagery, though it may be a bit too eye-catching; the truck has a "disclaimer" on the side that reads, "Leisure is not responsible for accidents caused by staring."
Best Trailer: Paradiso Pools | Kelowna, B.C.
For their trailer, the team at Paradiso Pools tapped into a universal truth: People love dogs. The images on the sides of the trailer are from Seth Castell's famous photos of dogs underwater, which lends a goofy, yet adorable look to the trailer. The final touch was a funny tagline designed to add an extra dash of humor. (It also helps people realize Paradiso builds pools and isn't a doggie daycare.)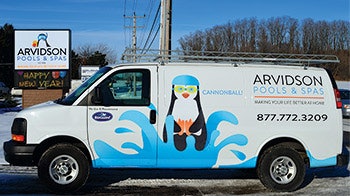 Cutest Wrap: Arvidson Pools & Spas | Crystal Lake, Ill.
When designing their truck wrap, the team at Arvidson Pools & Spas sought to create an attention-grabbing, yet fun wrap that starred their mascot, a penguin. "Swimming pools and spas are fun! We wanted to portray that concept with humor and leave a lasting impression in people's minds," wrote Jami Switzer, Arvidson's marketing manager. And fun it is — with a cannonball graphic and a Marco Polo reference on the back, this wrap gets to the heart of the fun found in the pool in just one glace. Consider it the Pixar of truck wraps.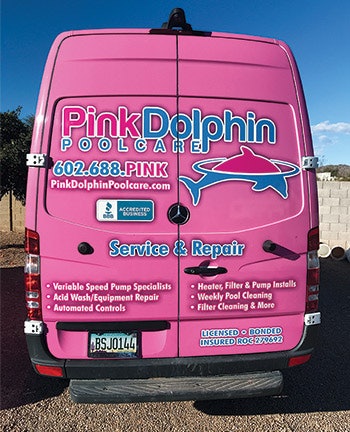 Bold Color Award: Pink Dolphin Pool Care | Glendale, Ariz.
Pink Dolphin Pool Care stands out both on the road and in contrast to other pool companies — it's quite a unique name, after all. As it turns out, the inspiration came from owner Steve Riley's daughter.
"At the time my daughter was nine and loved everything pink. She jokingly said, 'Why don't you have pink vehicles?' At first I laughed it off, but then I started thinking it sure would grab people's attention," Riley says. (Better yet, pink dolphins are actually real, and are also known as Amazon river dolphins.)
"Some of the service technicians found it odd driving a pink service vehicle, but they love it now," he adds. "It's helped us to become one of the most recognizable brands and fastest growing swimming pool service and repair companies in the Northwest Valley of Phoenix."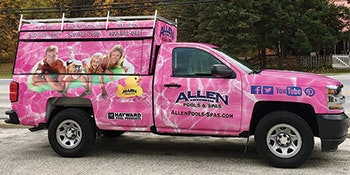 Bold Color Award: Allen Pools & Spas | Rutland, Vt.
When Ed Allen, owner of Allen Pools & Spas, lost his sister to breast cancer, he made his company as pink as possible. Service trucks, like the one pictured here, feature sparkling pink pool water; the staff wear pink shirts; and the company gives away a hot tub each year to support Making Strides Against Breast Cancer. Since starting the raffle three years ago, Allen Pools & Spas has raised almost $15,000 to support MSABC. At Allen Pools, pink isn't just a way to stand out — it's also a way to honor the memory of a loved one.