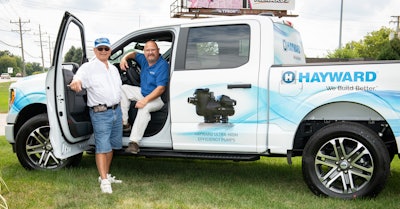 Dan Arvidson, of Arvidson Pools & Spas in Crystal Lake, Ill., took an hour one afternoon to brush up on new technology in pumps and heaters, and to his surprise, came away with the keys to a brand new Ford F-150 XLT.
By participating in one of Hayward's webinars covering DOE regulations, alternative sanitizing solutions, automation and a range of new products, dealers had the chance to win a Ford F-150 as part of the company's Driving Innovation new product launch promotion.
"When all the trade shows were shut down due to the pandemic, it was good to have the opportunity to see new products and learn about them without leaving my desk," says Arvidson. "I would have signed up for the webinar regardless of the chance to win a truck. I never thought I would actually win."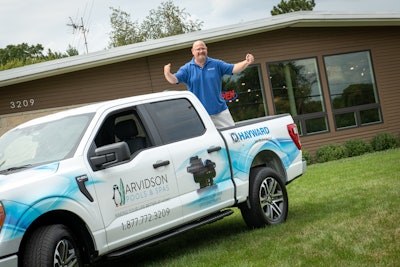 He got the big news when his Hayward rep called and asked to chat for a few minutes. "I was expecting to hear about a special promotion coming up, or discuss some new products," says Arvidson. "Instead, they let me know I won the truck!"
The F-150 came complete with a special wrap. "Hayward contacted our marketing person to get our logo information. I never imagined they would do a full wrap of the truck," says Arvidson. "It looks great."
Arvidson Pools & Spas, a winner of the 2020 AQUA 100, has been family owned and operated since 1958. And in true family fashion, Dan picked up the truck keys with his wife, son and father in tow.
"My family had a great afternoon when they presented me with the truck," he says. "I really want to thank the folks at Hayward again. They put a lot of effort into making this happen."