Vehicle wraps are a quick and cost-effective way to advertise your pool and spa business. They serve as a mobile billboard, reaching more consumers at a lower cost per thousand impressions than any other form of advertising (according to The Outdoor Advertising Association of America). They also provide a unique opportunity to show off your personality and help highlight your creativity.
This year, we received a wide variety of vehicle wraps from industry professionals across the nation. It was an impressive pool of entries that showcased just how talented the pool and spa industry can be. Read on to learn more about the winning wraps and our other special categories.
---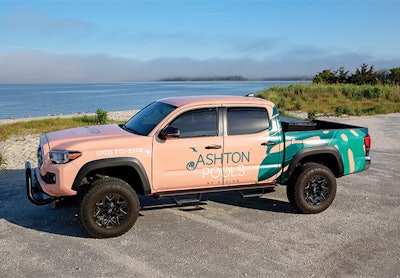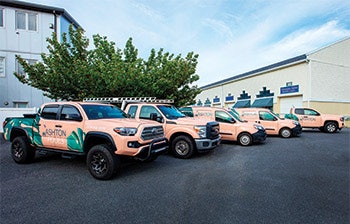 FIRST PLACE
ASHTON POOLS BY DESIGN
(REHOBOTH BEACH, DEL.)
Living on island time not only refers to a slack attitude towards the clock, but time well spent away in a place that refreshes the spirit and cleanses the soul. This year's winning company, Ashton Pools by Design (Rehoboth Beach, Del.), works to carry this concept into their clients' backyards, so it's not surprising that its trucks leave everyone that sees them thinking of the sun and island time year round.
The company underwent a complete rebranding in February 2020. Its wrap, created in conjunction with Adtrak, coincides with that rebranding and takes cues from a beach's relaxing atmosphere.
When designing the custom wrap, Ashton Pools wanted to play homage to the surrounding community's lifestyle. "We are blessed to live in a resort, destination community," says Nicole Bailey, vice president at Ashton Pools by Design.
"In the summertime, people are coming out of the cities and coming to their beach homes for complete and utter family time, relaxation and to escape. And the minute people see our custom wrap, it evokes '50s resort Florida, like Palm Springs or Palm Beach. That's just so classic to me."
The design process was an exercise in stepping outside the box. The owners wanted to go beyond more traditional pool colors like blue and white, and instead chose a rich coral body color and teal lettering with timeless palm trees, a nod to the landscaping side of the business.
The wrap also takes a less-is-more approach, and features only two key details: company name and phone number. The simplicity appears to be working, as the wrap has led to an uptick in sales and makes a lasting impression on those that pass by it.
"We routinely get clients and friends calling, emailing or texting us to say they saw our trucks, and it made them smile," says Bailey. "And we get new clients that saw our trucks and now would like to work with us."
---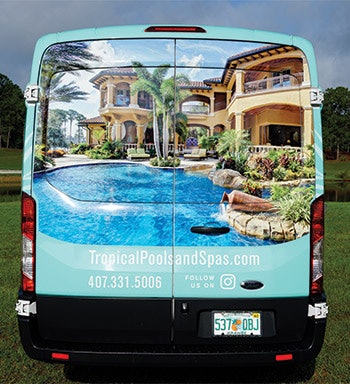 SECOND PLACE
TROPICAL POOLS & SPAS
(ORLANDO, FLA.)
Tropical Pools & Spas has been building luxury outdoor environments in the central region of Florida for over 25 years, and when it came to designing its vehicles, Owner Adam Alstatt wanted to place emphasis on the company name.
"For the custom wrap, we really wanted the name, Tropical Pools & Spas, to be at the center of the design," says Alstatt. "We have worked hard to be a well-known name and want to further that growth."
It was also important to Alstatt to tastefully display a sample of his work. The project, featured on the back of the vehicle, was built 15 years ago. It was selected by the designers, The Six Agency, for its tropical aesthetic, its soothing blue and orange hues and its sunny vibe. Altogether, the wrap is professional and clean.
"The goal was to impress our clients," says Alstatt. "The wrap fits our company's theme of what we do, the product that we deliver and the quality of it."
---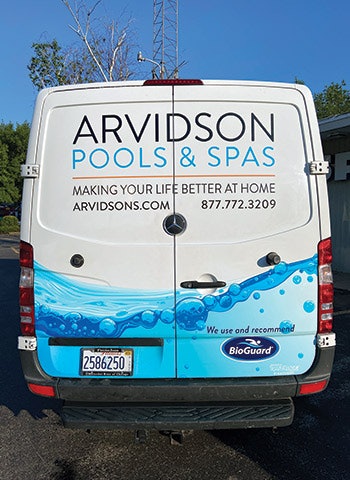 THIRD PLACE
ARVIDSON POOLS & SPAS
(CRYSTAL LAKE, ILL.)
Arvidson Pools & Spas has a marketing sidekick: Each of the company's trucks has a different penguin on it with a different personality, which is sometimes selected based on the driver.
"The penguins not only have their own voices, but they deliver the messages," says Marketing Manager Jami Switzer. "And it's kind of funny because each of the techs really does identify with their own truck and designs."
A highlight of this particular truck is the water, which is made to feel like the penguin is in a hot tub. Designer Tom Anson focused on the visual dynamics of the water itself. "I wanted the water to be very fluid, so these enormous bubbles and the layers of the color all help the water to look very refreshing and pretty," he says.
After coming up with so many taglines, Anson says he has also found his inner penguin. "Each of the penguin's personalities has been embraced, which has helped with brand recognition. People see the penguins around town and the company's fun personality, and they want an Arvidson pool."
---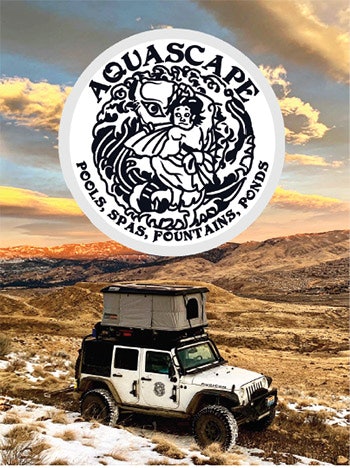 MOST UNIQUE LOGO
AQUASCAPE CUSTOM CRAFTED POOLS
(PETALUMA, CALIF.)
The story behind this logo is as unique as the logo itself. It was gifted to Todd Hendrickson, president at Aquascape Custom Crafted Pools (Petaluma, Calif.) by Theo Mindell, a famous tattoo artist and owner of Spider Murphy Tattoo in San Rafael, Calif., after Hendrickson completed his pool 15 years ago.
"When we were done building his pool, Theo handed me a box of t-shirts with the logo on it as a thank you gift," says Hendrickson.
The logo is a drawing of a legendary Japanese hero, Kintaro, wrestling with a giant carp in "cool, traditional splashing water." Kintaro demonstrated extraordinary strength during his childhood. As a young boy, he learned to communicate with animals and developed superhuman strength. His legend includes performing incredible feats such as crushing boulders, fighting monsters and demons, uprooting trees and defeating bears at sumo.
The t-shirts were offered as gifts, one by one, until the day came when Hendrickson realized he was down to his last shirt. Hendrickson decided to preserve the art by using the logo as the basis for his new truck decals.
---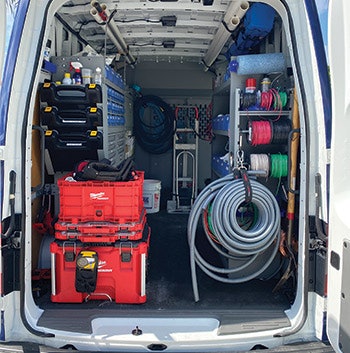 MOST ORGANIZED TRUCK
CHLORINE KING POOL SERVICE
(SEMINOLE, FLA.)
As the old saying goes, time is money. "The time service technicians spend digging through their vans is time they could be spending on another job being productive," says Erik Taylor, owner of Chlorine King Pool Service.
Taylor says organization is critical to his success as a service technician. It makes him more productive throughout the day and his inventory much easier to track.
"I found that I was buying products that I didn't need because I didn't know I had a stash of them somewhere in my vehicle," he says. "Now, all I have to do is look into my van and if I have an open bin, I know I need to stock that fitting."
He says the most valuable aspect of his van is its smaller bins, which are all neatly labeled and filled with small electrical parts, straps, etc. "They are all easily accessible and marked," he says. "Also, another favorite part of my vehicle is the wire rack. It makes new conduits much easier to create, and it's all right there. I no longer have to drag a bunch of wire out to the pad and figure it out onsite. Less mess to clean up, too."
Taylor also made room for a JL 12-inch audio subwoofer. "I love listening to music throughout the day," he says.
He encourages other service technicians to embrace organization and keep at it. "Take the time to label and create spaces for certain things, so you know where they are when you need them," he says. "It's very easy to toss something in the truck and later spend 30 minutes trying to find it. The sooner you get done with the job, the sooner you can get to the next one or head home. With proper organization, you can make that happen."
---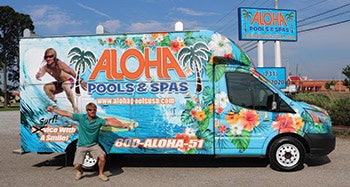 HONORABLE MENTION: BEST MODEL AWARD
ALOHA POOLS & SPAS
(UNION CITY, TENN.)
Jay Crittenden, lead service technician at Aloha Pools & Spas (Union City, Tenn.) is known to his customers as "the surfer dude." Others also call him "California."
"Jay actually doesn't get much of an opportunity to surf here in West Tennessee, and with a heavy service schedule, he doesn't get much of an opportunity to get a haircut, either," jokes Owner Brad Cook. "He finds that by the end of the summer, he has a tan and flowing, long hair."
That's why when it came time for Crittenden to get a new service vehicle, the company teamed with SuperTints in Jonesboro, Ark., to orchestrate a special surprise for him: They had his head photoshopped onto the body of a surfer and placed it on his custom wrap. So, while Crittenden doesn't have much time to surf, at least his wrap alter ego is hitting some gnarly waves.
"There are a lot of things about my service van that are interesting," says Crittenden. "I get a lot of chances to talk about my truck because it turns a lot of heads. Customers really enjoy it."
Surf's up!