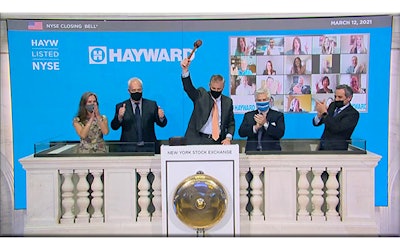 Last Friday, Big 3 manufacturer Hayward (formally known as Hayward Holdings, Inc.) global designer, manufacturer and marketer of pool equipment and automation systems, officially went public. The move reflects the broader financial world's growing interest in pool and spa companies, as investors take notice of the pandemic surge in pools and spas.
For a time, POOLCORP was the only publicly traded company predominantly offering pool and spa products. Last year, POOLCORP stock became a well-publicized success story as the per share value rose more than 100 percent from March to October of 2020. In that same month, Leslie's Inc., retailer of swimming pool products and related supplies, launched its own IPO and saw a rise in stock price from an initial value of $21.97 per share.
Hayward is listed on the New York Stock Exchange under the ticker "HAYW." On Thursday, March 11, the company commenced an initial public offering of 40,277,778 shares of its common stock, priced at $17 per share. 22,200,000 of these shares were offered by Hayward and 18,077,778 shares were offered by existing stockholders. BofA Securities, Goldman Sachs, and Nomura are underwriters on the deal.
"Over the past five years, Hayward has grown to a large global enterprise, present in all key markets," says Stuart Baker, vice president of business development. "This IPO is the next chapter in Hayward's growth story. By accessing the public capital markets, we will be able to accelerate our ambitious growth plans to fund both organic development of the business and new innovative technology products as well as execute on our M&A pipeline."
Baker noted the significant advancements in pool aesthetics and operation over the last decade, pointing toward Hayward's Omni app and eco-friendly offerings as clear differentiators for the company.
"Today, connected, smart device or voice control of pool equipment is almost a given," he says. "And ESG-relevant products are key as pool owners look for energy efficient products like variable speed pumps or LED lighting. Consumers are also looking for environmentally sustainable products, such as salt chlorine generators or UV/Ozone/AOP natural sanitizers to reduce reliance on chemicals, while other products like cartridge filters address the desire to conserve water. The great thing about all these products is that they offer both experiential benefits and reduced cost of ownership — a real win-win for our pool owners."
Industry demand went through the roof in 2020 with the onslaught of pool installations triggered by the pandemic. Hayward is optimistic about what's in store for 2021 and beyond.
"The pool industry is a great space to be in. The industry has an ever-growing aftermarket, is ripe for upgrades and new innovative technologies, as well as strengthening new pool construction," says Baker. "The outdoor living market has strong secular trends of which the pool is the centerpiece. Retiring baby boomers are investing in their properties while tech-savvy millennials are seeking a better work life balance with a greater emphasis on time outdoors with friends and family."