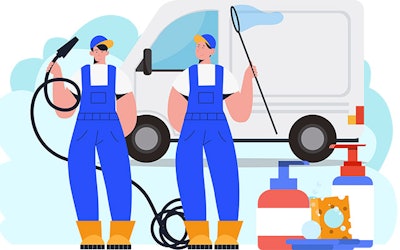 Time is money, and that's especially true for service technicians. If you can just figure out a way to save 6 minutes at each stop, that's 2 hours a day for a 20-pool route!
Using tips and tricks submitted by your colleagues in our annual SOI survey, we present 73 ways to save time on each service stop. Some of them may already be part of your standard operating procedure, but others will surprise you.
PREP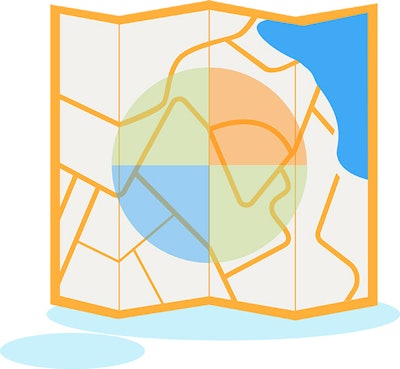 1. "We split the city into quadrants and book all work in that quadrant on a certain day every week."
2. "Use pool software to automatically create routes. Some programs do routes, billing, customer notes and store photos, so picking a more comprehensive program may help you in the long run."
3. "Make sure the service van is fully stocked with all the basics at all times."
4. "Get as much info as you can before you go out on a service call. What brand of pump, filter, etc. That helps us troubleshoot ahead of time."
CREW
5. "We like to use two-man service crews. The testing, treating and cleaning gets done quicker and more efficiently. The more experienced crew members are also able to train and supervise our new recruits longer before they are placed in a company truck and responsible for a route."
6. "Assign someone on your team to be your 'dispatch person.' They're the ones who collect info and ask the right questions of customers before we leave for the site."
RELATED: 15 Lessons All Service Techs Learn in the Field
7. "On our team, every service member is fully trained to do every aspect of the job. But when we're in the field, it's like an assembly line: Every person has a certain part of the job they are responsible for. When they're finished with their part, they pitch in and help with what's left to do. We work like a well-oiled machine."
8. "Evaluate techs every day and see where they spent the most time and why. That's how you catch inefficiencies, which you can improve on a case-by-case basis."
HOT TUBS
9. "Use spa skirt wedges to hold various skirts in place. Makes installing a spa skirt fast and easy with just one person."
10. "When draining a spa, we never use a sump pump or the built-in drains. We use a 2-inch PVC flex hose to siphon the water out. It saves so much time AND sucks any debris out as well."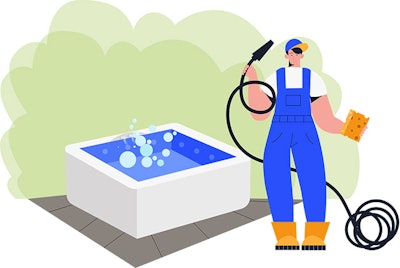 11. "If my customer's garden hose is frozen and I need to quickly thaw it out, I wipe it clean with a rag and throw it in the hot water of the spa. It melts in less than five minutes!"
12. "Use a tarp to pump spa water back into itself when changing a pump on a spa with no slice valves."

TOOLS
13. "Strategically use a spot vac instead of a full vacuum when you can."
14. "Carry a separate, small tool set with tools and accessories specifically for filter cleaning. Include hose nozzles, washers, lube, hand cleaner, extra filter springs and nuts. Anything you could possibly need in that lightweight tool bag; just grab it and go. It helps me spend less time digging through a big tool box of stuff I don't need and cuts down on trips to the vehicle."
15. "Car oil filter pliers open virtually every union without any slippage."
16. "Every one of our service guys has RTV on his truck. If we don't have the right O-ring on the truck for a union, we fill the gap with RTV and it makes an O-ring."
17. "We use automatic pool cleaners at our stops so we have more time to do more profitable work than cleaning."

18. "I have enclosed trailers for certain jobs. There's an aboveground pool trailer, in-ground pool trailer, liner replacement trailer, etc."
RELATED: Tips for Hiring and Training Service Techs
19. "Use a hose with a super fine spray attachment to skim the pool, shooting the spray across the surface."
20. "After years of replacing my vac hose all the time, the I-Helix Hose lasts forever!"
21. "I keep sets of tools in pouches. For example, all my 3/8-inch and 1/4-inch drive socket sets, vice grips, nut drivers, flat-blade screwdrivers, etc., are in separate pouches and labeled. The pouches save space and having everything labeled means somebody who's never been in my truck can find it."
22. "I have multiple carts set up for specific jobs. They have quick-release attachments for fast offloading from the inside of my box truck."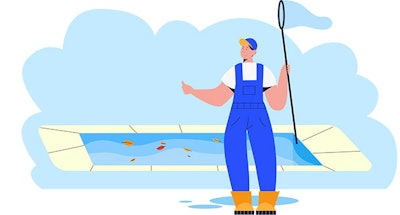 23. "Use the biggest leaf net possible!"
EQUIPMENT
24. "We take pictures of all our customer's equipment and upload them into our system. That way we know what we're working on and can do better at having the right parts with us the first visit."

25. "A mechanic's inspection mirror on a telescopic handle is very handy for checking blind sides of equipment and the undersides of pumps. It's also great for looking into light niches or spa jets."
26. "We use the Polaris booster pump to clean things like the deck and filter cartridges, or we'll hook it up to a leaf bagger. We hook a modified hose into the wall and use the pool water to do these things."
27. "Many of our pools don't have main drains and therefore vacuuming to waste can cause lots of down time with the pump, especially when cleaning up a green pool. We keep several 3-foot filter hoses on our truck along with hose adapters and hang the hose out the skimmer mouth into the pool to keep the water circulating."
28. "Use a torch to burn out spider web obstructions in a Raypak heater burner tray."
29. "Draw a vertical line across the joint of the filter top and bottom so when you reassemble them they will go back into the same position, which reduces the chance of leaks due to age and warpage."
30. "The thing that saves me the most time is my pool vac. Cuts my weekly service time in half."
31. "Selling automation to your customers is a great revenue stream and means you spend less time nurturing water quality at those pools."
32. "Use Duck Plugs and Gizzmos when winterizing since you don't need to drain the pool with those, which saves time.

WORK SMART, NOT HARD
33. "Always troubleshoot/work on the hardest issue at first. That way if you hit a roadblock or need a break, you can do a smaller, less pressing item and then get back to the largest issue at hand."
34. "Break off a wooden toothpick in a stripped screw hole to give the screw new bite."
35. "Develop your own standard operating procedure that lists what should be done at each and every stop, and do it! Write it down and give it to your techs, too."
36. "Get an early start to beat the heat and traffic. You can get a lot done before morning rush hour!"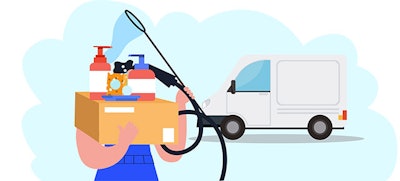 37. "Never walk back to the truck empty-handed."
RELATED: The Incredible Mistake a Service Pro Made
38. "Setup and cleanup time are reduced by taking longer strides when walking."
39. "Staging all cleaning tools on the end of the pool closest to the exit and then returning each to that space when you're done with it is a great practice. It saves on time and lost tools, as well."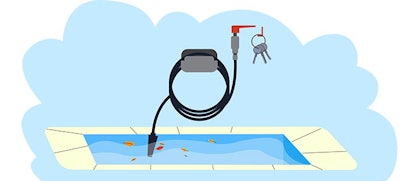 40. "I always do the classic 'leave the keys on the hose bib' to make sure I remember to turn off the hose before I go."

41. "Squirt a little dish soap on the surface of the water when you get there, then check chemicals. By the time you're ready to start netting, everything is close to the sides so it's easier and faster to net it out."
42. "Make sure you're using the proper technique for skimming debris. Don't plunge it deep in the water; keep it at a very gentle angle and skip the net across the surface. If you do it wrong, you're just wasting energy!"
43. "Slide covers above springs when removing covers so they don't fall in the pool."
44. "WD-40 with a spray tube is great for blowing sand out of main drain screw holes when changing liners and even works well underwater. It actually floats the sand out!"
45. "A couple drops of Dawn makes it easier to see below the surface."
46. "Get a little heat on a PVC fitting to make it easier to peel off."
47. "A wide rubber band under the O-ring in a pump lid groove will stop an air leak while you get a new O-ring. Just make sure its not twisted."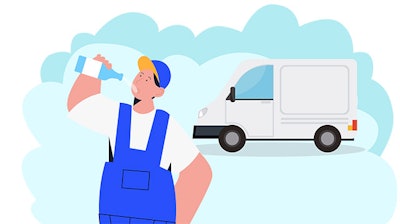 48. "Stay hydrated! I have a 1-gallon water jug in the truck at all times. Every time I get in the truck I take a drink, whether I am thirsty or not, whether the temp is 40 or 100."
49. "Get a waterproof case for your phone!"
50. "Equipment labels just don't make it through winters here. When winterizing, I put a red zip tie on the pipe to indicate the skimmer line. So next time I'm out there, I don't have to remember, recheck or guess which is which. It's a time saver, and most of my zip ties are still there a decade later!"
51. "Use the winter months to analyze areas of your business that need attention."
CHEMISTRY
52. "The greatest waste of time when servicing a pool is having to brush algae. If you understand pool chemistry better and avoid algae, you will save time."
53. "When servicing a pool. Mark the level of the chemical bottles and then take a picture of them. This way you can keep track of what needs to be replaced."
54. "Use a test strip to get a quick view of pool water before performing an extensive test. Many times a customer's pool has just been shocked so strongly that an accurate test can not be performed."
55. "You can dissolve salt in hot water."
RELATED: The 12 Kinds of Customers Every Service Tech Meets
56. "I use a lab-type Nalgene bottle with a spout to take a large sample of pool water for testing instead of going back to the pool water with the comparator for every test. I used a quart size so I have plenty of water for rinsing between tests. I rarely use dip strips to test pool water."
TECH
57. "Get dispatch software and keep very good notes about each house. Where is the spigot, where is the breaker, how long does it take to fill the spa, etc. Knowledge is power."
58. "Use Google Sheets to keep track of water chemistry."
59. "Document everything with the camera on your cell phone."
60. "All of our techs have iPads. They can use them to look up parts and drawings, access apps, etc."
61. "We use an online route management system to track all our pools. This allows us to use a checklist to keep track of what has been done at each pool and when it was last done."

62. "Send before and after photos to each customer with a timestamp of when service was rendered. You gotta CYA."
63. "Use Google Suite! It's inexpensive and covers just about everything."
BILLING
64. "Do your paperwork directly after job so you don't forget anything."
65. "I use an estimating app that sends invoices and estimates to customers right away. I am able to see if they opened the invoice/ estimate and pay online."
66. "Use quickbooks to input any billable items before you leave the customer or email any issues to the customers so you don't have to play catch up when you get home and forget things."
CUSTOMERS
67. "We send out confirmation emails that must be returned to us as a letter of understanding. It greatly reduces the amount of customers at pool closing/openings who require rescheduling because they 'forgot we were coming.'"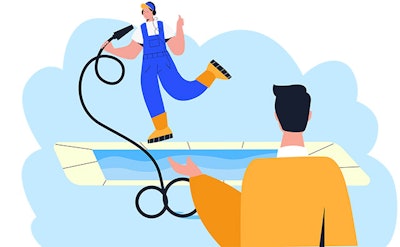 68. "If you have a talker on your route, put on a pair of headphones before you leave the truck. Nevermind the music, it's just for show."
69. "Educate the customer to be aware of changes in equipment performance so that when service issues come up they can give us more information about the issue before we arrive to repair it."
70. "On a company-wide basis if we need to regularly vacuum a pool, we get rid of it. There are better accounts."
71. "Keep records on pool equipment at a customer's house."
RELATED: Rites of Passage For the Service Pro
72. "If your customer wants to chat, make them walk with you as you work!"
73. "Give a special incentive to customers who refer neighbors to you. That means more business and less time traveling between clients, which means you can see more clients per day."