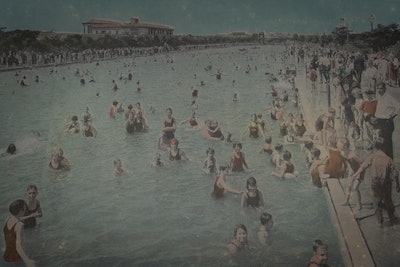 Photo courtesy sanfranciscodays.com
Three hundred skimmers! Ten thousand pumps! Six million gallons of water!" I screamed into the darkness.
"What's the matter? Wake up, you old fool! You're having a nightmare!" my darling wife said.
"What a dream!" I gasped. "It was really weird. I dreamed I was at the Fleishhacker pool, and the manager wanted an estimate for service. The health inspector was there too, and I was trying to add up how long it would take to clean and how much it would cost.
"Thousands of people were standing in line, shivering in their bathing suits, waiting to get in, but the pool was cold and dark green. Then, I was up on the platform checking the high diving board when it broke. I started falling into the pool. What a nightmare! Dear, what do you think my dream means?"
"I think you ate too much Kung Fu Chicken and Garlic Duck at that restaurant in Chinatown. And did you have to eat 25 fortune cookies? Look, it's three o'clock in the morning. Go drink some warm milk, and then go to sleep already," my sweet precious said.
Our family had spent the day at the San Francisco Zoo looking at lions, tigers and bears, but it was that big old swimming pool buried under the Zoo's parking lot that continued to haunt my slumber.
The Fleishhacker Pool was opened in 1925 and was definitely the largest outdoor municipal pool in the United States in its day. Six million gallons of Pacific Ocean salt water filled the colossal, 150-by-1,000-foot pool. That's longer than three football fields. Even the Queen Mary could float in it. The pool had a 50-foot-square diving area that was 16 feet deep.
Sixty thousand people came to the Fleishhacker pool the first two months it was open. Gold medal Olympic champion Johnny Weissmuller (Tarzan) swam there, and Ann Curtis set world swimming records in the great pool. The pool was so enormous that some of the 24 lifeguards would patrol the pool with rowboats (a pool rule still in the California state pool code book). It was a monstrosity.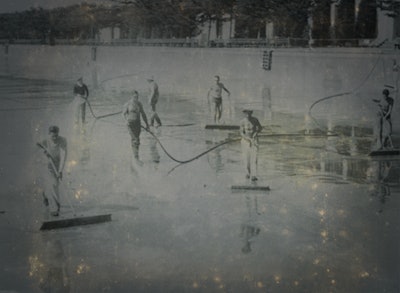 "Just think, my love, if we had a pool like that on service, we could make a ton of money. Imagine all the chlorine sales, repair parts and endless filter cleanings. We could have just one pool on service and sell all the rest to the route broker. On second thought, my IPPSA Chapter would probably kick me out if I had to call in for sick route coverage. But, no matter, I bet I could take care of it myself anyway.
"Let me see, 1,000 feet long and 150 feet wide is 150,000 square feet, and one skimmer per 500 square feet means there would be about 300 skimmers. I could wear roller blades and get one of those garbage cans with wheels, and it would only take, maybe, about two or three hours to skate around the pool and empty all the skimmers.
"Also, at 6 million gallons with a six hour required turnover, the pool would need 1 million gallons of water flow an hour. A 1-horse pump with 2 1/2-inch piping can move 100 gallons per minute, so there would be about 10,000 pumps.
"Let's see, when I was competing in the Pool Industry Expo (PIE) Olympics, I was able to empty a pump basket in about seven seconds. At that rate I could empty those 10,000 pumps in a little over 19 hours, which would still give me five hours of sleep. Well, maybe I could empty half of them every other day or so," I rambled on. "Hmm… now who sells really, really long poles?"
"Are you still dreaming? It's three o'clock in the morning! Shut up and go to sleep already," my dear said somewhat less lovingly. "You're going to wake the kids. What's wrong with you?"
I snuggled into the covers and tried to sleep. But in the darkness, all I could see was that grand old pool, and the eyes of all the kids and even adults taking in the majestic view of it for the first time, awestruck and amazed.
But like all wonders of the world, The Fleishhacker Pool soared to greatness, and then fell to earth, eventually becoming part of swimming pool legend and lore.
It was extremely expensive to operate, and finally, in 1971, the saltwater pipe to the ocean was broken in a storm. There was a brief attempt to operate the pool with fresh water but the recirculation system could not keep up with the algae. The pool was finally filled in with sand and paved over for zoo parking. The original bath house is all that remains of the giant pool by the sea.
This article first appeared in the IPSSAN. Robert (Pool Bob) Blade operates Aloha Pool and Spa and is a 20-plus year member of the Monterey Coast IPSSA chapter, past president, Region 10 secretary and PIE Show museum curator.