A picture might speak 1,000 words, but for a pool builder or servicer, a truck wrap can say way more than that. Why? Because it does the talking when you can't.
Maybe you're working your way through the daily cleaning route, and your bright truck catches someone's eye. The sight of happy swimmers on the truck door prompts a fellow driver to think, "Hmmm, that could be us. And we've got a perfect spot in our yard for a pool…"
Or maybe you're in the backyard servicing a hot tub, your van parked in the driveway. A neighbor walks by, sees the van and thinks to herself, "Huh, so that's who the Hendersons call for their hot tub work? I'll have to keep them in mind."
That's the beauty of truck wraps: Any time someone sees it, it leaves an impression that could lead to a call down the line.
Here, we present some creative truck wraps submitted to us by AQUA readers. Have one you'd like to share? Send photos to cailley@aquamagazine.com and you could get published in a future issue.
---
A Plucky Look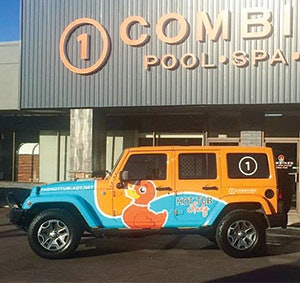 Jacque Stauffer is the sales manager at Combined Pool and Spa (Sioux Falls, S.D.), but she's also known as "The Hot Tub Lady" in the store and online. (Check her out at thehottublady.tumblr.com.) When developing a truck wrap, it was important to incorporate Hot Tub Lady iconography — an orange duck sporting a stylish pearl necklace — as well as the store's signature colors: bright orange and white. To start, Stauffer bought a Jeep in a similarly bright orange color to complement the duck, while a splash of teal provides an attractive contrast as well as real estate for brand logos. (In a serendipitous move, the store carries Caldera Spas, which also features orange in its branding. If Stauffer would like to feature the logo on the Jeep, it'd fit right in.) For an extra element of fun, Stauffer posted the design concepts to Facebook and let her customers vote for their favorite. "The Jeep is a blast to drive and gets noticed everywhere I go," she says.
---
To a Tee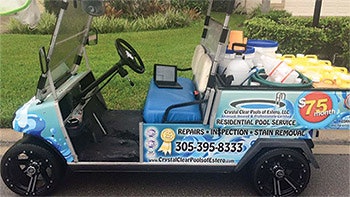 While many service guys opt for a truck or a van for their day-to-day, Jeffrey Dickens of Crystal Clear Pools of Estero (Estero, Fla.) takes the road less traveled, you could say, by making his rounds in a golf cart. While his ride may be small, it's packed with benefits.
First and foremost, Dickens works in a small, but dense area of accounts, often bouncing from one house to the next down the same street. In that respect, the golf cart makes for easy maneuverability and quick accessibility. Better still, at $500, it was much cheaper than a truck — and since it's solar-powered, he pays nothing in gas. The only hard part: Getting a company to agree to make a wrap for the golf cart; several companies feared their wrap would peel shortly after application. It took Dickens five tries to find a company that would sign up for the job, but the results are well worth the effort.
---
Surprise Overhaul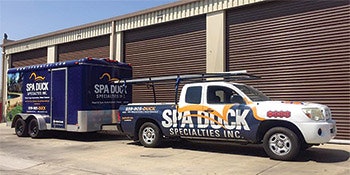 When looking for a company to design their wraps, Chris Flaming, president of Spa Duck Specialties, did his due diligence by approaching several companies and carefully considering their design aesthetic before settling on Method Man (Fresno, Calif.). After giving their designer an outline of his vision for the design, Flaming was a bit surprised by the concept Method Man delivered. "The end result was completely different from original idea we had," Flaming says. "He redesigned our logo and changed the color scheme." But Flaming liked what he saw — enough to use the new design approach as the heart of a company-wide rebranding campaign. New shirts, hats and business cards were ordered, along with the truck wraps, just in time for a local home and garden show. The reception from customers? Glowing. In fact, such a polished look has done wonders for winning new business. "We've received multiple compliments regarding our marketing, and with the appearance of a much larger company, we are growing fast," Flaming says.
---
They've Got the Blues

Luxury is key for Coastal Luxury Outdoors (Ponte Vedra Beach, Fla.) — it's in the name, after all — and their fleet of vehicles reflects that with a clean logo and a sleek graphic of water. When developing the concept for the look, one thing was especially important: color. The rich cobalt hue not only helps make the vehicles look luxurious, owner Karyn Kern Carroll says it mimics the pools they build in their area. "Many are going for the deeper plaster colors," she says.
---
A Van That Says, "You Otter Get a Pool"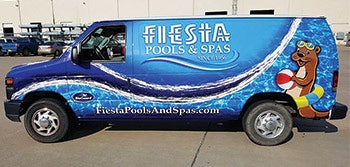 Owning a pool is all about fun, and from top to bottom, that's the motivating mission at Fiesta Pools & Spas (Tulsa, Okla.). After creating a new logo and debuting a new otter mascot, owner Travis Hogan sought a fresh, new look for the company vehicles that would highlight the company's playful products and the backyard lifestyle. "We wanted to have something that was nice to look at as you were driving down the road," he says. "An eye-catching piece that would let people know that being around water can help create memories and fun." And really, who can resist that cute otter?
---
A Whale of an Idea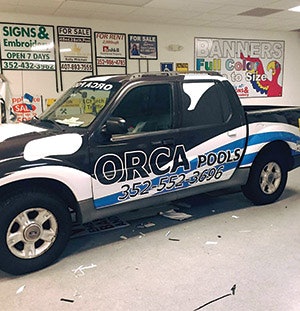 With a name like Orca Pools, the initial design concept for a service truck came rather easy — it was the execution that was difficult. "In reality it was much tougher to make sure that people could identify it. We knew we didn't want to over complicate the wording; generally we find people can't read all of it," says Michelle Granville-Meeks, a partner at the Clermont, Fla.-based company. "We needed them to understand we are a pool company and get the name stuck in their head." After considering several Orca-patterned skins, ait was a matter of placing the waves just so for the best look. "Our wrap guy was awesome and worked with us to get it just right," Granville-Meeks says.
---
Focused on Fun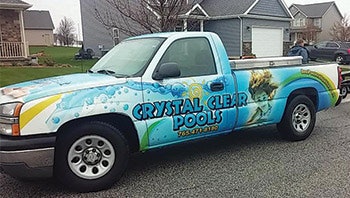 Some people love to micromanage, but Tim Graham, owner of Crystal Clear Pools (Lafayette, Ind.) is not among them. When looking for a new truck wrap, he turned to friends in the graphic design business and let them run free with the concept. "When we get graphic work done, I only tell them who we are and what we do," Graham says. "I just want it to represent fun. Because that's what pools are about: family fun." This concept was created on the first try. "We have two trucks wrapped just like this and we love them. After four years we still get lots of comments," Graham says.