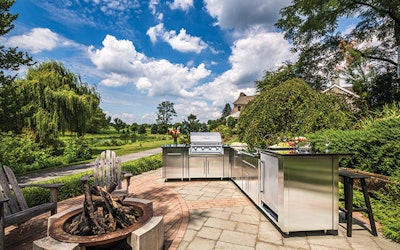 The well-dressed backyard once consisted of a few plastic lawn chairs, a picnic table and a modest charcoal grill. Today, the Joneses have stepped up their game considerably, as the backyard has gone from a mere patch of grass to a hub of entertaining — a space that plays host to everything from children's birthday bashes to elegant evening dinner parties.
Today, outdoor kitchens are a big part of that backyard aesthetic. By allowing the homeowner to prepare and serve meals outdoors, these units effectively eliminate the need to travel between the kitchen and backyard to entertain. They also make the backyard a full-fl edged extension of the home. These kitchens are a part of the outdoor room movement — a trend that has propelled builders, as well as pool and spa retailers, to incorporate outdoor living products into their merchandise mix to attract new audiences. Modular outdoor kitchens, in particular, are a growing segment of the market, and retailers are continually striving to get a larger share of that business.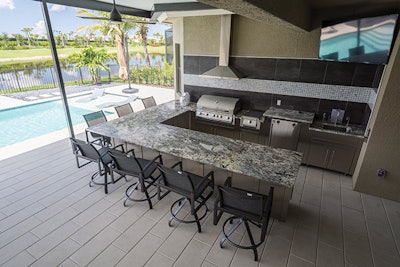 WHAT AND WHY?
Click through the outdoor kitchen offerings of any backyard living store, and it's clear to see the sky's the limit. Refrigerators, pantries, grills, pizza ovens, sinks, storage drawers and even trash/ recycling units are just some of the options that are available to meet any homeowner's outdoor entertainment needs.
"Outdoor kitchens in general have increased in popularity for those customers looking to transform their standard backyard into a true outdoor living experience," says Warren Yadlowski, general manager at Beachcomber Hot Tubs and Patio in Edmonton, AB, Canada. "Many people today are…experimenting with new and innovative cooking techniques, recipes and styles of grilling… and want to spend more time outside cooking and socializing with family and friends."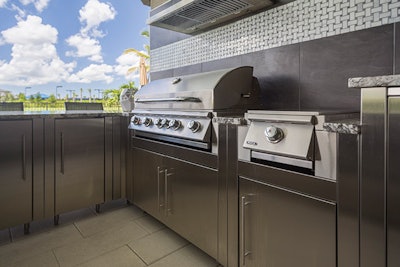 But most people aren't crazy about the idea of spending tens of thousands of dollars on built-in units that they'll have to leave behind if they ever decide to move. That's where modular units come into play.
RELATED: Dining By Design
"For us, the real benefit of a modular kitchen is that the municipalities view them as temporary appliances and do not require the level of permitting a built-in does," says Brian Swinford, design consultant at Nassau Pools Construction in Naples, Fla. "They also allow the client to make in-production changes without [too much disruption]."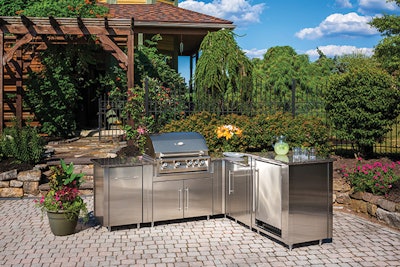 Price points and practicality are among the other benefits that have led to a surge in the modular-unit industry. Swinford estimates that modular units cost homeowners about 35 percent less than similar built-ins, and says the savings are often greater. However, some believe that rather than "saving" customers money, the true benefit lies in the unit's flexibility. Homeowners can choose from a variety of configurations and appliance options, and the installation process is comparatively easier and faster.
Modular units also make outdoor living more accessible to people who don't have the luxury of a sprawling suburban backyard. The vast majority of customers at Big Apple BBQ (East Elmhurst, N.Y.) are looking to outfit their balconies or roof decks. "We don't see a lot of backyards," says Paul Goldstein, project manager. He also notes that modular units are of high-quality construction and have sleek, finished looks that are long lasting and require little maintenance. "Since the finishes are stainless steel or powder-coated marine-grade aluminum, they can easily be cleaned with a hose," Goldstein says. "Most built-in kitchens require more cleaning and repairs to finishes, [and] stucco and brick finishes are harder to keep free from moss."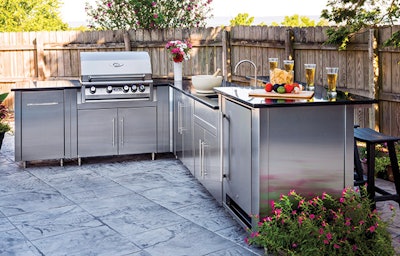 MAKING CHOICES
Online retailers have the benefit of infinite shelf space to showcase their wares. But retailers in the real world have to make cold, hard decisions about how much floor space they can dedicate to a category like modular grills. The trick to making these decisions is knowing who your customers are and what will get them to spend money in your store.
Customers who enter Goldstein's 10,000+ square-foot location, for example, will find mostly high-end modular units that are pricier than anything they could find at Lowe's or Home Depot, he says. But while his average modular kitchen customer spends about $10,000- $20,000, he also devotes a bit of floor space to lower-priced units, like barbecues carts or premade combos. Having a variety of inventory allows him to round out his offerings and appeal to a wider range of potential buyers. Customers who are budget conscious can opt for a smaller unit, while those with a bigger budget can create an expansive outdoor kitchen setup.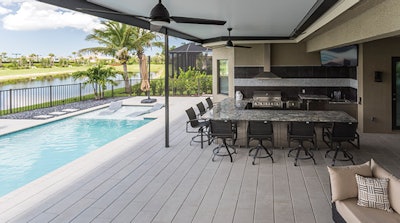 Goldstein also relies on the aesthetic eye of Joe Salvaggio, owner of Big Apple BBQ, to determine which units will win a slot on the show floor. Salvaggio attends trade shows to get a sense of the industry's latest offerings and has a "designer's eye," says Goldstein. "So, if he likes it, usually designers will, too."
RELATED: Outdoor Living: What's Trending Right Now
Yadlowski's modular customers spend about $7,000 to $10,000, which falls into the mid-to high-priced range. He only showcases one modular unit on the floor at a time in his three stores, which range from 9,000 to 19,000 square feet. He decides which units deserve the spotlight by taking multiple factors into consideration, including quality of product, reputation of the vendor/supplier and referrals/references from other retailers who have carried the product or supplier in the past. "We try to bring in a unit [that we] can show with a number of different options," says Yadlowski. "[This way] the customer can see first-hand the quality of the specific products."
Builders and retailers can also work together to get the most out of the modular kitchen market. Nassau Pools, which is a retailer and builder but does not currently have a true retail store, offers space on its display fl oor to a local outdoor furniture retailer. Nassau helps coordinate the furniture sales in tandem with the pools it builds for its clients.
"Often, we merely make the introduction and then the retailer deals directly with the client," says Swinford. "Sometimes we meet collaboratively to ensure that the space designed also meets the client's furniture needs and demands. This has proven highly efficient and lucrative for both parties."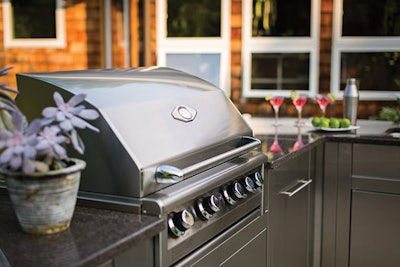 MAKING MONEY AND LOOKING AHEAD
Because customers have so many modular unit options from which to choose, this market segment has been known to give store owners quite the boost to their bottom lines. Yadlowski's highest modular sale was for a $15,000 kitchen unit, while Swinford's largest sale came to $35,000 for a large U-shaped modular kitchen that included a grill, sink, sear burner, refrigerator, tons of cabinet storage, a separate buffet section, backsplash and vent wall, draft hood and custom granite countertops.
"We have a lot of meat-and-potato eaters in our market, and most of them want a separate sear burner so they can finish their steaks in a cooler grill," he says. But Goldstein outshined them all by selling a $75,000 U-shaped unit to a customer on Staten Island. The unit features a 48-inch grill, refrigerator, bar sink and cocktail station, side burner, trash cabinet and drawers. It was "built for someone who spends a lot of time outdoors by his pool with a lot of friends," he says.
RELATED: How to Break Into Outdoor Living
With these high price tags it's no wonder that the future of the modular outdoor kitchen looks extraordinarily bright. Yadlowski believes that the outdoor kitchen industry will continue to grow as customers who are looking to expand their outdoor living space also see the need for larger outdoor cooking options that can be customized to their liking. Swinford also sees substantial growth for the industry, particularly within the next 5 to 10 years. He credits the development of periphery items and the growth of the outdoor living marketplace becoming a more mainstream portion of the pool builders' repertoire.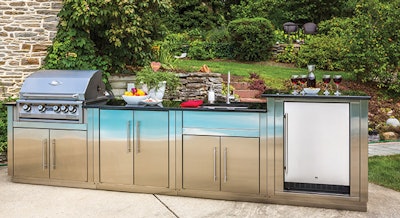 The growth of the industry may also hinge on the relationship between manufacturers and the creative minds who develop the outdoor living spaces of many end users, like architects. "When doing renovations in New York City, [it's all about] what high-end customers want," says Goldstein. "[And] this starts with architects recommending products." He believes that manufacturers should focus their attention, as well as their advertising dollars, toward architects who have the homeowner's rapt attention. And the best way to do that is to purchase advertising space in architectural trade journals and magazines, he says. Once manufacturers convey the knowledge of how fast, easy and beautiful the finished modular kitchen products can be, it will influence owners to allocate their funds in the right direction, he says.