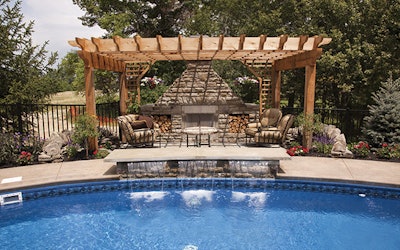 We've really come a long way in the pool and spa industry.
When I first entered this business, the vast majority of builders and retailers were selling what I call "boxes of water," or rectangular pools with hoppers and diving boards. Some would even advertise themselves with slogans like, "We sell everything from the coping on in."
Life was pretty good, but life was simple — even a bit bare-bones. The consumer's backyard was left with nothing around it, no landscaping, furniture, hardscaping, anything, and they were forced to find contractors to finish the job. Think of all the money we left on the table!
As we've evolved from simple "pool stores" to "specialty retailers," successful retailers have come to understand there is just as much money — and maybe even more — around the pool than there is in it! We as an industry have shifted our perspective by broadening it: We don't just provide a pool, we provide an environment.
Nowadays, the backyard is considered another room of the house, the entertaining wing of the home. This is now the space where families can gather, play, socialize, entertain and, most importantly, relax. As outdoor living has grown popular, so too has our industry's opportunity.
When I refer to outdoor living, many think of just patio furniture. But furniture is just a facet to the outdoor living market. There's also outdoor kitchens, smokers, fire pits, swings, pavers, retaining walls, fencing, decking, lighting, stereo and AV equipment, fireplaces, pizza ovens, gazebos, ponds, waterfalls and so much more! These are crossover items that are completely in our wheelhouse. These items electrify the space and elevate you from a pool builder or retailer to an outdoor living specialist.
Consumers all over are itching for that perfect backyard space — the proof is a mere click away on Pinterest. And they're looking for someone to help them bring their vision to life — and that person should be you! Below, I run through the items and ideas that get consumers whipping out their wallets.
Outside In
For years, the goal in interior design was to take the openness and feel of the outdoors and bring it indoors. Now, it's the exact opposite. Today, consumers want the comforts of the interior extended to the exterior of their home.
Items such as sectional sofas, couches and loveseats coupled with weatherproof carpets, pillows, throws and decor help blur the lines between house and backyard — in a sense, the backyard becomes just another room of the house.
This is also why you see a spike in outdoor entertaining. There is nothing like watching a football game outside on a water-resistant bi-screen TV. Or what about movie night on a 10-foot collapsible or inflatable video screen?
Kitchens
Modern consumers have been grilling outdoors for decades now. I remember as a kid lighting the charcoal, cooking all day and eating outside on the picnic table. Oh, how rough I had it!
Today's consumer wants so much more: Instead of a mere grill, they want a comprehensive outdoor kitchen. While grills are still a key part of the outdoor kitchen, they're bigger than ever, as consumers want to move beyond hamburgers, steaks and hot dogs and cook whole chickens, turkeys, pizzas and even pigs on the grill. They're thinking large scale, with space to cook for more than the average family size group of people. I even visited a store recently that was selling flattop grills to do pancakes, stir-fry and more.
Outdoor kitchens also need to be furnished with all of the conveniences of an indoor kitchen. Refrigerators, warming drawers, ice bins, trash receptacles, sinks and bar supplies are an absolute must!
The designs on the kitchens are limitless, offering builders much in the way of design creativity. Some homeowners opt for islands, keeping the cooking area completely separate from everything else, while others blend the cooking and dining spaces with eat-up bars. The key when planning an outdoor kitchen is communicating with your customer about their preferences and how they use the space.
While some builders create super high-end outdoor kitchens, there are options for mid-range builders, too. Some grilling companies, like Bull Outdoor Products, offer grill/island combinations. Others, like RTF Systems, offer modular systems that ship flat for easy transport; once the framework is installed, builders just drop in the kitchen components. For consumers and builders alike, it's simple and easy to create a custom dream kitchen!
Warming Features
No matter where you live, it's bound to get a bit chilly, and nothing makes a space cozier than a real fire. Outdoor fireplaces are one of the hottest trends this year (pun intended), and it's easy to see why: after a great day enjoying the backyard, homeowners don't want to retreat to the house to stay warm. Again, they're looking to bring the comforts of the living room to the backyard, and fire features help them stay comfortable while enjoying their backyard space well into the night. So let's heat up the space and make some s'mores!
Other warming features like outdoor fire pits and fire tables are also very versatile. Some models are wood burning while others run off propane, so they can be easily moved throughout the space. Patio heaters are another great option for consumers with larger spaces, and tiki torches are ideal for consumers who like an inexpensive, fun way to stay warm.
Having the warmth is important, but the way these features look is equally important. Glass fire features are a great example: they serve a purpose when on, but they also look great when not in use, and act as a focal point to the "room."
Lighting
No outdoor living space would be complete without the proper lighting, and luckily, there's myriad options for consumers to choose from. Landscape lighting, for example, includes up lighting, down lighting, step lighting, brick lighting, spot lighting and path lighting, to name a few. Pathway lights not only help to light the space and make it usable well into the evening, but during the day, premium fixtures double as outdoor art and look just as spectacular off as they do on.
Warm white light is still the most popular partly because of the "feel" and look of the light. But I find LED color-changing lights should be added for when customers want to easily create a party atmosphere. They can be added to the pool, as landscape lighting or even purchased as LED globes, many of which can serve as accent lighting on land or float in the water! Many of these items can be controlled using a remote or permanently installed into a home automation system or pool control system where they can be operated via app.
Water Features
These features do not necessarily need to be connected to the pool's plumbing. There are manufacturers like Atlantic Water Gardens, which offers self-contained fountains and spillways to make it easy and inexpensive to add new water elements to the backyard.
In addition, scuppers and wall spouts can be added to most retaining walls or decorative walls. For a more sophisticated look you can add salt columns, statues or plumb your own large pots and vases into water spillways.
Pavers, Stone and Fence
Poured concrete patios and stamped concrete decks are being replaced by natural stone, porcelain or manufactured stone pavers. This trend is exploding all across the country; consumers just love the look and feel of stone and stone manufactured products. It gives the space tone, texture and complexity.
Pool builders and specialty retailers now have the ability to show and install this product and capture sales they would normally have given to a subcontractor. And the best part is it's simple to learn to do and the results are stunning! Travertine is still the number one seller with stone style retaining walls remaining popular as a complementing feature.
The other item that is easy for you to offer, sell and install is aluminum fencing. Once again it complements the space and adds another element of style and sophistication while providing safety and security. Raised fencing incorporated into the landscape defines the space and compartmentalizes it into a true outdoor room and living space.
Outdoor Seating
Cast-aluminum and wicker sectional sofas continue to grow in popularity, and as such, it's a key category for specialty pool retailers to focus on. If you have room on the showroom floor, matching chairs, bar stools, lounges and high-top dining options will help round out your furniture selection.
At the same time, there's no need to overly complicate your selection. Keep it simple by offering two neutral styles and two neutral finishes for your consumer to choose from. They can personalize the space and add color and texture with custom pillows, throws and outdoor rugs and accessories. Remember to build lots of seating into the space; it's something you can never have too much of.
Tangential Items
Everything I listed above is just the tip of the iceberg — if you consider the needs of your particular market, you're sure to think of products that your customers would be thrilled to have. Mosquito misting systems, for example, fly off the shelves in especially buggy regions, while drip irrigation systems are great for consumers with abundant flower beds.
Consumers love the one-stop shop, so the more you have to offer increases your chances of getting the business. At this point, some readers may be a bit overwhelmed by the ways they can expand their product offering. My main advice: You don't have to entirely change what you're currently doing. Instead, start small and add a few items at a time. If outdoor kitchens are a goal, start incorporating more pavers into your selection. If fire pits are a goal, start with outdoor seating.
Start small, and keep your end goal in mind, and you'll be well on your way to becoming an outdoor living specialist.
Ted Lawrence, POOLCORP corporate retail category manager, has been in the specialty swimming pool industry for more than 24 years and is known as a leading authority on omnichannel retail. With his experience and proven methods, Lawrence coaches hundreds of small independent as well as large multi-store chains on how to skyrocket revenues, increase consumer loyalty, plan for the future and reach the next level. He is an award-winning international presenter at dozens of industry events globally.
Dividing the Space
When working with customers to create the backyard of their dreams, it helps to start by dividing the yard into several subspaces, each with a different purpose. Here's how I do it:
1. Relaxation Space: This is the "getaway" spot for reading a good book, taking a nap, listening to music or enjoying a cup of coffee. Items like a hammock, hanging chairs and cocoons are fun ways to relax when you're not in the pool and a great space to unwind.
2. Cooking Space: This would include the outdoor kitchen, grill, smokers, pizza oven, etc.
3. Warming Space: The location for a fireplace, fire pit or fire table.
4. Zen Space: If there's room, this is ideal for a water feature like a Koi pond or waterfall.
5. Seating & Dining Space: A place to relax, eat and enjoy the space with friends and family. This should be a large space with plenty of seating.
6. Pool Area: We as pool and spa builders and retailers are masters at this space, and it should definitely be the focal point of the backyard. When designing a backyard space, make sure the other spaces complement the pool and spa area and don't compete with it.
Comments or thoughts on this article? Please e-mail [email protected].