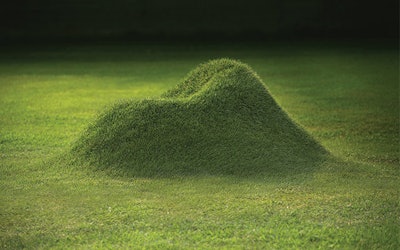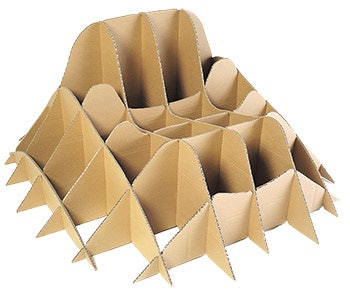 When you think of a lawn chair, you tend to think of something like a classic Adirondack, or aluminum chairs with tube or nylon webbing. Studio Nucleo, on the other hand, has invented its own lawn chair — emphasis on the lawn part.
Meet the Terra chair, a piece of outdoor furniture that is quite literally part of the outdoors. The key to its structure is the cardboard foundation; it's your standard corrugated cardboard, laser cut to size and shape and then filled with dirt and topped with grass seed. About two months later, you've grown yourself some new furniture.
In that respect, the Nucleo team argues the Terra chair is more meaningful than your average patio furniture — it's personal. As the company website reads, "There is no greater form of intimacy with an object than to be its creator."
The Terra chair debuted in 2000, and was displayed at design exhibitions all over the world. More than 4,000 units were sold before Nucleo ended production of the chair in 2005.
For a while, like seeds waiting for the rain, it lay dormant.
In August of this year, Nucleo ran a Kickstarter campaign to fund production for a new Terra series, offering the chairs, mini-versions and blueprints as rewards. The standard model (pictured) was available for a $279 donation, and other models, including love seats, couches and kid-sized seats, were also available.
With today's focus on sustainability among both consumers and manufacturers, turns out there's renewed interest in a green-concept chair like Terra. While the campaign has wrapped, its success — 222 backers pledged nearly $24,000, nearly 30 percent more than the project's goal — would indicate Terra is likely to return, just like grass in spring.