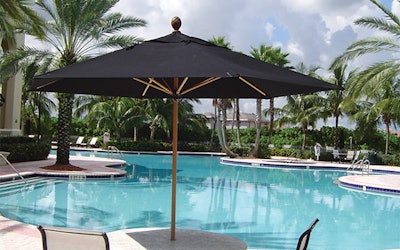 With consumer confidence high, backed by a strong economy and a growing outdoor market, homeowners have turned their focus on their outdoor spaces.
The backyard oasis has become an extension of the home, as outdoor kitchens, furniture and other alfresco elements grow increasingly popular — a bottom-line benefit for pool contractors and retailers alike.
And where there is sun, both in and around the pool, so too should there be an option for shade.
A large part of that outdoor revenue, then, can be made in the shadows.
"With global warming and skin cancer becoming more prominent in headlines, businesses and individuals are increasingly more aware of the need for shade from the sun," says Ray Sweet, owner of Fiberlite Umbrellas.
Shade structures and accessories offer protection homeowners can't get from sunscreen alone. And with the desire to utilize their patio and pool year-round, in the dead heat of summer or during a spate of bad weather, shade is in large part the solution they're looking for.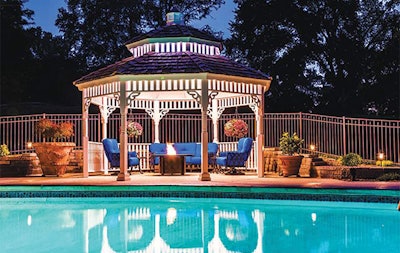 CREATING AN OUTDOOR ROOM
Amish Country Gazebos is a shade structure manufacturer/retailer in Pennsylvania that offers gazebos, pergolas, pavilions and now pool houses (reaching the market in 2020) that fit a wide range of different project types and budgets.
As outdoor kitchens become more commonplace on jobsites, the company has seen an increase in demand for poolside shade structures. It's not just about providing shade and the health benefits that come from it, but enhancing the outdoor living space. In other words, it's a win-win.
RELATED: What's a 'Pergola' Anyway?
"These homeowners not only want relief from the sun around the pool, but they want the feeling of a special outdoor room that makes a great place for a meal," says company CEO Chet Beiler.
For larger orders, the company relies on phone consultations and a large network of certified installers sprinkled throughout the U.S.
"We are very thankful for Google Earth," says Beiler of the company's installation process. "We can go right into the customer's backyard, which makes it very possible for us to understand heir project. We can easily address issues like site preparation, size, if permits are required, if they want electrical or any number of questions."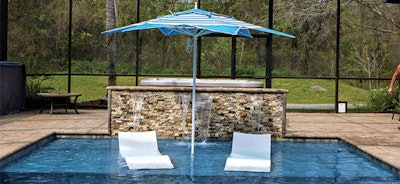 THE HUMBLE UMBRELLA
One of the more popular shade structures is the umbrella. The umbrella has long been a summer mainstay — whether as a rain umbrella in the hands of city commuters on a wet, dreary morning or as a beach umbrella on a hot, sunny day.
When used in the backyard, umbrellas offer opportunities for vibrant color and are an important element to harmonize with other features of the house and backyard space.
Fiberlite Umbrellas patented its first fiberglass frame umbrella in 1987. While umbrellas are the company's primary focus, they also offer other various shade products and accessories, from pavilions to cabanas, with options to brand and customize many of their products.
One of the most popular features of the company's fiberglass umbrellas is the waterproof fiberglass poles that allow swimmers to bring shade into the pool itself, especially onto rapidly proliferating tanning shelves.
Even the company's traditional cantilever umbrellas have been upgraded for smoother operation. "Our cantilever and in-ground mounting system utilizes a twistlock system that we developed," Sweet says. "With a simple twist of the umbrella pole, users can lock or remove the umbrella in one motion. It's significantly easier to swap and store."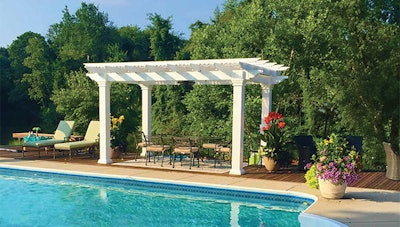 RELATED: Tanning Ledges: A Fiberglass Must-Have
The company has also created an auto-lock mechanism using marine cam locks that eliminate the need for a latch or pin to secure even larger umbrellas in an open position, allowing for endless canopy adjustments.
The umbrella market has also seen advancements in Bluetooth sound systems, LED lighting — including options for solar rechargeable lights — and more.
Like Beiler, Sweet is confident that business is expanding. He sees an increase in demand due to today's focus on global warming and the health risks that come from too much sun exposure.
"Growth will continue in the normal markets, such as homes and hospitality, but new markets like the pool industry, cruise lines and utility companies have opened new avenues for growth," he says. "Shade is a priority when recreation heads outdoors."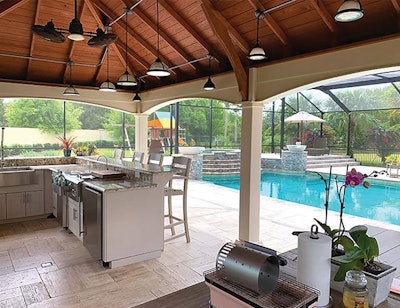 THE BOTTOM LINE
If pool contractors are not utilizing shade structures in their backyard designs, they're losing a unique profit opportunity. Shade structures should be treated with the same importance as other outdoor details.
"If contractors offer a gazebo, pavilion, pergola or pool house, or should I say any poolside shade structure, they can make more profit," says Beiler. "And if they don't, they're leaving money on the table."
And whether it's by adding an umbrella, cabana or an elegant pool house, manufacturers are there to help contractors along the way.
"Over half our revenue comes from contractors, not homeowners," says Beiler. "We think it is our job to make contractors look good to their customers, and we take a lot of delight in doing that."