What's an architect to do when the sea is nearby, but the surrounding neighborhood is blocking prime views? Dutch firm MVRDV, together with KAI Architects and Envision Engineering Consultants, offers a clever solution with the "Y House" design.
Proposed for a site in Northeast Tainan, Taiwan, the concrete villa was conceptualized as a weekend retreat for city workers. Its bold Y-shape offers a view of the surrounding landscape that buyers crave.
"How [do you] make a house that literally rises above the 'sea' of houses?" asks Winy Maas, MVRDV co-founder. "By making the downstairs as narrow as possible...and situating the majority of the living space on the top floors."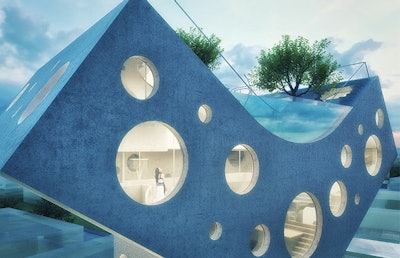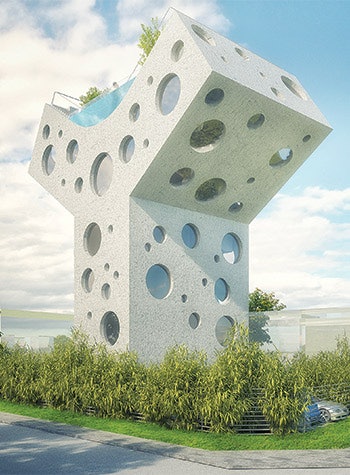 At 3,550 sq. ft., the villa's four levels are accessible by stairs and an elevator. Living and dining rooms take priority, nestled near the split of the Y-shape. Layered below are two children's rooms, a master bedroom and a guest bedroom. The ground level features a tea room for entertaining guests and a garden dotted with stepping stones, based on feng shui principles.
The rooftop pool steals the show, complete with a sundeck and nearby changing rooms. Echoing the circular windows across the building, the pool has cutouts that flood natural light into the living spaces below.
MVRDV says Y House is the second project it will bring to fruition in Tainan. A completion date has yet to be confirmed.
---
This article first appeared in the August 2021 issue of AQUA Magazine — the top resource for retailers, builders and service pros in the pool and spa industry. Subscriptions to the print magazine are free to all industry professionals. Click here to subscribe.
---