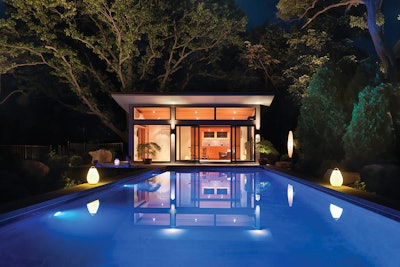 Photo courtesy Zen Associates, Inc.
Pool designers and salespeople are accustomed to working directly with homeowners, so your first time working with a landscape architect can be eye opening. You no longer have access to the opinions and emotions of the homeowner, which forces a different approach. There are still emotions to consider when working with a landscape architect, but you'll need a slightly different tack.
Landscape architects consider programming first. "Programming" is selecting the spaces that need to be created (water, entertainment spaces, views, traffic flows, etc.), and then weaving them together in a logical manner. Within that framework, landscape architects must consider everything. As pool builders, it's easy to fall into the trap of only thinking about the pool and immediate deck work. Often pool builders think of the landscape outside the deck as simply plant matter and unimportant to the 'job'. That is the luxury of being a pool builder. You can maintain singular focus on your one piece of the property. However, if your clear your blind spots increase your awareness of the whole, you will find yourself better able to communicate with the design team and find solutions using your unique skill set.
HOW TO BEGIN WORK WITH A LANDSCAPE ARCHITECT
Basic integrity is the first step, and will separate you from much of your competition. Do what you said you were going to do when you said you would do it. If something comes up and you can't keep your promise, follow up immediately and don't make excuses. Be honest and concise about what's going on and propose a solution.
Transparency is key. Like any third-party sales scenario, you should always lead with your lowest price solution to the pool installation. Even if you already have a relationship with the landscape architect, you need to show that your pricing is reasonable. Although you fully plan on providing a high-priced, high-quality solution, you need to start with the minimum viable product. The landscape architect has a duty to their client first, and usually needs to get more than one price in the first budget pricing round.
To accompany this minimum viable pool, you should always show a recommended scenario with itemized pricing for a pool you would be proud to build. The intention would be for these numbers to be presented to the client as part of the proposed project budget. If you don't get this recommended scenario number included in their budget presentation to the client, you will have a lot of work to do down the road.
DESIGN IS NOT INSTANTANEOUS
Landscape architects have a different design process than pool builders. Bearing that in mind will help your relationship. Pool builders often try to design and specify a project in one motion, with the obvious goal of getting a signed construction contract. A landscape architect views the design as its own separate process, extending from an initial schematic phase where you may see simple shapes and spaces on paper as the program is worked out, to design development where most of the products and material interactions are mapped out, to the construction documents phase and construction oversight phase. This may take months or even years.
You may be initially contacted about the pool anywhere in this process, and you may be contracted to build the pool before all the details are worked out. Just because you have a contract to build a specific pool does not mean the sales process should end. In my opinion, this is true of any project, but it's especially true with landscape architects.
Sometimes 'no' only means 'not yet'. Do not be afraid to revisit the materials you know will make this project pop and features you know will make for a better experience for the end user. Doing the work will pay off for not only you and your shared client, but the landscape architect will look like a pool genius in the client's eyes.
HOW TO DISAGREE WITH A LANDSCAPE ARCHITECT
What should you do when you see an obvious (to you) problem with the design? If you know, based on your experience, a design will create future problems for the client, you must communicate that clearly and respectfully. For example, will the equipment function at its best when placed at an elevation 6 feet above the pool water level? No, it won't. Instead of chalking it up to, 'well that's landscape architects for you' and building it anyway, be firm about why you want the equipment moved, and propose solutions. Don't be uncooperative, but also don't build pools you know won't work well. Propose the solution as a collaborator, not a dictator.
HOW TO STAND OUT TO A LANDSCAPE ARCHITECT
Your job as a pool designer when working with a landscape architect is to give them access to the specialized knowledge you possess related to the nuance and inner workings of a swimming pool. All too often, a lazy pool builder will fall into the trap of 'order taking' from reliable 'lead sources' and neglect the art form they are a part of.
Remember, landscape architects don't only know about your competition, they have worked with your competition. They know your competitors intimately and have an understanding of pool builders in general. You may find them jaded and dismissive at first. You will be fighting an uphill battle to prove you are different.
Like any design professional (pool design professionals included!), there is an ego to manage. Once you learn to leave yours at the door, you can give landscape architects what they want and build a lasting professional relationship. You can become their trusted advisor for everything pool related. The reward is repeat business combined with designs you are proud to be a part of.
Scott Pancake is a pool and landscape designer with over 20 years of experience. He's worked in three different regions of the country: New England (SSG), Austin, Texas (Austin Water Designs), and Arizona (BYOP). He is currently a landscape designer for ZEN Associates, a global boutique landscape and interior design firm in Boston, Mass. In addition to ZEN, Scott founded Backyard Assist, a media site designed to help homeowners navigate tough questions in their backyard.
This article first appeared in the March 2023 issue of AQUA Magazine — the top resource for retailers, builders and service pros in the pool and spa industry. Subscriptions to the print magazine are free to all industry professionals. Click here to subscribe.