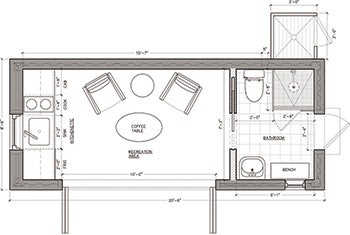 You turn it on its side, and you're half done. Frame in a few walls, lay in a couple sliders, finish it out with plumbing, electrical and cabinetry, and you've got it: A shipping container pool house, durable as its steel frame.
"Durable, plentiful and affordable, shipping containers have taken the architectural world by storm, metamorphosing into more than simple metal boxes," says Architectural Digest. It's hard to argue with something as straightforward as a mass-produced steel-walled box, built to last, with nice finished surfaces.
RELATED: Pool House Rock
Elbar Pool Houses makes them — that is, turns them from shipping containers into pool houses. To save money and avoid the hassles of construction in the buyer's backyard, the pool houses are constructed off-site and delivered fully finished and fitted with luxury features like custom cabinetry, a kitchen, a full bath, designer decor, high-end fixtures, high-efficiency heating and air conditioning, LED lighting, and indoor and outdoor showers.
One nice thing about shipping a shipping container is that it's made for shipping, so these pool houses show up quick — about four weeks from order to customized interior to arrival.
The price starts at $79,900, delivered.