Sometimes, for reasons that are impossible to explain, a finished pool might seem the slightest bit incomplete — like it still needs something. This was the case when one company started thinking about how to discard the resources removed from a recent installation site. And then, an answer to both problems came to them in one thrilling solution: Instead of scooping and muscling all that excavated rock onto a truck and dumping it somewhere, use it to build a totally cool pool house treehouse!
The job initially started as a natural lagoon and cave design. After a few trees and a lot of stone were removed from the site, the RicoRock team decided instead to take these resources, combine them with the materials earmarked for the pool equipment room, and grow it all into a functioning treehouse that creates a completely different environment. It was the ultimate recycling project.
"Most people just drop their pool equipment somewhere and that's it," says Bruce Riley, managing director of RicoRock. "But we saw it as an opportunity to turn a pool equipment area into what's basically a brand new living quarters. It's amazing to see it transformed into something far beyond just a concrete box."
And "beyond a concrete box" is definitely an understatement. The design of the upper level has plenty of outdoor space for some fresh air and an inspiring view of the finished pool. The balcony and roof are thoughtfully designed with holes cut from sections of flooring and paneling to accommodate the tree's organic structure, and the interior offers a modern and minimalistic hangout lounge.
RELATED: 8 Low-Maintenance Tropical Beauties to Plant Poolside
The interior area is about the size of a small bedroom, but still manages to pack a lot of unexpected amenities into a space that's open and comfortable. "There's electricity going through the place," adds Zayvian Camacho, one of RicoRock's product designers. "We have a ceiling fan in there, and a few jacks so you can plug music in or set up a TV, so you have a lot of options. It's a getaway spot with a lot of cool things to do."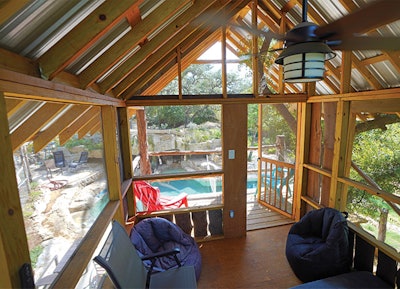 There is a hammock directly below the balcony, along with more lounge space next to the pool. The repurposed trees with cleverly executed lap joints provide balcony support and integrate beautifully with the entire structure, the division between wood and stone creating a stunning yet natural contrast. And the equipment room — the part of the project that helped spark the new addition and something that tends to be an eyesore — is neatly hidden within the base of a treehouse that showcases the natural beauty of the surrounding area.
As for the timeframe of the project, the RicoRock crew got to take an approach that worked better for the end result and did wonders for company morale. Instead of rushing to finish the treehouse, they used it as an opportunity to offer extra hours to in-house crew members who wanted them. What could have been a hectic job pushed out in a month was on and off for about a year, and even small updates continued to be made beyond that. Camacho and Riley both assure that the absence of a deadline was what helped create not only a great outcome, but ideal work conditions.
"It was a good time for everybody to take on a creative task," says Camacho. "Everyone's working together and contributing these creative ideas, saying 'maybe this would look better that way.' It was a custom-designed free-for-all, and it turned out pretty great."
RELATED: Choose Your Own Adventure
With no expectations as to when everything needed to be finished, was there a danger the project would turn into an endless series of new suggestions, bigger plans and infinite updates? Riley says the opposite was true. "It's often an impulse for people to make things too big," he says. "But for us, when we knew what we wanted, it just all came together perfectly. That's the great thing about not being in a hurry."
As much fun as it was to build, the treehouse is still an accessory to the impressive pool, cave and cenote (which is a pit or sinkhole that forms naturally from the collapse of limestone) made from artificial rock. It acts as a starting point — a way to see the entire project in full before moving around to the different spots and taking in the details at close range.
"It creates something where you're curious to see what's next," says Camacho. "You can go into the cave or at the end of the cenote toward the entrypoint in the back, there are all these plants that start to come into view, and it sparks that interest as you're moving through."
Riley states that while RicoRock has done a lot of interesting and innovating things with past projects, this one was by far one of the most enjoyable to work on. The innovation, collaboration and resourcefulness helped turn the feeling that something was missing into an entirely new experience of its own.
"It transforms the pool into a whole environment," Camacho says. "People don't think they're just going to a swimming pool. It's a thing of fantasies, and it makes it a lot more fun."