Dan Ramos, owner of Distinguished Pools (Poway, Calif.) knows more than most about designing pools with adventure and fun in mind. His projects feature a variety of elements more typically associated with waterparks than residential pools. Here he shares a brief compendium of projects built for whimsy, imagination and fun on a grand scale.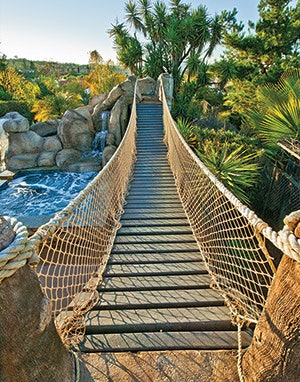 It's always great to find clients with a sense of adventure — it's even better when they have the resources to pursue it. I personally enjoy creating fun pools because they allow me to expand my creative horizons and deliver value to the client that's best measured by excitement and laughter.
After all, pools are all about fun anyway, so why not up the ante?
As these projects unfold at the start, sometimes I'm asked to let my imagination run free and create something new and unusual. More often, clients have their own ideas, and it's up to our company to incorporate those concepts into a creative, unique and safe final product. Either way, these aquatic settings rank among the most challenging and enjoyable in my 20 years in the business.
In a very real sense, a big part of the fun of working in this genre is the process of imagining how much fun they'll be when complete. I do our company's design, which is all digitally animated these days. (Pool Studio is my program of choice.) I really can't say enough about the design and presentation tools we have now and the way they help clients visualize their project.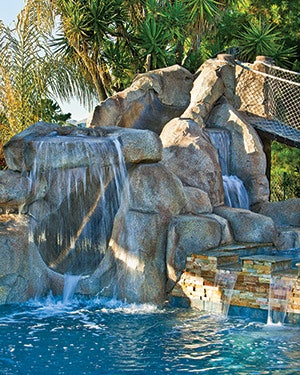 As a result, I'm usually able to nail down the design on the first try, or at least come very close. Sometimes I have to start over and try again, but it's never a problem. I've found that by using the client's input as a starting point and presenting the resulting design in animated perspective renderings, it's easy to get the client excited very early in the process. After seeing the presentation, many clients will expand their ideas and their budgets as they see their ideas and mine begin to take shape and grow.
If you want to create fun pools, you should have fun in the process. Your excitement will show in how you present your ideas, the design choices you and the clients make and the overall atmosphere surrounding the hard work.
In other words, the process should be as enjoyable as possible for everyone involved.
BIG KIDS, BIG DREAMS
There's a natural tendency to think that people who want an adventurous aquatic setting would be those with kids at home. While that is often true, it's not always the case. For example, we recently completed a project for an older gentleman and his wife who said they wanted something fun and unusual for their grandchildren. That made perfect sense, but as we moved through the process, I came to strongly suspect that the grandkids were merely an excuse for my retired client to create a fun and unique backyard for himself and his wife.
The existing pool was a large, rectangular 1980's design with no spa and small steps — aside from its large size and great depth, it wasn't anything special. The concept: Creating a tropical paradise without altering the shape of the pool.
My design included a spa outside the deep end and a large sun step surrounded by rocks to create a cove-like feature. The design also included a large bench in front of the spa for entry and egress between the two bodies of water, or just hanging out, as well as a host of other tropical elements.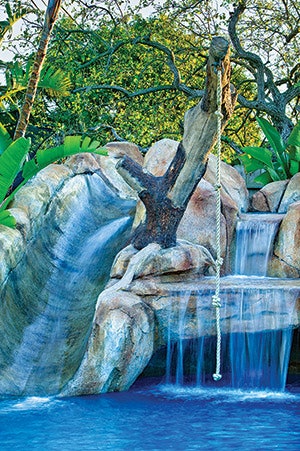 The most visually dominating and unusual element, though, is a large rope bridge, the kind often seen at amusement and waterparks. I was already working on a smaller version of a bridge for my own personal pool, so when the clients asked for the wildest design we could imagine, I already had a head start. The layout of the property just called for it, and when I showed them the design, they bristled with excitement.
In many respects, this project is a great example of what can happen when collaborating with an open, adventurous client. You never completely know where the whole process might eventually lead.
BRIDGE BUILDING
In this setting, the bridge spans 25 feet from the raised spa area to the top of the slide, another key fun element. We wanted to create an elevated (pun intended) feeling of excitement on the approach to the slide; with a rope bridge, just getting to the slide is now a big part of the experience.
I knew we'd need both guidance and the correct product, so we turned to a company in Connecticut that manufactures bridges for the waterpark industry. They supplied all the cables and rigging to build the bridge, which we assembled on site. We poured the footings, installed upright steel beams and created ballast to support the entire structure. We then used structural recycled plastic "lumber" for our treads along with some custom fabricated metal fittings.
I was particularly impressed by how the airline-grade braided stainless steel cables look like rope — all wrapped in jute with the cable inside. We further enhanced the sense of realism by concealing much of support system inside hollowed-out treads. Now, even with all the complex modern rigging, it's hard to tell the bridge from the genuine article.
The structure allows for a limited amount of side-to-side swing, enough to feel like an authentic rope bridge, but not so much as to create a risk factor. It's definitely built for safety.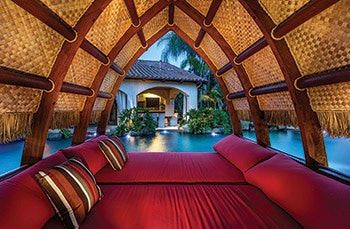 The slide is nestled in a complex artificial rock structure; we dyed it to match the rockwork and finished with a smooth epoxy coating. Part-way down the 20-foot course, an overhanging rock bridge rains a curtain of water on sliders, adding yet another fun sensory element.
ALL ABOUT CONTEXT
It's important to point out that bold features need to harmonize with the overall setting, lest they look sorely out of place. The bridge works well because the entire design carries a tropical theme with waterfalls, rockwork and lush plantings.
The pool is finished with a deep blue plaster to enhance reflections and create the impression of deep natural waters that you might find on a tropical vacation. The pool may still be a rectangle, but I'm satisfied knowing we turned it into much more.
In a somewhat similar situation, a different ambitious client had seen a rope swing mounted over an elaborate resort pool in Hawaii. Her children loved the swing so much that her family returned to the resort on a subsequent trip — quite the testament to the strong appeal these types of elements have in commercial settings. When it came time to create her family's own backyard slice of paradise, the rope swing topped her wish list.
Building a rope swing might not sound that challenging, but as we pursued the idea, it became more involved than I first thought. What we ended up with is a custom fabricated swing attached to a hand-made, engineered tree designed to look like it's clinging to the top of a luxurious swim-in grotto. Swimmers can swing from the rope into the pool and then swim right into the grotto. By combining the two elements, each becomes more dynamic than they would be separately.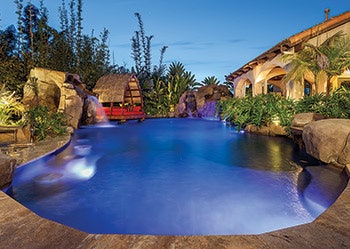 The tree itself isn't a replica of any certain species, per se. This tree was inspired by trees I had seen in coastal regions, with trunks that cling to the edge of a cliff, their roots partially exposed. As was the case with the aforementioned rope bridge, coming up with the idea was easy; actually building it took long hours of research and calculation to make the tree both strong enough to support the swing and also visually believable. The tree's vertical beam, or "trunk" is anchored into the ground with its own ballast, and the grotto is formed around it. The structural steel column is clad in decorative concrete that was carefully sculpted and colored to look like bark — a process much easier said than done.
When doing this type of work, you learn new skills. We had never built a tree before this project, but since then have incorporated trees into several of our natural-themed water features and are able to complete the work in a fraction of the time. Practice makes perfect.
SHIP OF DREAMS
Not only do those hard-won skills better enable you to execute them for your clients, but in my case, that same background also came home to roost in a big way. When it came time to build my own family pool, I happily deployed many of these ideas with a nautical twist.
The "shipwreck" is a '70s-era pool that has been extensively remodeled into a small waterpark. It includes a 25-yard swim lane, two swim-out areas and water rapids that course beneath a rock bridge equipped with built-in speakers. It has multiple waterfalls; two spas, one with lounge chairs carved into each side; a cave with a massive 6-foot waterfall over one of the spas; and a 16-foot slide accessed by a rope bridge, basically a smaller version of the one mentioned above.
The shipwreck is definitely the centerpiece. It started with a 47-foot sailing ketch from the early 1900's that's been converted into a pool house with a wet bar. We cut it down to 35 feet and then placed it at the end of the pool where it is surrounded by a waterfall, an effect I created so the derelict vessel would appear as though it ran aground. Suffice to say, it dominates the scene in a big way. In fact, the bowsprit can be seen through a stand of large timber bamboo as you pull into the driveway, which piques the visitor's curiosity and invites him or her to investigate the space.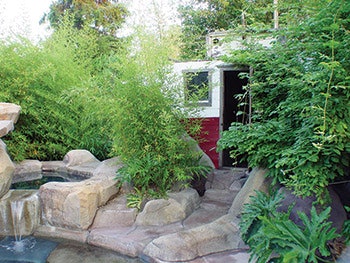 Lastly in this collection is an oversized Bali-style pool with multiple waterfalls and a unique Lumbung pavilion. The pavilion was built in Bali, disassembled and shipped, reassembled on-site and now perches over the water on two rock pillars.
The project includes a 26-foot slide with a waterfall bridge and a walk-through tunnel that provides access to the pavilion. The poolscape also features a swim-in cave that comfortably holds 10 or more bathers, a small waterfall that spills into an oversized spa and finally, a large sunken swim-up bar.
GOOD TIMES FOR ALL
What I enjoy most about building these types of pools is knowing that they will be used by kids of all ages for years or even decades to come.
But make no mistake, this type of work is challenging. As was the case for all of the projects mentioned above, our team at Distinguished Pools had to dive deep into the details and seek multiple sources for both information and suitable products.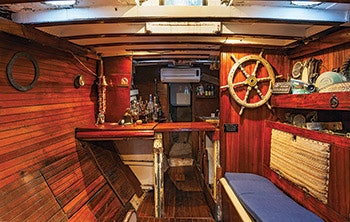 We're also scrupulous about safety, my last point for this discussion. I always talk to our clients about how to safely use their features and the risky behaviors they need to avoid. Just as there's no such thing as a risk-free swimming pool, many of the design elements also introduce various potential hazards. I've found that when you approach safety with a positive spin, awareness of and respect for those risks empowers clients, rather than instilling fear.
That being said, there's nothing like the satisfaction that comes from seeing the expressions on the faces of people using these pools. When it's all said and done, fun is a type of human currency of practically unlimited value.
THE DIGITAL ASSIST
Working with clients in pursuit of creatively adventurous concepts is easier than it used to be, largely because of online resources like Houzz. Homeowners are able to almost instantly peruse a universe of ideas and create their own idea book. In turn, those visual wishlists become a creative pallet the designer can use to stay focused on the overall direction and at the same time, select different elements for possible inclusion.
By combining that free access to source material with the power of 3-D animation, it's much easier to wow the client. They're able to see how fantastic their ideas will look in their own yards.
In a very real way, today's digital toolbox helps us personalize the process, while injecting a huge dose of excitement.
Comments or thoughts on this article? Please e-mail [email protected].