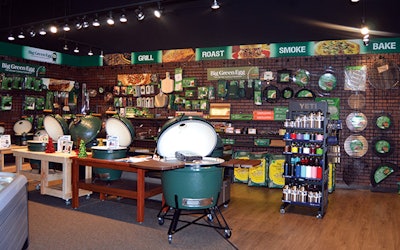 Do you know an EGGhead?
It's not an insult, it's the designated name for a fan of the Big Green Egg, the kamado-style grill made by the company of the same name.
EGGheads can be found around the world, from North America to South Africa, and range from casual grillers to professional chefs. They even have their own online forum where they exchange recipes and grilling techniques (eggheadforum.com).
In the real world, EGGheads can be found at local grilling festivals called EGGfests. The largest of these, EGGtoberfest, sees as many as 3,000 attendees. This year marks the 20th anniversary of EGGtoberbest, which is held annually by Big Green Egg near its Atlanta, Ga., headquarters.
Big Green Egg also releases a weekly podcast and annual magazine, both of which highlight culinary professionals who use EGGs from around the world.
RELATED: Up In Your Grill: The Basics of Selling Grills
It might seem like a lot of hype for a grill — what's so special about EGGs, anyway? Well, for one thing, they can take on many different tasks for the chef.
"[They're] very versatile," says James Bassemier, sales manager at Leisure Distributors (Evansville, Ind.). "They can be a pizza oven, grill, sear, heat and bake. Really you can do anything." Bassemier has been selling the grills since the 1990s and has owned one for just as long.
Matthew Goeltenbodt, operations manager at Hot Tub Tony's (Geneva, Ill.), fell in love with the flavor the EGG produces. He's been selling them for five years and has owned one for almost two.
"It's definitely a more refined cooking technique when you are cooking with a Big Green Egg, which is what I think makes the food taste better. It makes the person that's using it pay more attention and be more enthusiastic about what they're cooking."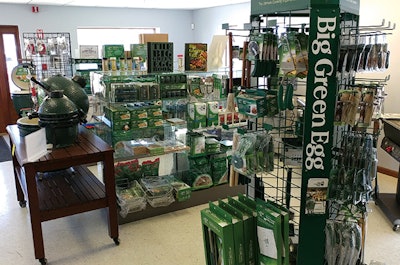 A RECIPE FOR SUCCESS
While Big Green Egg has been around since 1974, evidence of the use of ceramic cookers dates back to 226 B.C., based on excavations in China. Neighboring cultures adopted the idea for themselves over the centuries. Some examples include India's tandoor, Korea's buttumak and Japan's mushikamado, from which modern kamado grills derive their name and appearance. Despite this long history in Asia, ceramic cookers did not catch on with Western chefs until the past 50 years or so.
To a large extent, Ed Fisher, the founder of Big Green Egg, is the man to thank for that. He discovered ceramic cookers while serving overseas in the Navy and later imported them from Japan to sell domestically. However, these models had a big drawback: they were highly susceptible to weather conditions. As a result, he designed a more durable version using ceramics designed by NASA. The first EGGs were manufactured in the mid-1990s at a factory in Mexico, which continues to manufacture EGGs to this day.
RELATED: A Will, A Grill and A Way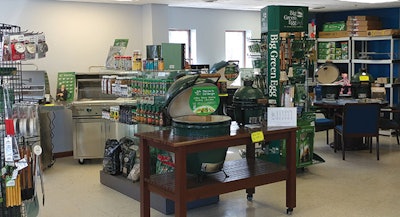 "FOOD IN MOUTH" MARKETING
The product has been a winner for a number of dealers in the backyard lifestyle market. Bassemier's parents, who founded Bassemier Fireplace and Patio (Evansville, Ind.), were among the first EGG dealers in Indiana more than 20 years ago. Bassemier has seen firsthand how the EGG has grown from niche to phenomenon through word-of-mouth marketing.
"Food-in-mouth" marketing, rather.
"Somebody would get it in their backyard and cook on it, and they'd be amazed, their neighbors would be amazed," Bassemier continues. "Then it was like a slow smoke thing. People started to sear steaks on it, and then started doing pizzas. Once people realized all it could do, it really took off."
Translating this into a sale is as simple as a live demo, he says. "Let a guy take an EGG home and cook on it and pretty much he's hooked."
But in order to get to the demo stage, an attractive display is a must, according to Josh Kemerling, general manager of Georgia Spa Company (Alpharetta, Ga.). Georgia Spa put together such an appealing setup it drew attention from EGG HQ.
"Big Green Egg corporate actually came in and took pictures of how we did that area," he says. "The grill, roast, smoke bake, all the images you see on the top we printed ourselves. We did that with a local vendor. We wanted to be like 'Hey, this is a Big Green Egg destination.'
"BGE is kind of like the milk and bread for us — we do a large business with them," he adds. "It's funny because we really don't push Big Green Egg, we're just known for Big Green Egg. All of our staff has them, and they cook on them every week."
RELATED: 2018 Outdoor Living Product Roundup
"EGGheads are a community that, when they walk into a retailer for the Big Green Egg, they want to see that green in front of them, be it the product displays or the actual EGGs," says Goeltenbodt. "When somebody walks in, they see what they've looked at in the magazine or what they've read about online right in front of them. That's the big pitch right there, and it keeps them coming back."
In addition to the initial BGE sale, the aftermarket is surprisingly strong, according to Bassemier. "You sell about as many EGGcessories nowadays as you do EGGs," he says. "I've been in this my entire dealer life, and I've never seen a product that people got this obsessed about. It just keeps growing."