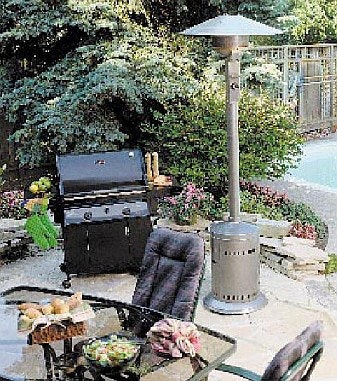 You're not going to find a backyard with a pool or spa without a grill," says Eric Roller, sales manager for Olympia Pools & Spas in Fort Wayne, Ind. This thinking has led many pool and spa dealers, including Olympia, to add grills to their product mix. "It's just a natural fit," adds Roller.
But grills, like pools and spas, don't sell themselves. Dealers need to establish and execute sales and merchandising strategies so the grills taking up square footage in their showroom can be profitable.
In terms of merchandising grills, presentation is key. "Instead of putting just a price tag on it and offering it to customers, dress it up and accessorize it with food, drinks and other things that create ambience so customers can visualize it in their own backyard," says Roller. And, weather permitting, he also recommends displaying grills outside so drivers can see them as they're traveling by.
With an indoor display, light it up so it's inviting, says Hal Wardell, grill product manager for Virginia Beach, Va.-based Great Atlantic Pools, Spas, Patio, Fireplace. And have accessories displayed next to or on top of the grill.
Why Accessorize?
Accessories, like utensils, sauces, chips, cookbooks, skewers and more, can certainly increase initial sale profits, but offer even more potential in terms of after-market sales. "You should carry the patio heaters and things that go with grills so you have a chance to sell more than one product and to get customers back in your store," says Donna Myers, president and CEO of the DHM Group, a consulting firm for the hearth and barbecue industry. "We really urge dealers to carry consumables. For example, if you have a cage sitting out front with propane cylinders in it for cylinder exchange, then customers will come back to your store periodically for that service, and they'll probably wander in to see what's new in the store."
Aside from showroom displays, Roller says, "We take them to local home shows and street fairs, so they travel with us to shows even though they're big and bulky. And don't be afraid to sell them in the winter. Even in our climate, there's nothing like a steak off the grill on New Year's Eve."
These days, even builders are displaying grills. Bill Renter, owner of The Deck & Patio Company in Huntington Station, N.Y., displays a grill in his presentation office, even though the design/build firm does not actually sell grills. Renter convinces clients to buy grills so he can build around them. "I show them the special rocks used," he says. "I let the customer hold the grill and feel how heavy it is and show them it's got a brass burner, instead of stainless steel or cast iron, so that it won't deteriorate over time. I let them lift the lid and feel how heavy the stainless steel is, so they get to touch and feel the grill.
"In my job as a contractor, I'm doing retail, but I'm not making profit on the grill. I'm making profit on the grill surround."
Do A Demo
Demonstrations can be a great way to familiarize customers with grills and accessories, and the more comfortable customers feel about a product, the more likely they are to buy it. "It's like anything else," says Roller. "If you can get a test drive on it, you're more comfortable with it."
Since demonstrations can be logistically challenging, dealers may opt to do them only a few times a year, and that's fine, according to Myers. "What is important is promoting it when you are going to do it," she says. "Also, if there's a minor celebrity or a good cooking school teacher in your area that you could hire inexpensively to come and spend the afternoon and do a few things, then you can promote that guest appearance, too."
Another key to successful demos is "you don't want to create a feeding frenzy where 90 people come out of the shopping mall and only come to see if the food is ready yet," says Myers. "It's a good idea to cook big pieces of meat, like a turkey or a big ham, so it takes a long time to cook. That way, people can see and smell the food, but you're not focused on talking about and serving food to people who don't even know what kind of grill you're cooking on. If the food takes a few hours to cook, you can talk about the grill's features and why it works so well."
Lengthy demos are not only a great way to generate grill sales, they're also a great opportunity to sell accessories. "You can mention grill pads during the demo," Myers says. "My opinion is dealers should never let a grill walk out without a grill pad, which is the deck protector that goes underneath the grill. It protects the deck from grease spills and sparks. It's just an add-on that's real easy to sell.
"Same for long-handled tools. Everybody should have those and a long, elbow-length mitt to go with that to protect arms. And have some cookbooks sitting nearby during the demo. Have some basic ones for the novice grillers and some more advanced for the master grillers. If you're selling charcoal grills, display the lump charcoal to go with it, or suggest wood chips for added flavor."
Narrowing The Choices
Demonstrations can boost sales, but they may not be feasible to do often. Hence, dealers must be ready with other sales tactics. Myers suggests selling the backyard lifestyle. "We firmly believe that the people who line up a bunch of product along the wall and expect customers to get real interested about one model over the other are never going to get very far, because you're really selling how people live. You're selling how much fun it is to be in the backyard, how much people love the casual lifestyle, and how it brings families together."
And as with selling spas, it's a good idea to find out specifically what customers want in a grill and how they'll be using it. "Ask a lot of questions," Myers says. "How many people are in your family? Do you do a lot of entertaining? How much time do you spend outdoors now? What's your current backyard like? Did you have a price point in mind? Do you usually cook for a lot of people or just a few?
Since many homeowners want grills installed as their pool is constructed, pool builders may want to consider selling grills and grill islands, instead of referring that business. Do you prefer gas, electric or charcoal?"
Says Wardell, "I ask, 'What does your ideal grill have.' They typically want something that's durable and functional, but what about an infrared back burner?" This is a great time in the sales presentation to describe lesser-known features to customers because there's a lot of room for upselling. Says Roller, "They might be willing to spend $3,500 on a grill until they see that for $500 more they can have this feature or option. If they're going to spend $4,000 to $5,000 on a grill, they can easily spend $7,000 to $7,500."
Roller says the features he's often able to upsell include stereo systems, larger burners, six burners rather than four, refrigerators and "things that add to the entertainment aspect. They want the performance of the grill first and foremost, but the entertainment value is important, too. And, often, they don't even know that stuff is available."
Figuring out what two or three models will best meet a customer's needs is important because, says Myers, "showing them 15 different models may just get them confused and they may not remember what you showed them."
Builders, Too
Retailers are not the only ones who can profit from grills. Many clients today want a barbecue island and grill installed when having their pool built. Builders looking to install the whole backyard, or at least more than the pool, may want to consider selling the grills themselves, instead of referring that business.
Patricia Stephens, owner of Baytown, Texas-based Backyard Amenities, feels grills are an easy add-on and ripe with opportunity. "It's a nice big-ticket item that's really taken off in the last couple years. It's really become popular — perhaps because more people are staying home, enjoying their backyards and traveling less."
Most of the grills and islands Backyard Amenities does are done with the pool, adds Stephens, but they can be easily added on later, as well.
Renter says grills and islands are almost always included in the backyards he designs. After gathering some information about what his clients want, Renter presents them with a master plan that includes everything: "the pool, the waterfall, the diving boulder, the walkways, patios, decks, barbecues and barbecue cabinets, the outdoor fireplace, firepits, pergolas, cabanas. Some projects get so elaborate that there may be multiple barbecues — one that's close to the house and kitchen and one that is in the pool area."
Most clients do not purchase every feature right away, though the ability to add items every year is built into the master plan. "However, barbecues are one of the things that are almost never excluded from the first phase of the job because everyone cooks outside," says Renter.
Either Way
As easy as selling grills may sound, clients spending $3,000 or more on a grill demand knowledgeable salespeople. "I definitely think you have to know about it before you try to sell it," says Stephens.
And though many dealers may not have the resources to hire a specific employee to handle grills, whoever does do the ordering and pricing needs to know the local market, says Wardell, so that you can stay competitive.
Good customer service that leads to satisfied customers is critical as well, since "word of mouth is huge when you're talking about high-end products," Roller says. "The people interested in buying these grills are living in three- to five-million dollar homes and that's the social group they hang within, and hopefully they're going to run into someone that has a high-end grill."
Finding A Supplier
For those dealers who've not yet integrated grills into their product mix, but want to, there are a few things to keep in mind.
First, all the dealers AQUA spoke with chose to sell a high-quality grill. Says Stephens, "There are a lot of grills on the lower end, but when we looked into it, you could go to Home Depot, Lowe's or Wal-Mart and get those same grills, and it's hard to compete with that. So we tried to do something different: higher end, higher quality."
Renter describes what he feels a high-quality grill offers: "The things to look for in a quality product are the type of burner it has, the type of warranty the grill comes with, what components are made of stainless steel and what aren't. Especially with the built-ins, the thickness of the stainless steel that makes up the grill and hinges is important. Quality is key. It's easy to sell a high-quality grill if you have the right clientele."
To find out what's available, go to the AQUA Show or HPBA Show. Says Wardell, "At the Hearth, Patio and Barbecue Show you have every single manufacturer that you could possibly want to see, and you could get some references if you're considering a particular line. Then you can call some of their dealers in a different market than yours and see how they're doing. They're a good resource to see not only how good the product is, but also to find out how good the company is in terms of shipping and taking care of clients if something should come up. You can find out how they handle their warranties, things like that, to make sure your initial perception is correct."
You may end up with at least a couple suppliers, since, according to Myers, you want to offer complementary lines. "You want to carry at least one good line of charcoal grills. Then you'll want to carry a couple different price points for gas grills — maybe one really high-end line for people who are spending a lot of money and doing the whole nine yards, and then another grill or line of grills in the $500 to $1,200 category so you can meet several different needs."
A Good Fit
Though some builders and dealers hesitate to add new product lines for a variety of reasons, grills deserve serious consideration. After all, who doesn't have a grill. And, furthermore, says Wardell, it meshes with the demographics of pool and spa buyers. "We're selling outdoor relaxation and grills fit the category."
Hook 'Em With Books
Retailers looking to send their customers home with more than just a grill may be interested in some of the hottest grilling cookbooks. Below are some of amazon.com's top sellers in the category.
How to Grill: The Complete Illustrated Book of Barbecue Techniques Steven Raichlen Workman Publishing Company ISBN 0-7611-2014-9
Using more than 1,000 photos, this show-andtell book covers how to use charcoal, gas and other grills, as well as Raichlen's secrets to grilling steak, fish, chicken and more. One hundred recipes — one to illustrate each technique — are included.
Weber's Big Book of GrillingJamie Purviance Chronicle Books ISBN 0-8118-3197-3
The grilling experts at Weber share their time-honored secrets in this comprehensive barbecue guide. Packed with 350 recipes, hundreds of photos and plenty of tips and techniques, this cookbook covers everything from sauces, rubs and marinades to appetizers, desserts and all those delicious main dishes in between.
Beer-Can Chicken: And 74 Other Offbeat Recipes for the GrillSteven Raichlen Workman Publishing Company ISBN 0-7611-2016-5
Featuring the recipe and technique for beer-can chicken (it involves roasting a seasoned chicken in an upright position on an open can of beer), this grilling guide is filled with numerous recipes for those chefs ready to try something new.
The Barbecue! Bible Steven Raichlen Workman Publishing Company ISBN 0-7611-1317-7
For this book, Raichlen traveled around the world to find out the secrets of live-fire cooking as it's practiced by grill jockeys from Uruguay to Indonesia. The result is this 500-recipe celebration of smoke and sizzle. There are also notes on equipment, ingredients, marinades, rubs and exotic beverages to serve while you're fanning the coals.
Barbecue! Bible: Sauces, Rubs and Marinades, Bastes, Butters and Glazes Steven Raichlen Workman Publishing Company ISBN 0-7611-1979-5
After tackling Raichlen's Barbecue! Bible, serious grillers may want to try out this cookbook with more than 200 recipes for rubs, spice pastes, marinades, barbecue sauces, ketchups, mustards, salsas, chutneys and relish — "in short, every seasoning and condiment you could possibly need for making and enjoying great barbecue." There's also a short refresher course on grilling.
BBQ USA: 425 Fiery Recipes from All Across America Steven Raichlen Workman Publishing Company ISBN 0-7611-2015-7
Filled with recipes Raichlen discovered while traveling across the United States, this cookbook has chapters covering beef, pork, burgers, birds and fish, of course, but there's also a brief history of barbecue in America and a concise primer on grilling and barbecuing. Raichlen has also included recipes for vegetables, pizzas, desserts and even salads.
Smoke & Spice: Cooking With Smoke, the Real Way to Barbecue Cheryl and Bill Jamison The Harvard Common Press ISBN 1-55832-261-2
This James Beard Book Award winner features hundreds of barbecue recipes for gas and charcoal grills, smokers and more. Authors of 15 cookbooks and travel guides, the Jamisons have also included information on tools, fuels, equipment and technique.
A Man, A Can, A Grill: 50 NoSweat Meals You Can Fire Up Fast David Joachim Rodale Press ISBN 1-57954-767-2
Busy lifestyles don't leave much time for cooking. Luckily every recipe in this cookbook uses no more than five main ingredients, most of which come in cans. The practical cookbook from David Joachim and the editors of Men's Health magazine also includes instruction for both charcoal and propane grills, grilling techniques, and plenty of photographs to ensure busy grillers won't have to slow down for lengthy directions.