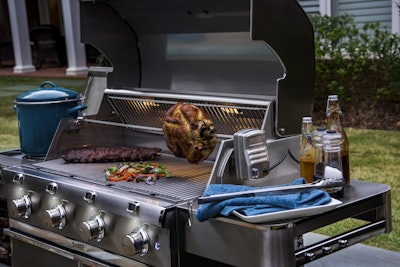 From neighborhood tailgates to elaborate backyard installations, grills are everywhere you look. In fact, according to a story from the L.A. Times, three out of four U.S. adults own a grill or smoker. Given that impressive statistic, it's no surprise pool and spa retailers are increasingly adding grills to showrooms, eager to tap into a thriving market.
However, retailers who wish to venture into grills are faced with an abundance of options, with gas, charcoal and wood pellet grills being the three biggest fuel options.
What's the difference between them, and what are consumers looking for? Don't "flip" out — read on to learn more.
Gas Versus Charcoal: A Fiery Rivalry
The biggest competitors in the grill market are gas and charcoal grills.
"Gas and charcoal have been fighting for years," says Jason Baker of Green Mountain Grills, a pellet grill manufacturer in Reno, Nev. "Gas is No. 1. They [might] continue to be No. 1, but gas and charcoal are always close."
RELATED: Dining By Design
Gas grills are the most popular because of their convenience — simply turn a knob and the grill heats up in minutes, making them a great option for novice grillers. The downside: gas fires don't bring much flavor to the meat, which can be a turnoff for more advanced cooks.
But infrared grills, which often use gas as a fuel source, can provide the flavor missing from a gas fire.
Infrared grills cook through a heated plate made of ceramic or stainless steel. Capable of heating up to 700 degrees in 10 minutes, an infrared grill combines the ease of the gas grill with the flavor-inducing abilities of its competitors.
"It's the kind of grilling that's done in steakhouses," says John Antilla, vice president and general manager at Aqua Quip (Seattle, Wash.). Antilla sells Saber Grills' infrared grills on his sales floor.
Yet when we see a grill in the movies, it's usually a charcoal grill on the screen. Though the charcoal brings a smoky flavor to the food, its main disadvantage is the time and effort required to bring the fire up to temperature. Some consumers, however, see that as a positive.
"People love being able to stoke the fire," Baker says. "It's a more primitive way of cooking."
Aqua Quip carries grills of all fuel types. Right now, Antilla says charcoal is the most popular category overall, but infrared is also up there for more proficient cooking skills.
"In units, it would be the charcoal," Antilla says. "In customer satisfaction, it would have to be the infrared grill."
Simmering Underneath: Pellet Grills
For grill buyers looking for the flavor of charcoal and the convenience of gas, a pellet grill may be worth consideration.
"Pellet's advantage is it takes the ease of gas and the flavor side of charcoal and combines it into this grill where your fire is managed through a computer," Baker says. "The fire is managed through fan systems, and it is continuously augering pellets in based on what temperature you want to create. Pellet is growing because it is a set-it-and-forget-it machine."
Wood pellets, the fuel for pellet grills, come in various flavors from hickory to cherry to Tennessee Whiskey Barrel and more, which allow backyard "chefs" to experiment with recipes in new ways.
RELATED: The Outdoor Living Movement
"Being able to grab different wood flavors is something neat for a lot of people," Baker continues. "You can use a lot of different kinds of pellets to achieve the flavor profile or the smell you're trying to create in the air."
The biggest drawback of a pellet grill is the moving parts. Grill maintenance is required no matter the type, but the different moving parts of a pellet grill require more tender loving care than a gas or charcoal grill. However, the stakes are low enough that retailers are continuing to invest into the pellet market.
"We're signing up more pool stores daily all across the country and it's because people love it," Baker says.
Serious foodies more likely to purchase pellet grills may be stereotypically found in dense, urban areas like San Francisco or New York City, but that is not always the case.
"I've got dealers in Saskatchewan, Canada where it's minus twenty, and they're selling more pellet grills than people in California," Baker says. "A retailer will sell what they wanna want to sell."
A Flavorful Buying Experience
Of course, specialty retailers who venture into the grilling category must contend with competition from big box stores, especially Walmart and Home Depot, and the internet. However, as is true with pool and spa sales, specialty retailers have an opportunity to shine by showing off their knowledge of the product.
"My experience walking into a box store is, especially when it comes to grills, nobody there knows what they're talking about," Baker says. "They do that move where they start reading the same stuff that you can walk up and read."
In addition, while gas and charcoal are relatively top of mind for consumers considering a grill purchase, the big box stores don't usually offer the full range of what's available.
"I don't know if you can walk into a box store and clearly understand that there's four different choices when it comes to basic fuel," Antilla says.
RELATED: How to Break Into Outdoor Living
At Aqua Quip, the sales team not only thoroughly understands the grills on the floor — they can demonstrate them, too.
"Most of our employees cook a lot so they can tell you how to do ribs or how to smoke a salmon," Antilla says.
Marketing is also a key tactic to battle the big box stores. Aqua Quip shows off its wares by grilling outside the store and at home shows and fairs. Online, Aqua Quip maintains an active Facebook page with photos and videos about grilling, and keeps a close eye on its reviews.
"We have highly rated stores," Antilla says, "so customers speak highly of the opportunity to come in and buy a grill from us."