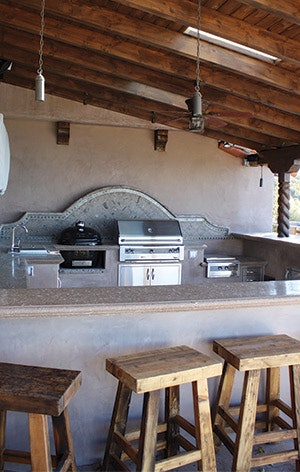 These days, 99 percent of our projects include an outdoor kitchen. In fact, many times, we're doing only an outdoor kitchen without a pool or other major landscape element. Once an add-on, they've now become the reason we're there in the first place for many clients.
It's come to the point where, for many homeowners, facilities for cooking outside are an absolute requirement. The reason is simple: When people entertain, which is what exterior environments are all ultimately about, the primary activities are eating, drinking and talking.
RELATED: How to Break Into Outdoor Living
Certainly, many people do other things outside, and we always ask how they intend to use their backyards; are they going to play pingpong, watch TV, do yoga or swim? Almost universally, even if they have other desired outside activities, entertaining tops the list.
ON THE MENU
That's why when I'm talking to clients about what they really want and need in their backyards, the outdoor kitchen is now always an important part of the discussion.
We cover a menu of important questions that will influence my recommendations and later the design, one of the first being how many people do they typically entertain? Do they host small gatherings of six to 10, or is it 15 to 20? Do they ever throw large parties where they'll need space and facilities for caterers? Do they entertain mostly adults or are kids a big part of the scene?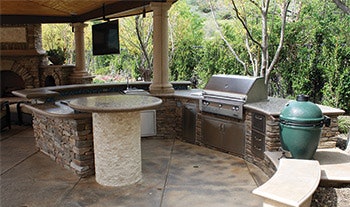 The answers determine basic design parameters, such as how big the counter space is, the basic configuration of the kitchen layout and where it's located in the yard. Client feedback is also equally crucial for details such as architectural style, finish materials, shade structures, lighting treatments and audio/visual systems.
Countertop designs alone are a huge subject with infinite options. In our projects, we use only cast-in-place concrete, which is economical, eliminates waste and incredibly versatile. We can replicate almost any natural material and create artistic finishes that include inlaid sea shells, glass, colorful aggregates and LED lighting.
APPLYING HEAT
A huge point that many builders and clients can easily miss is the importance of talking about what they specifically enjoy cooking. Breaking it down into culinary specifics is the best way to determine the appliances and features, which in turn directly impacts the size and layout of the entire kitchen.
In other words, knowing the vast product choices available and how they're specifically used for cooking helps you as a designer — and as a salesperson. It guides you in specific design decisions, which always excites clients. It's what they look forward to and enjoy the most long after we're gone.
(One might even say that it's in your professional interest to embrace the nuances of outdoor cooking and entertaining in your personal life, a philosophy to which I strictly adhere!)
RELATED: Outdoor Living — What's Trending Right Now
There was a time when the cooking area consisted of a stainless steel grill with space to the left and right and that was about it. That's certainly not where we are today; most people we work with are interested in far more than just hot dogs, csitheeseburgers and the occasional chicken breast. Instead we hear comments like, "My wife is a vegetarian so we grill a lot of vegetables. And we also like to make homemade pizzas."
Because there are so many options, simple answers like those will dictate how you can best meet their needs using the myriad products available today, which has increased dramatically in recent years. There are smokers; ceramic cookers; grills that burn wood, charcoal or gas; rotisseries; and Teppan-style grills. Even the once-humble side burner has taken on all manner of variations with woks or large burners used for frying turkeys or lobster boils.
LANDSCAPES OF TASTE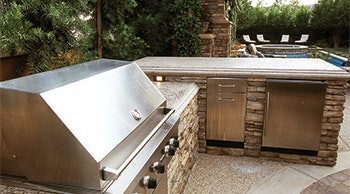 Our company, The Green Scene, has been following this appetite-inducing path for years now. I've had the privilege of teaching outdoor kitchen design at seminars across the nation for the aquatics and landscape architecture industries. Those are always fun classes and I've learned a lot by talking to people from other parts of the country about what they and their clients like to cook.
There are, for example, different attitudes about barbecuing versus grilling. In California, when people talk about barbecuing, they usually mean cooking on a stainless steel outdoor grill. People from Texas and other parts of the south, however, think that's funny because barbecuing really means using charcoal or other similarly combustible materials. True barbecuing is considered an art by many and it's certainly a far more involved process, with lots of smoke and many more steps.
RELATED: How to Design with Purpose
Outdoor ceramic cookers are another popular example these days, probably the most familiar being The Big Green Egg. These cookers are basically large ceramic pots used for the Komodo style of Japanese cuisine, which now enjoys a huge following in the U.S. They come in wide range of sizes and materials, are fired by lump coal and are incredibly versatile. You can use a ceramic cooker for smoking meats at low temperatures or for searing or even baking pizzas at high temperatures.
We've designed this style of cooker, but more often I like to create an open pedestal space where the cooker can be easily moved and cleaned.
Sear zones are gaining popularity these days, especially among those who enjoy serving dishes such as ahi tuna or other dishes that require fast cooking at high temperatures of up to 1,400 degrees.
Again, the choice of dish will influence how a sear zone is used and that, in turn, will influence the kitchen design. I usually recommend installing them as a freestanding unit separate from the grill or barbecue, since the high temps a sear zone requires can easily overheat the whole grill cavity. That's fine if you're just cooking steaks, but most people want to cook fish, vegetables, veggie patties or other dishes that require cooler temps.
Freestanding units make more sense for most clients, based on their personal preferences.
THE SOCIAL ELEMENT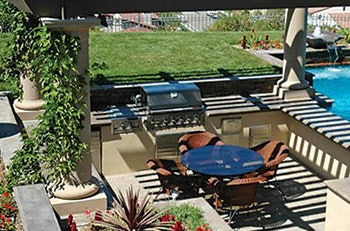 Appliance choices can also make a huge difference in how people socialize in and around the kitchen, particularly for the hosts who are most often doing the food prep and cooking.
This is why I love to include rotisseries in our projects. Oftentimes, the time spent prepping and cooking means the hosts are paying more attention to the food than their guests. With a rotisserie, all the food prep is done ahead of time, and when guests arrive and the food is cooking, the homeowners can spend time socializing because a rotisserie doesn't require much attention.
We like to use a commercial-grade rotisserie from Alfresco that has a motor and is spit rated for 120 pounds. This type of heavy-duty unit has a vertically mounted back burner, which eliminates flare-ups, and a smoker drawer you can use to infuse food with all sorts of amazing flavors, be it pork roast, turkey breast, Cornish game hens or prime rib. With a rotisserie, homeowners can create mind-blowing deliciousness with little effort.
It also makes sense for most clients to have some type of a built-in beverage center. Let's face it, if someone goes to all the expense of an outdoor kitchen, they're probably not going to be satisfied setting out a Styrofoam cooler for drinks. That's not going to fly. We use drop-in stainless steel coolers with double walls that are flush with the countertops.
These coolers can come with accouterment trays for olives, lemon slices, lime wedges, olives or pearl onions. They have rails on the front to hold spirits, which enable you to act like a professional bartender if you want.
Through experience, I've grown to prefer beverage centers to outdoor refrigerators, which surprisingly are not always a priority item for many clients. For one, most people still use their indoor refrigerator for storing food. I've found that in practice, outdoor refrigerators don't get used all that much except by the kids or pool service techs or landscapers. There's a feeling some people have, myself included, that a refrigerator is still a type of personal space.
That's why, for entertaining, a beverage center is a far better option — unless, of course, the clients have other ideas.
TO THEIR HEARTS
All of this speaks to the fact that people who develop outdoor spaces are truly in the lifestyle business. When it comes to outdoor kitchens, more than any other place, the closer you can identify your clients' tastes, the better able you'll be to develop a design that meets their needs.
Dining is in many ways a highly personal and deeply appealing subject. When I talk to clients about how they'll be able to use their kitchens, perhaps to sear and smoke their tri-tips or filet mignon, or how they'll make their sauces and prepare their smoke chips, they start salivating and can't wait to get it built.
Scott Cohen has authored two books about out door kitchens. "The Outdoor Kitchen Design Workbook" walks you through layouts, design, industry standards and the thought process that goes into designing outdoor rooms and the kitchen. "The Big Book of BBQ Plans" provides more than 60 different plans complete with the number of concrete blocks needed for construction.

Comments or thoughts on this article? Please e-mail editors@aquamagazine.com.