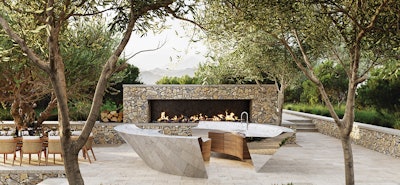 Photos courtesy Joanna Needham, Splinterworks
A new outdoor kitchen design by Splinterworks turns the backyard barbecue into a futuristic work of art.
The England-based design agency, founded in 2009 by Miles Hartwell and Matt Withington, is known for a range of ambitious "functioning sculptures."
"We strive to enrich the lives of people who live with our work, by creating pieces that enhance their environment and elevate the experience of everyday life," the firm says. "Our designs are experimental and theatrical, but the function of the piece is always paramount."
The "Tipping Point" kitchen is a reimagination of one of the firm's earliest designs. Its open-plan concept has two arcs, each completely customizable to client needs. One arc houses a curved sink and drainer in water-resistant reclaimed teak, while the other boasts a heatproof glass cooking surface with an induction hob.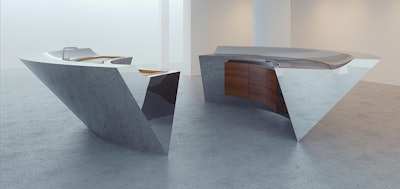 "We love to play visual tricks, especially where balance comes into question," the firm explains. This is evident in Tipping Point's knife-edge base, creating an illusion of weightlessness enhanced by stainless steel that reflects the surrounding landscape.
Marble counter and bar tops keep surfaces cool on sunny days, and the raised height of the outside level creates a bar ledge for socializing. Additional features include outdoor fridges, plenty of storage and even an outdoor dishwasher.
This showstopper comes with a guide price of $175,000 — including delivery and duty, and excluding appliances and installation.
---
This article first appeared in the April 2022 issue of AQUA Magazine — the top resource for retailers, builders and service pros in the pool and spa industry. Subscriptions to the print magazine are free to all industry professionals. Click here to subscribe.