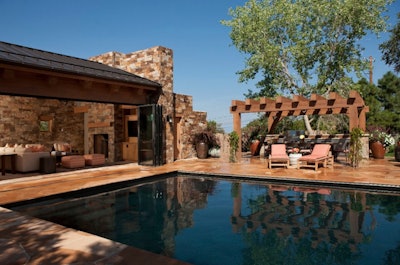 To be successful amid the outdoor living boom, it's critical for retailers and builders to stay abreast of rapidly changing consumer tastes in backyard products. To help keep your product lines up to date, AQUA has partnered with design megasite Houzz to bring you more content about outdoor living, from pools and spas to outdoor kitchens and patio furniture. Here, a Houzz expert guides us through a memorable Santa Fe backyard.
Backyard at a Glance
Who lives here: A couple with three little girls
Location: Santa Fe, New Mexico
Size: 1,200 square feet (111.5 square meters)
Designer: Annie O'Carroll Interior Design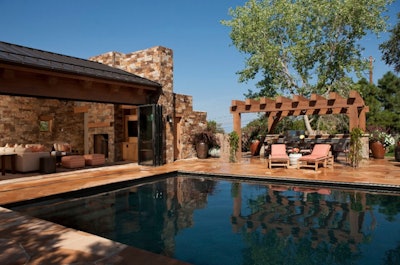 Photo by Kate Russell
Though they live close to downtown Santa Fe, this family of five were fortunate to have a large enough backyard to accommodate a new pool, pool house and outdoor kitchen to serve as a sanctuary for friends and family to enjoy.
Stacked stone walls inside and outside the pool house add a mosaic of Southwest color in terra cotta and tan. Flagstone flooring used around the pool extends into the pool house to create a seamless indoor-outdoor transition.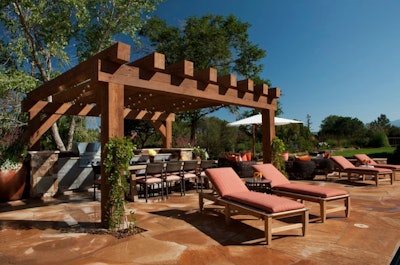 Photo by Kate Russell
Teak chaise lounges invite family and guests to relax and unwind next to the pool. A teak dining table and resin-based dining chairs add to the mix of materials. The wood pergola defines the kitchen and dining area in the outdoor space. The outdoor kitchen includes a Viking cooktop, dishwasher, ice maker and microwave. Stacked stone and a glass tile backsplash from Oceanside are used in the barbecue area.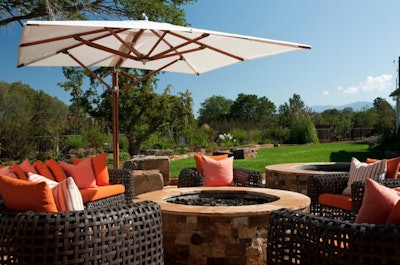 Photo by Kate Russell
A cozy sitting area around a fire pit – located between the outdoor kitchen and the hot tub – adds to the plentiful seating throughout the outdoors. The 10-foot cantilevered umbrella provides shade and can be adjusted throughout the day to follow the path of the sun.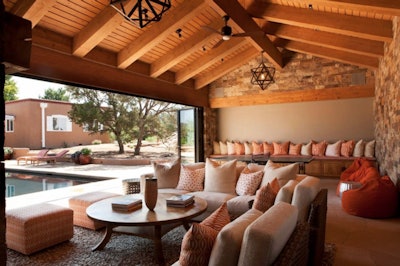 Photo by Kate Russell
Inside the pool house is plenty of comfortable seating to keep the family and guests out of the sun. The pillows and furniture, covered in Sunbrella upholstery, are ready for wet bathing suits. "The girls can just plop down anywhere without affecting any of the fabrics," designer Annie O'Carroll says. "This is easy indoor-outdoor living." Nano fold glass doors easily open and close across the front of the pool house.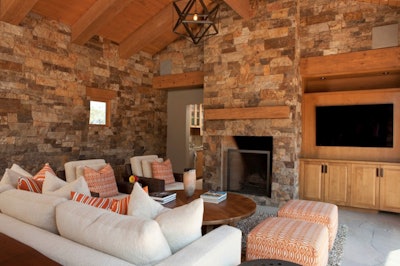 Photo by Kate Russell
A lightly stained pine was used for the pool house's pitched, beamed ceiling, fireplace mantle and custom entertainment center. The stacked stone fireplace and walls echo the lively color palette of orange and white. "The room has a rustic feeling and is pretty indestructible," O'Carroll says. "Everyone can just put their feet up. There's nothing too precious here."
RELATED: Complete the Media Room With a New TV Cabinet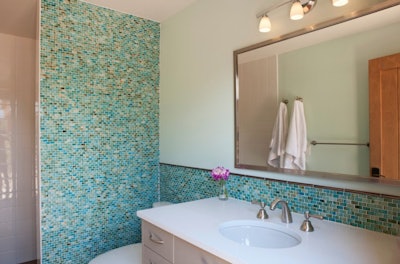 Photo by Kate Russell
RELATED: How to Pick the Right Shower Tile
The pool house's bathroom is simple and functional. Mosaic aqua and white tiles cover the backsplash and shower partition wall and "give it a bright, beachy look," O'Carroll says. The space also serves as a changing area for swimmers.