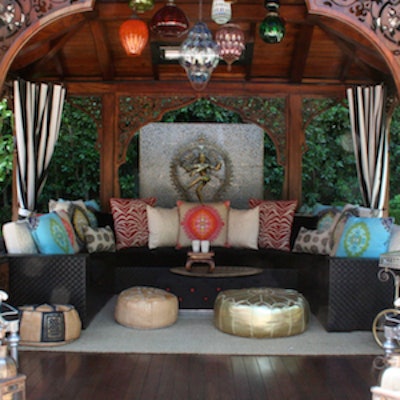 To be successful amid the outdoor living boom, it's critical for retailers and builders to stay abreast of rapidly changing consumer tastes in backyard products. To help keep your product lines up to date, AQUA has partnered with design megasite Houzz to bring you more content about outdoor living, from pools and spas to outdoor kitchens and patio furniture. Below, a Houzz expert explores one of the biggest trends in backyards: the outdoor room.
When I was growing up, "outdoor living" consisted of some aluminum folding chairs and a Weber grill. But with the advent of synthetic wicker, all-weather fabrics, outdoor lighting and indoor-outdoor carpets, you can now live as stylishly and comfortably outdoors as you do indoors.
To make the most of al fresco living, look at your patio or porch the same way you might approach a room. Consider flooring, lighting, color, pattern, scale and texture. You might even give some thought to the walls, whether they're physical (as on a porch) or virtual (curtains or a planter filled with bamboo). Add an overhead heater or fan, and you might never want to leave.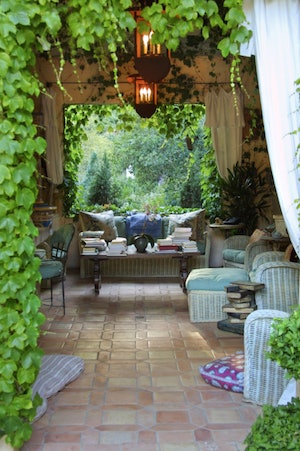 What makes a porch feel more like a room? The accessories. Potted plants can create a sense of enclosure in the great outdoors and also add a welcome touch of height. Lanterns and bowls of fruit embellish the space here too. An overhead fan is a great way to get more use out of a porch in steamy climes.
Related: Keep Your Cool Under These Ceiling Fans
Photo on right by Margie Grace - Grace Design Associates
Walls — even if they're made of canvas — can help frame views and shelter you from breezes. Plus, they give you a cozy and protected feeling when you're out in nature. Lanterns, potted plants and antiques (such as the enamel stove in the corner) add to the cozy quotient here.

Photo on lower right by Gregg Hodson Interior Design
Beverly Hills? Think again. This cushy casbah calls Salt Lake City, Utah, home. Lime-green fabric is an unexpected departure from the usual white canvas and helps give this backyard Bohemia a piquant presence, while the wood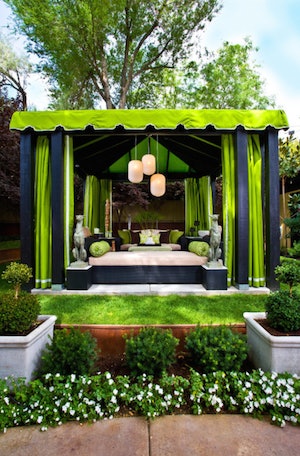 framework echoes the color of the furniture.
You don't expect to see a daybed outside, but in this case it does a great job of preserving sight lines from the sofa — and offers a great spot in which to stretch out for a nap. To get this look, think in multiples (three pendant lights, two dog sculptures) and don't stint on the pillows (or the cocktails).
(Scroll down for more.)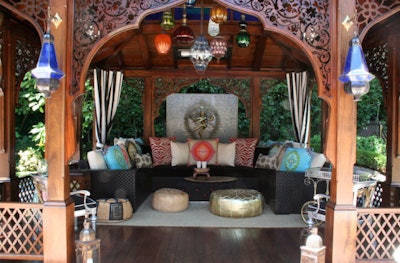 Photo by Woodson & Rummerfield's House of Design
OK, so this one really is in Beverly Hills. What makes it especially noteworthy is the exotic theme. After all, why can't a patio look Moroccan? Or French? Or Southwestern? We get so accustomed to seeing the same thing, we sometimes overlook the possibilities.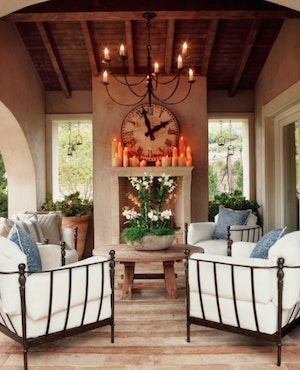 Photo on right by Wendi Young Design
With today's all-weather upholstery, there's no limit to how comfortable your outdoor furnishings can be. This grouping of four chairs inspires intimacy, while a timeworn table and vintage-style clock really add to the character. (Just as with interiors, it's always more interesting when you throw something old — or old-looking — into the mix.)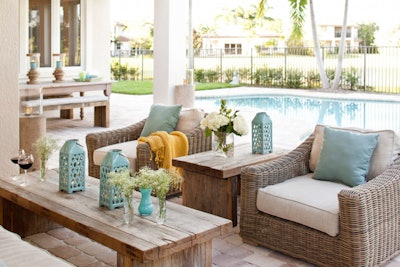 Photo by Krista Watterworth Design Studio
Rustic wood tables add a sense of age and texture to this porch that wouldn't be there if the tables looked like the chairs. The blanket is another nice touch.