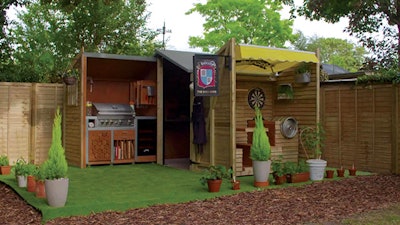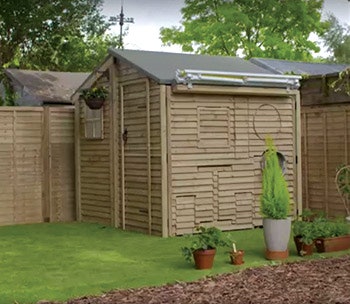 Badger, a centuries-old beer line in Great Britain, built the ultimate barbecue shed for one of its customers.
The shed looks like an ordinary garden shed when it's all put together, but open it up and you'll find everything required for a successful barbecue: a state-of-the-art grill, a fold-out prep table, a rack for your barbecuing tools and a spice drawer. There's even a box for backyard games and a dart board to keep friends and family occupied while the food is cooking. Once food is ready, there's a retractable table and benches with an automatic awning overhead for inclement weather.
Given that the shed was built by a brewery, there's not one, but two beer fridges, of course.
RELATED: Outdoor Spaces, Comfy Places
This epic backyard shed was built for John Bowling, who submitted the idea for his dream shed to Badger as part of a contest earlier this year. His idea was inspired by his old barbecue set up, which he described as "uninspiring." His new barbecue shed is valued at £40,000 (or approximately $51,216).