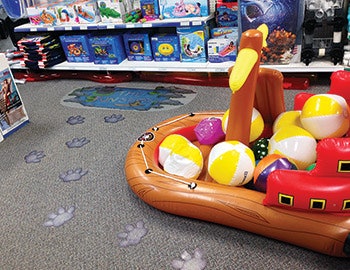 Downtown Pools (Ft. Lauderdale, Fla.) has been a lot of things. The company started out as Downtown Hardware, carrying tools and equipment before breaking into the pool category with a small section of maintenance supplies. When larger chains like Home Depot and Lowes started cropping up, the company pivoted to become Downtown Pools and Locksmith. In 2005, Owner Steve Campbell came aboard and dropped the locksmith entity from the business, making the business simply Downtown Pools.
Now, 10 years later, the company has evolved yet again — in April, the company opened its doors as Downtown Pools and BBQs. By adding grilling and barbecue products, Campbell says he's repositioned his business as a comprehensive outdoor products destination, a notion that aligns with the company's philosophy.
"We all know life is not easy nowadays," Campbell says. "The backyard has the capability of taking you out of that and giving you your own little oasis of freedom, of fun. So when you come into our store, we want to get across the idea that just because you come to a store that sells you something, doesn't mean you can't have fun while you're there and take some of that fun home with you."
Here, Campbell tells us how he made the leap into grilling products and how he's infused fun into every square inch of his store.
Moment of Realization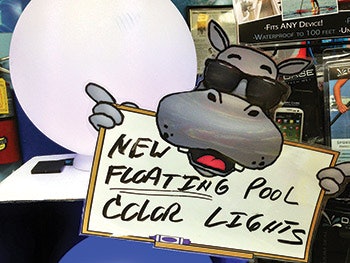 In January, Campbell was sitting in a seminar at PoolCorp's Retail Summit in Orlando. The topic in question was sales per square foot; in particular, how specialty retailers like pool stores need to carefully consider what products they carry to maximize revenue. This led Campbell to a realization.
"I have a whole front of the store that's practically dead space because it wasn't bringing income in," he says.
At the time, Downtown Pools had a separate 450-square-foot space dedicated to high-end pool elements like waterfalls, chlorine generators and automation systems, among other items.
"But the fact is, not many people came into that section, and that section itself wasn't as much of a moneymaking aspect of the store," he says. "It was just neat to have."
With this in mind, Campbell knew he needed to make a big change and incorporate a new product line customers would respond to. With a little thought, he quickly realized the grilling market would be a natural step for Downtown Pools.
"We do backyards: we do pools, coping; we do the bricks. I work with an architect; I work with a garden guy who does all the landscaping and everything, so we can design the whole backyard. But the one thing we were missing was barbecues," he says.
Incorporating the grilling category into his store, Campbell reasoned, would turn Downtown Pools into an all-inclusive backyard design center with the opportunity for cross-pollination within his customer base.
"If you have a backyard with a pool, you might know us, and you might want a barbecue. If you don't have a pool, but have a backyard, you might still want a barbecue," Campbell says. "So business we already have is growing because we're able to supply another service, and new business is growing because now we have another option."
The Process
Campbell knew what he wanted with the new section, and he also knew he wanted it fast. Three months from the initial conference, on April 1, the new barbecue store opened.
"The whole process started with me on my laptop whenever I had free time, ordering products," Campbell says. "Since I didn't have a place at the store to put the items, I stocked my house with all this stuff so I could see how much room it took and how I could display it. And then I built the store around that."
After stripping the intended space — which included a swimming pool that took four days to remove — Campbell carefully planned how to maximize use of every square inch of those 450 square feet. The floor of the barbecue section, for example, is a blend of the most popular paving options Downtown Pools offers; a choice that is both utilitarian and a great way to show off company products.
Next came the grill islands. The barbecue section features three models that range from low to high end and include a range of features and design elements exclusive to Downtown Pools.
"The big grill we have actually is covered with a special stone called ShellStone by Matrix Z that actually takes shells and recycled glass and bottles and puts it all together for this very high-tech finish," Campbell says. "So not only are we selling different grills, but some of the different finishes we use — a lot of them you can't find anywhere else and people haven't thought about putting them on grills."
The entire process, from demolition to opening, was done without deviating from normal store hours.
"We had to keep the store running because the income has to come in when you're doing a project like this. And at the same time, in this industry, if you close for a long time, they're going to find somebody else," Campbell says.
In the three-month construction process, store guests were instructed to come through the back door. Since the barbecue section is adjacent to the main pool store, it was easy for Campbell to contain as much of the mess as possible and maintain a positive customer experience.
"You had to keep the appearance because we might have customers walking in for the first time, and they don't understand what's going on," he says.
A Hippopota-Must
When Downtown Pools and BBQ's made its grand opening, the new grilling department wasn't the only new element. In addition, Campbell rebranded the store with a new mascot: a friendly cartoon hippo. The hippo not only adds a fun element to the store, but also serves as a unique marketing tool.
"At this point I think I have 34 different hippos I pull for different advertising," Campbell says. Whether he needs a hippo floating in a pool, hanging out by the grill or showing off an automatic pool cleaner, Campbell has a hippo for every occasion. He even has a 6-foot-tall hippo in the front of the store for pint-sized visitors to enjoy.
"We've had a lot of kids come up and want to take a picture and the mom takes a picture of them standing next to our hippo," Campbell says.
He even took it a step further by creating hippo footprint adhesives, which stick to the floor and lead kids directly to the toys section. If that wasn't enough, the store also has a popcorn machine, Icee drinks and hot dogs on Wednesdays.
Campbell sees all these new elements — the new barbecue section, the mascot, the family-friendly elements sprinkled through the store — as part of a greater picture of customer service.
"We've had a real slow time over the past couple years, and what I've noticed is all those competitors whose customer wasn't the most important aspect of their business — a lot of those companies aren't around anymore.
"When it comes down to slow times and customers have to pick between locations and do their homework, I think that's one of the reasons why we're here and actually growing is because we do give the customer that little extra edge, something a little different. And if I have to be different to succeed, I'll be different every day of the week."
Comments or thoughts on this article? Please e-mail [email protected].