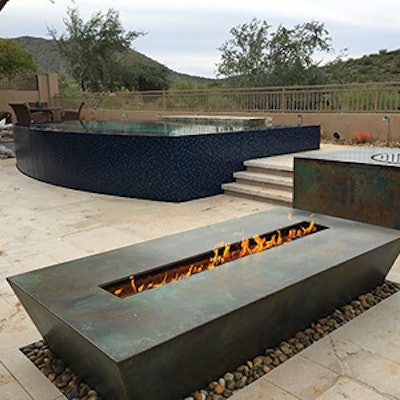 We've said it before and we'll say it again: Outdoor living should be a important part of your business. According to the 2017 Houzz Landscape Study, only 6 percent of homeowners (specifically, homeowners who had an outdoor project either planned, in progress or completed) were planning on a pool for the backyard. Compare that to a patio/terrace, which was the most popular outdoor project at 39 percent.
Pool and spa retailers and builders should see a lot of promise in those figures, as they show there's clearly a large market of homeowners interested in making outdoor living purchases beyond the water.
RELATED: How to Break into Outdoor Living
The other upside: Outdoor living encompasses a vast range of products for budgets of all sizes. While high-end builders may have customers flocking to posh patio furniture and impressive grills, mid-range retailers and builders can turn to pre-finished outdoor kitchens and items like hammocks, which are great for adding revenue while consuming little square footage.
Here, we take a look at just some of the outdoor living products on the market. Take a look — you're sure to find something that will appeal to your customers.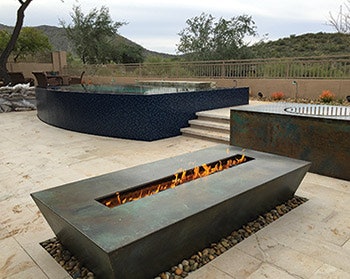 Bobé Water & Fire
Set the stage for outdoor entertainment with a table that provides heat and beauty. Round, square and rectangular shapes all feature Bobé's Perfect Flame burner to ensure maximum flame effect. Manually light the burner or sync it with an automated controller to remotely turn it on and off.
bobewaterandfire.com | (888) 388-2623
---
Zuo Modern
Zuo Modern's new shaded outdoor daybed features a modern teepee design and low profile to turn the backyard into a spa-like space. Made of synthetic weather-resistant weave and upholstered in easy-care UV-guarded fabric.
zuomod.com | (866) 7-ZUOMOD
---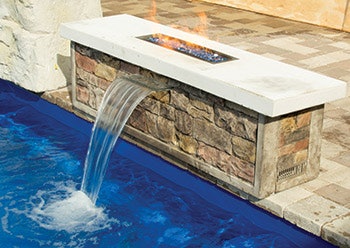 Rico Rock
This contemporary bench waterfall has a built-in fire option and is designed to plug-and-play for easy installation. Order with a 12- or 24-inch ColorFall spillway waterfall and a 24-inch Linear Fire Effect. The propane tank is hidden within the hollow cavity of the bench.
ricorock.com | (888) 717-3100
---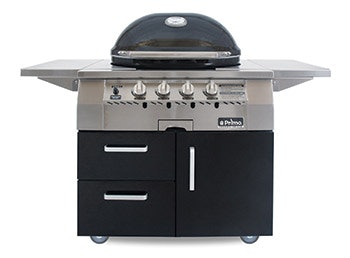 Primo Grill
The Primo Oval G 420 offers the convenience of gas and the advantages of a premium-grade ceramic shell that acts as an insulator to retain more heat and offer juicier food than metal gas grills. Reaches grilling temperatures in less than five minutes.
primogrill.com
---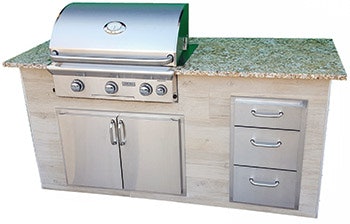 Forshaw
Exterus by Forshaw Introduces "Express to Go," an outdoor kitchen that ships completely finished for easy installation. This 6-foot-long kitchen is designed for value with an AOG 30-inch L series grill, double access doors and triple drawer storage.
exterusoutdoor.com | (800) 367-7429
---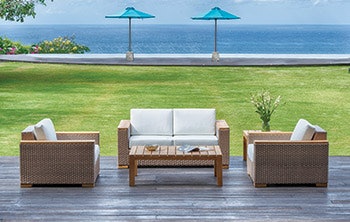 Kingsley Bate
Kingsley Bate's Kona seating is constructed from an attractive mix of all-weather wicker and premium teak, and is generously scaled for comfort. Available pieces include a sofa, settee, lounge chair and ottoman.
kingsleybate.com | (703) 361-7000
---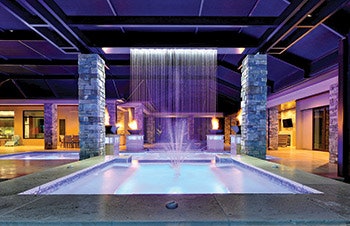 Great American Waterfall Company
The Great American Waterfall Company manufactures ABS plastic waterfalls for both commercial and residential applications. A wide range of color choices are available, from basic white to hammered and metallic looks.
gawcinc.com | (888) 683-0042
---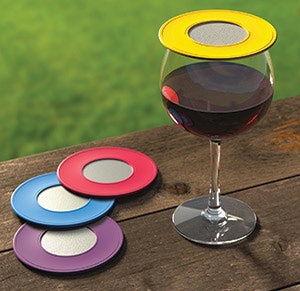 Drink Tops
Drink Tops are an array of attractive, silicone lids that protect beverages from outdoor elements. Available in a solid silicone design that seals to glassware or with a stainless-steel screen, ideal for allowing wine to breathe. Perfect for outdoor and poolside entertaining.
coverware.com | (773) 299-6552
---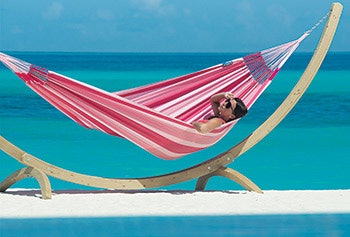 LA SIESTA
LA SIESTA's Aventura Weather-Resistant Classic Hammock complements any backyard, pool or patio. Handmade in Colombia using world-renowned German design and engineering, LA SIESTA maintains the soul of this cultural tradition while ensuring optimal weight distribution and comfort.
lasiesta.com | (786) 401-1138
---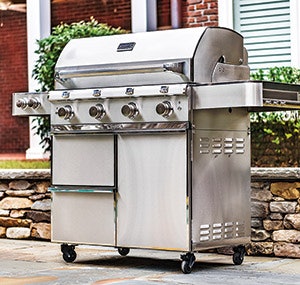 SABER Grills
SABER's Elite Series is a new line of luxurious, high-performance gas grills meticulously manufactured with 304 commercial-grade stainless steel. In addition to push-button ignition and ambient LED lighting over each control knob, SABER Elite grills use 30 percent less propane than traditional gas grills.
sabergrills.com | (888) 947-2237
---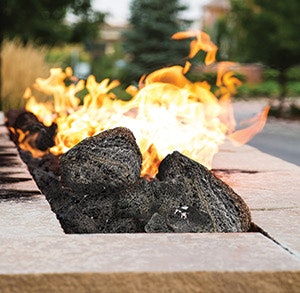 Featherock
Featherock's 100 percent natural pumice rock is safe for use in fire features and can be used as an alternative to lava rock. Pumice combines the natural, rugged look of lava rock with the modern style of firepit glass. Available in ¼-inch gravel to 6-inch cobbles in 5-pound bags or bulk bags.
featherock.com | (818) 882-0300
---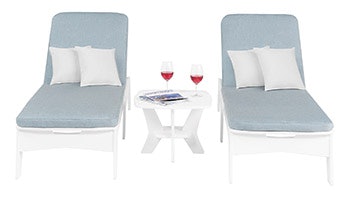 Ledge Lounger
Ledge Lounger has debuted a new collection of outdoor furnishings. These new pieces, known as the Mainstay Collection, bring a modern sophistication to classic favorites, like the Chaise and Adirondack. Made of high density polyethylene and available in 10 colors.
ledgeloungers.com | (888) 749-5336
---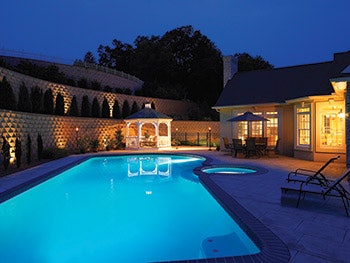 Amish Country Gazebos
Amish Country Gazebos manufactures easy-to-assemble modular gazebos, pergolas, and pavilions. Ship factory-direct to the jobsite, with all materials included.
amishgazebos.com | (800) 700-1777
---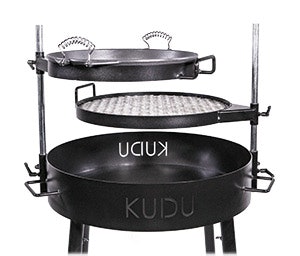 KUDU Safari Braai
The KUDU Safari Braai is a multifunctional grill, griddle and firepit combined — a dream come true for backyard enthusiasts. The KUDU grills, sautés, sears, fries, boils, smokes and steams — and can often do so simultaneously.
kudugrills.com | (404) 719-8063
---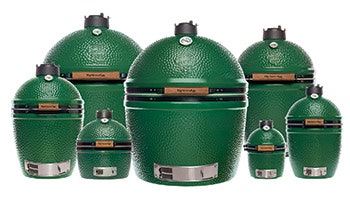 Big Green Egg
Grilling, baking, roasting and smoking – the Big Green Egg stands alone as one of the most versatile outdoor cooking products on the market, the company says. With seven convenient sizes to choose from, there is an EGG to fit any backyard.
biggreenegg.com | (800) 793-2292
---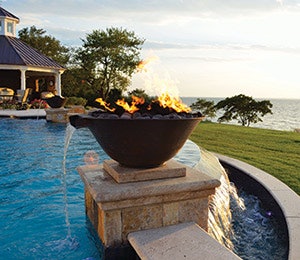 Grand Effects
Grand Effects' fire feature products include decorative, handmade bowls, pits, tables and torches, while its water feature products include bowls, scuppers and planters. A central aesthetic element in the connected pool experience, all products are compatible with the app-based iAquaLink pool control system.
grandeffects.com | (949) 697-5270