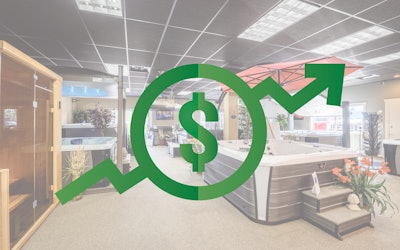 While 2021 might have been a banner sales year for many pool and spa retailers, rising inflation costs tempered that excitement. In October, the consumer price index rose 6.2% over the previous year at a pace not seen since 1990, and it was the fifth straight month of increases of 5% or more. Supply chain congestion, labor shortages and increasing energy costs are major contributing factors to an inflation rate that shows few indications of abating soon.
All of this has forced retailers to make some tough decisions about increasing retail prices (and by how much), curtailing purchases of new service vehicles and other operational equipment, and helping employees keep pace with the cost of living. As AQUA noted in the November 2021 issue, failing to plan for sustained inflation is the same as planning to fail.
"As a pool builder, service provider and retailer, we don't really have a lot of control over what's happening to us externally," says Chris Hill, co-owner with her husband, Terry, of Hillside Pools in Fort Wayne, Ind. "But we can control what we're doing internally. We, as a management team, have had to put our heads together and figure out how to operate and sustain day in and day out."
The good news is that consumer demand for pools, spas, accessories and related items remains strong, even in the face of rising prices.
"I haven't seen a sales slowdown at all, really," says J. R. Richard, owner of Richard's Total Backyard Solutions in Texas, with locations in Houston and Spring. "As a matter of fact, [2021] sales are better than last year — and last year was unbelievable, phenomenal."
Hillside Pools and Richard's Total Backyard Solutions — both AQUA 100 companies — have found ways to succeed in the current economy. While the past several months haven't been easy on them, they keep opening their doors every day and facing whatever new challenges come their way. Here's how inflation has impacted their businesses, what they're doing about it and when they think the pool and spa industry will finally be able to breathe a sigh of relief.
Raising Prices: 'It's a Big Gamble'
Richard began noticing the cost of building materials and shipping services escalate during the second half of 2020. "The price of gunite went up almost 45% practically overnight. Steel went up 10 or 15%; tile and coping materials went up at least 10 or 20%," he says. "And then the price of spa freight doubled. Instead of a container of swim spas costing $4,500, it now costs $10,000."
The swim spas in that first unexpectedly expensive container were pre-sold at a price that did not take into consideration the increased cost of freight, and Richard's Total Backyard Solutions took a big punch to its profit margins. "The day I found out about the increased freight costs, I raised the price of all our swim spas and hot tubs," Richard says. "Whenever we would see price changes for us, we would change our retail prices. Then we started trying to get ahead of it by anticipating what our cost would be in six months and raising our prices on pools and hot tubs to try to compensate."
Richard admits he's taking a risk every time he hangs a price tag. And with each price markup, so too increase the odds that customers will reach a tipping point and stop buying. "That's when I know I've hit the market limit," he says. "This is all an experiment — a big gamble. But I'm not losing my butt, because my prices are at least close to what my margins need to be."
Retail operations at Hillside Pools have been impacted, too. Hill cites chlorine tablets (already in short supply because of a 2020 fire at a large Lake Charles, La., chemical plant) as one of the most obvious examples. The scarce product became even more difficult for retailers and distributors to secure in 2021.
"I would say 95% of our customer base uses chlorine tabs," Hill says. "The cost to us increased, so we obviously passed that price increase on to customers, and I think they understood. Because they're seeing it everywhere — at the gas pump, at the grocery store, at the home improvement center."
Paying Staff: 'We Boosted Morale Tenfold'
Hill's inflation-related "a-ha moment" didn't come at her own store but rather while she was grocery shopping during a vacation in Michigan's Upper Peninsula. The price of bacon was $12 per pound.
"I realized that inflation is not only affecting our pricing and our customer pricing, but it's also affecting our employees and their morale," she says, adding that Hillside employs 13 full-time workers plus about 25 seasonal staff members. "We give annual raises at the beginning of the season, but we decided to give another raise to the entire employee group across the board — mid-season [in 2021]. Although that was costly, what it did for morale will pay out tenfold in years to come. It's not something that we intend to do every year, but it helped our employee group not have to worry about how they were going to pay their bills, which kept them more engaged at work."
Hillside found ways to cut operating expenses to help cover increased payroll costs by not making as many annual new-equipment purchases as it usually does and holding off on adding another vehicle to its fleet.
Plus, with millions of workers simply MIA in the post-pandemic labor pool, Hill said that finding and retaining quality employees will become increasingly critical. Looking out for their mental and financial well-being is one way to increase retention. "How are you going to find the proper people to take care of your company when the unemployment rate is so low?" she asks. "I mean, everybody will have an opportunity to find jobs. It's costing us money now, but sometimes it takes money to make money."
Hillside Pools also hired an operations manager in August 2021 to provide greater inventory oversight and additional insight into the company's profit margins. "How is sustained inflation really affecting that case of chlorine that's going out the door? Are we selling it at the proper price? Are we competitive in our pricing with the big box stores and other pool dealers locally? Those are the kinds of things the new position will help us with," Hill says. "It's something we talked about for several years, and with inflation, we needed to just buckle down and hire for it."
Keeping the Faith: 'We're Going to Be Okay'
It's not business as usual, but both Richard and Hill are prepared to continue doing what they must in order to meet the challenges of rising inflation and everything that goes with it — including an ongoing supply shortage.
"One of the reasons we've been able to hold on is because we've 'red labeled' some of our tubs; we won't sell them. Customers have to order them, because we need to keep the showroom models," Richard says. "We normally would sell what we had in stock, because we could get a new product within two or three weeks. Now it's an eight-month lead time. We don't want to have our showroom empty. I know of a few businesses that sold everything they had in their showroom, and then people walk in and see an empty floor."
Richard's Total Backyard Solutions stores have designated about half of the showroom stock as "floor-model-only" status, which has helped maintain inventory and drive sales — even at higher prices.
"Right now, there is demand," Hill says, adding that Hillside has a long list of customers who signed a "scheduling agreement" and put $500 down to reserve a delivery or construction spot for as far as two years out. "As long as supply and demand sustain this inflation, I think we're going to be okay."
But how long will pool and spa retailers need to settle for just "okay?" Economists say this round of inflation can't last forever, but it won't disappear by spring either.
"We need a lot of humility talking about how long this lasts," Jason Furman, former chair of the Council of Economic Advisors during the Obama administration, told the Associated Press in November. "I think it's with us for a while. The inflation rate is going to come down from [2021's] blistering pace, but it's still going to be very, very high compared to the historical norms we have been used to."
That said, pool and spa retailers are optimistic that better times are on the way.
"I think supply chains are going to catch up in 2022, so that we start seeing a lowering of prices," Richard predicts, while Hill believes significant improvements in the cost of goods and services won't happen until 2023.
"I don't foresee any change in 2022," she says. "I think we're going to continue to see high inflation. And as long as the costs to us keep increasing, we're going to have to pass those increases along to the customer. But I hope to see some improvements in 2023; we've always got to be hopeful."