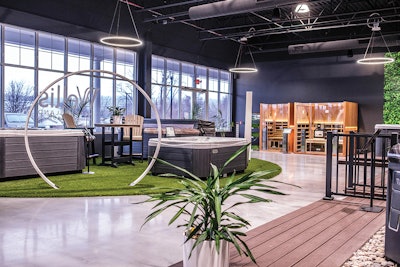 All photos courtesy HVH fotographic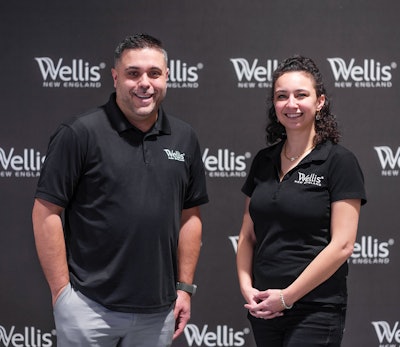 Like many pool and spa professionals, Vincent Moscatello Jr. grew up in the business, working for his father at Orange County Pools & Spas — which still has two New York locations, in Mohegan Lake and New Windsor. But then he went off to St. Bonaventure University, took a sports marketing internship at West Point and became a sales rep for a large pharmaceutical company.
When Vincent Moscatello Sr. asked his son if he wanted to return to the family business in 2004, the younger Moscatello accepted the invitation. But he knew he wanted to shake things up.
"We're still very old school, as an industry, and I'd be in some stores in the Northeast that looked like a factory outlet — dusty, with product all over the place — and it always blew my mind. I'm like, 'How are dealers selling high-end products to customers with their stores looking like this?' It threw me for a loop," says Moscatello, 43.
With a mission to change the buying experience, Moscatello transformed both Orange County Pools & Spas locations into beautiful stores in which people wanted to spend time (and money). He bought the business from his dad in 2017 — father and son are known locally as Vinny Sr. and Vinnie Jr. — and in 2019, partnered with Hungarian manufacturer Wellis Spa, making Orange County Pools & Spas the first dealer to sell that brand in the United States.
"I've always wanted to create a wellness type of space and for people to walk in and be like, 'Oh, my God! Now I can understand why I'm going to spend $20,000 on a hot tub or $40,000 on a swim spa,'" he says.
That dream became Wellis New England — the store Moscatello has always wanted to open. Located in the affluent city of Brookfield, Conn., the 6,000-square-foot space debuted in mid-2022 as a "destination store" that sells spas, swim spas, saunas, high-end massage chairs, grills and, most recently, cold-plunge tubs. No pools allowed.
Moscatello still owns Orange County Pools & Spas, which is where he spends much of his time, allowing a general manager and a sales manager to oversee Wellis New England on a day-to-day basis. Like Moscatello, both of those individuals have professional experience outside of the pool and spa world — one worked in the auction and jewelry business, and the other sold high-end fitness equipment.
"Originally, I was looking to hire from within the industry, but then as I started to really develop my strategy, I started to look outside," Moscatello says. "[The two Wellis New England managers] are the perfect fit for what we're trying to do. They're from outside the industry, which was very important to me. I didn't want them to come in with any sort of preconceived notion of what the pool and spa business should be, especially since I was creating something so new."
That strategy is working. Revenue for 2022 was what Moscatello anticipated, based on being open for only about six months.
"What I want to accomplish is helping people feel good about spending money," he says. "I want them to walk into a store and get the full white-glove service. 'Do you want a bottle of water? A glass of wine?' I want it to feel like a spa. I want it to be like walking into a Mercedes dealership. There's a different feel to the experience, and I wanted to create that experience. Wellis Spas don't cost more money than other brands, but I want to give people that luxury experience while still being attainable."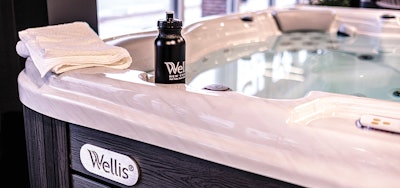 IN THE SHOWROOM
Wellis New England is part of a strip mall that was built prior to the pandemic, and the space had never been occupied — which offered Moscatello a blank slate.
He hired a designer from Europe to help create the showroom's vibe. The floors are polished concrete, but some spaces are covered by artificial grass and composite decks, and the walls feature vinyl graphics with various textures. But perhaps what is most noticeable about the store's interior is not what you see but what you smell. Moscatello brought in a company called ScentAir to help make Wellis New England smell nothing like a typical spa store.
"I was always fascinated that different places have different smells," he says. "Disney World smells like a warm chocolate-chip cookie coming out of the oven. So I found ScentAir, and we introduced it in the Orange County stores. People always compliment us on the look of our stores, but more importantly, they compliment us on the scent."
The scent pumped through all three stores is Amalfi Coast, described on the ScentAir website this way: "The scent of bright lime and watery greens mingle[s] with sweet, herbal lavender, refreshing eucalyptus and the woodsy perfume of sandalwood."
"It's very simple, not overdone," Moscatello says of Amalfi Coast. "We went through, like, a bucket of scents to find the right one, and even though some people might be sensitive to scents, there's never been anybody who walked in the store and had to leave because of the scent. It's all part of the experience. If I'm going to spend $200,000 on an inground pool, the last thing I want to do is go into a place with a dusty showroom that smells like cigarettes and chlorine."
In addition to the full line of Wellis hot tubs and swim spas, the Wellis New England showroom also includes what Moscatello refers to as an "event space." It has hosted wine, tequila and bourbon tastings; yoga and fitness classes; and even an intuitive medium and monthly meetings of local real estate professionals — all typically early in the day or after the store closes for the evening. Such events boost the dealership's profile, even among people who might not be in the market to buy a spa or related product. But when they are ready, they'll know where to go.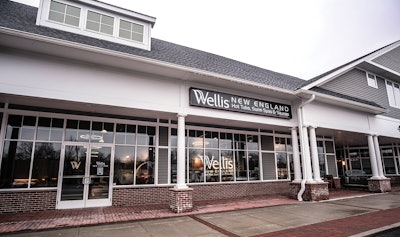 MARKETING AND BRANDING
Before Wellis New England even became reality, Moscatello understood that branding would be crucial to its success. And despite the rich history of Orange County Pools & Spas, which was founded in 1969, Moscatello opted for a new name with Wellis Spas because of the store's radically different mission.
"I'm really proud of what we did with Orange County Pools & Spas, but it just didn't make sense for Wellis New England," he says with a chuckle. "We're selling attainable European luxury, and Orange County Pools & Spas doesn't really have that ring to it. Plus, we're not selling pools."
Vinny Sr. understood all that and supported his son — taking note of how Vinnie Jr. had transformed the Orange County Pools & Spas stores over the previous several years from dealerships that mainly sold aboveground pools to ones that offered premium inground pools along with hot tubs and saunas.
In fact, Orange County still plays a role in the success of Wellis New England. "That side of the business does the deliveries, they do the service work," Moscatello says. "So it's nice that I had the infrastructure already in place and wasn't starting [Wellis New England] completely from scratch. But from a marketing standpoint, we have completely separate budgets and a separate image — although both companies are really promoting the wellness aspect of what we sell. Because, especially as we come out of the pandemic, that's what people are focused on, and that's where I think this industry is headed."
To convey those branding messages, Moscatello relies on the assistance of The Get Smart Group, a California-based full-service marketing agency that works with pool and spa retailers. Wellis New England uses Google Ads and has an evolving presence on Facebook and Instagram, and the dealership's blog is packed with posts like, "Can I Use My Swim Spa in Winter?" "5 Things to Do Before Your Hot Tub Soak," "Why Sauna Use Is Good for Your Immune System," and "How to Create a Sanctuary Around Your Luxury Massage Chair."
He also has jumped back into local TV advertising for the first time in about a decade; the cost has gone down and the video quality has gone up, according to Moscatello. "My whole problem with local TV ads back in the day was that they looked cheesy," he says. "Now, we can do ads that look like national spots."
His advice for creating memorable, professional TV ads? "Concentrate on how you want people to see your store. There's a time and a place for sale ads, but branding is way more important, and you have to be consistent. We're going to see a slowdown in our industry, but the worst thing you can do is stop spending money on advertising during this time. You have to continue that branding, because your branding is what you're about. It's what people see and how they form an opinion of your store."
Moscatello takes the same approach with store websites, which form a potential customer's first impression. He plans to refresh the Wellis New England website every few years, just as he does with the Orange County Pools & Spas website.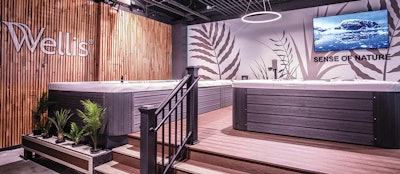 POST-PANDEMIC CONDITIONS
Although Wellis New England didn't open until the worst of the COVID-19 pandemic had passed, Moscatello experienced some supply and demand issues at his two Orange County Pools & Spas locations, but probably not as many as some other dealers.
"I was very fortunate with Wellis," he says. "Manufacturing wasn't affected as much in Hungary, for some reason — or they had just planned really well — so they had an abundance of hot tubs. I was one of the few dealers around that always had hot tubs in stock, and we delivered them right away. So that was an advantage for us."
Moscatello makes a cyclical comparison between the industry's pandemic-related supply issues and how pool and spa inventories evolved over the decades. "Back in the 80s and 90s, there were warehouses with everything stocked from early buys," he says. "Then, in the 2000s, everybody went to a distribution model. But that model didn't work during the pandemic, because distributors couldn't get you product."
Navigating out of the pandemic, Moscatello predicts dealers will not have to carry as much inventory as they did in 2020, 2021 and 2022. "But it's a changing market," he adds, "and I think in order to continue to grow, people are going to have to adapt to change. If you don't, things will stay stagnant. So I'm always looking for ways to improve."
GOING FORWARD
Despite the inevitable spa market slowdown that's coming (signs of it reported in some parts of the country), Moscatello remains upbeat about
the future of the industry in general and about Wellis New England in particular. In fact, he foresees additional Wellis stores in the company's future and is pursuing opportunities. For now, though, the focus remains on expanding Wellis New England's presence.
"Product isn't going to be moving as fast as it did in previous years. But that doesn't mean there's not a way to grow," Moscatello says. "I think now is a great opportunity to reach out to customers who purchased a hot tub and speak to them about the benefits of a sauna or a cold-plunge tub. We need to be more creative in how we grow. I think the new business — somebody who doesn't have any of our products — is going to be slowing down. We're going to be marketing to people that have already bought products from us and telling them about other products that might work for them."
And Moscatello is just as open-minded with his employees as he is with the sales process. "I tell my staff, 'Look, I might be the owner, but I don't want somebody just to say yes to me because of that,' he says. "I encourage everybody — from my delivery drivers to my stock people to my managers— to let me know what they think. That gives me a different perspective, because I'm not dumb enough to think that I know everything."
This article first appeared in the March 2023 issue of AQUA Magazine — the top resource for retailers, builders and service pros in the pool and spa industry. Subscriptions to the print magazine are free to all industry professionals. Click here to subscribe.