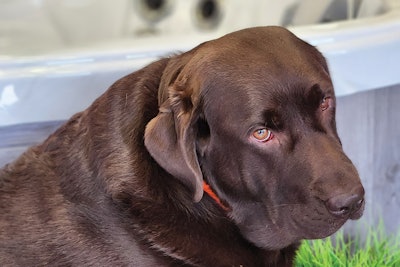 All photos courtesy The Pool Doctor of Rhode Island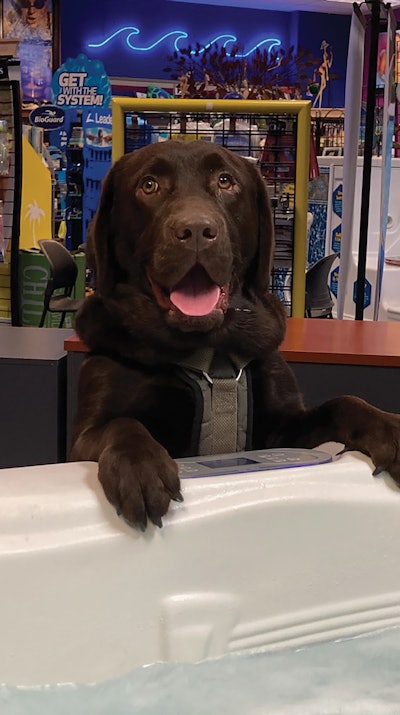 When entering The Pool Doctor of Rhode Island, an AQUA 100 award-winning retail store, you will most likely be greeted by a labrador retriever named Winston. He's been working there for years, following a line of dedicated canine employees.
"We've had a dog here since we started our business in 1994," recounts Debbi Leclerc, co-owner. "One night, I was working late at our retail location, and two gentlemen came into our store. They made me feel very uncomfortable, and since I was all alone, I didn't feel safe.
"I'm a very strong-minded woman, so for me to feel this way was a big deal. The next day after work, I stopped at the pound and brought home a dog. For the last 30 years, I've had three different dogs protecting me while at work. They've made me feel safe and comfortable when assisting my customers, even when I'm the only human in the store."
He may have been hired as store security, but Winston's role has grown far beyond safety officer. His job description now includes greeter, marketing and customer relations.
"When Winston hears our buzzer go off, he immediately goes up to whoever just entered the store to say hello," says Leclerc. "As soon as the customer starts to pet him, he becomes what we like to call, 'a melted chocolate.' It's now gotten to the point where customers will call us and ask if Winston is 'working' today because their kids are begging to see him.
"When he's not with customers, Winston will climb the stairs in front of our spas and just sit there. When we turn on the water features, he's right up on his hind legs watching the water; he hasn't fallen into one of our spas yet, but you never know. He also jumps onto our desks and office chairs at work, a habit he learned from our cats. Sometimes I'll play him bird shows on my phone, and he'll just sit there and watch the screen for hours on end."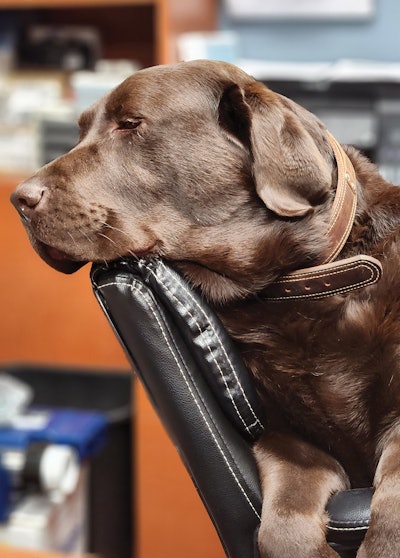 Outside of "working," Winston also serves as the company's mascot, appearing on The Pool Doctor's website, trucks and store windows in a cartoon-like photo.
"An industry friend has a penguin mascot, and when I saw it, I thought, 'We need to make a chocolate lab our company mascot,'" says Leclerc. "During COVID, I went on Etsy and started looking at cartoon caricatures. I reached out to an artist I really liked — a company located in Hong Kong — and we messaged back and forth until we came to an agreement on a design/ line drawing we both liked.
"Winston was still a puppy at the time, and I wanted the mascot to be a fully grown dog, so I sent in pictures of our previous chocolate lab, Koda, too. I'm not sure whether the final cartoon is of Winston or Koda, but it turned out great. Some versions have baseball caps on, or sunglasses, or even tool belts. It's pretty fun."
Although a chocolate lab has only been the company's mascot for a couple of years now, Leclerc can't see her company, or her life for that matter, without a dog in it. "It's so nice to know The Pool Doctor and our brown labs are linked for life."
This article first appeared in the June 2023 issue of AQUA Magazine — the top resource for retailers, builders and service pros in the pool and spa industry. Subscriptions to the print magazine are free to all industry professionals. Click here to subscribe.