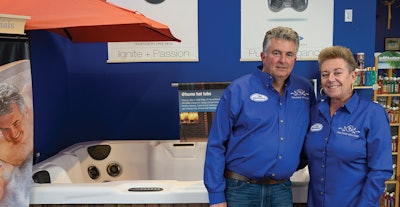 Photos courtesy Mark Wilson Images / Debra Leclerc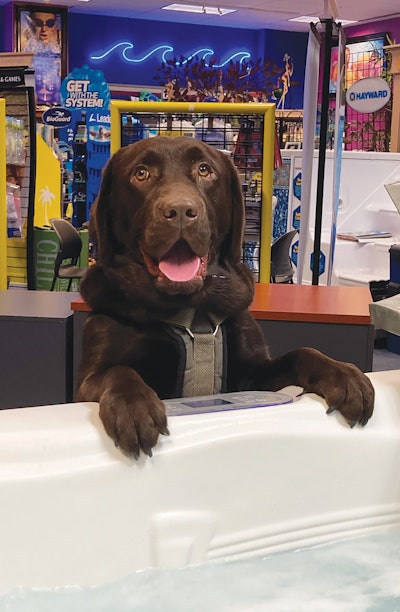 "A customer is not dependent on us, we are depending on them."
—Debra Leclerc, Co-owner, The Pool Doctor of Rhode Island
Founded in 1989 by Ronald Leclerc, The Pool Doctor of Rhode Island has been a staple to the Rhode Island community for decades, providing customers with all things pool, spa and — what makes them The Pool Doctor — fun.
Traveling down I-95, you'll pass by The Pool Doctor with its illuminating neon-lit waves and its eye-catching hints of ultramarine blue — the store is impossible to miss. Before you even walk through the doors, you'll see a custom-shaped inground pool with water features, lighting and more — and hear music streaming through the speakers, the first of many "hellos." Once you open the doors, as if expecting your arrival, Winston, the store's chocolate lab, will cheerfully say hello to everyone you brought with you.
Inside the 7,000-square-foot showroom, you'll find an expansive assortment of all the products you could need (and more) for your pool and spa. While shopping, customers are encouraged to let their children explore the Kids Corner. Stocked with games, toys and a popcorn machine — which adults are welcome to as well — the kids can play while their parents shop or get their water tested. "Located close to the outdoor toys and inflatables, children are bound to ask their parents to indulge in a spontaneous purchase by asking the magic word: please?" says Debra Leclerc, co-owner.
On the other side of the store, one will find the "mood room," which is made to showcase the company's high-end spas and invite customers for wet tests, where they will naturally observe the spas' water and lighting features, swipe screens and more.
"With so many products at your fingertips, it can be overwhelming; that's where the company's pool pros come in," says Debra. Trained and certified in BioGuard water chemistry, the staff has extensive knowledge and can tackle any problem or question. As a team, the company works hard to go above and beyond for its customers, providing them with step-by-step directions, product recommendations, and follow-up care. "It's all about the experience," says Debra. "Our unparalleled customer service is what brings customers to our store. Referrals are a large part of our continued success."
One exceptional team member, Jason Scaramuzzi — who has been working at The Pool Doctor since 1994 — was awarded the 2022 Pleatco Industry Achievement Award for all his dedication and hard work. "It's an honor and appreciated that all the work we do here at The Pool Doctor is recognized by the industry," says Debra. "There are certain behaviors, skills, and attitudes that can't be trained — they are part of an individual's personality, and we are lucky to have individuals like Jason with us."
While the store is thriving, there are improvements underway for the company. "We plan to expand our reputation on digital platforms, like Google and Nextdoor, but also our presence on social media," says Debra. "We already use social media to drive awareness of new products, but there are more tactics we could explore."
The biggest change the business is looking into is becoming an Employee Share Ownership Plan. "This would be beneficial for the company and for our long-term employees," says Debra. "Our customers and employees continue to be a huge part of our success. It's the reason we're in business."
This article first appeared in the April 2023 issue of AQUA Magazine — the top resource for retailers, builders and service pros in the pool and spa industry. Subscriptions to the print magazine are free to all industry professionals. Click here to subscribe.