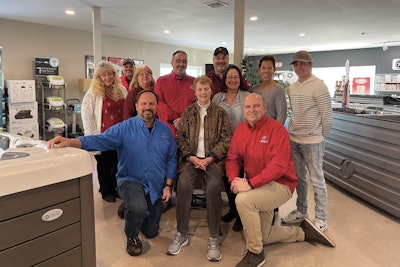 Photos courtesy Gary McQuaide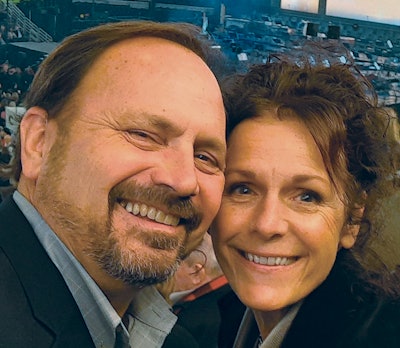 "We have sold hot tubs for over 45 years and have had the same line of hot tubs for 32 years. We value our long-term relationships with our suppliers."
—Gary McQuaide, President, Matley Swimming Pools and Spas
Matley Swimming Pools and Spas started as a plumbing and heating company in 1958. "Then my mother, Maude, seeing how much the plumbing business slowed during the summer, decided to offer pool chemicals and services for local plumbing customers," says Gary McQuaide, president. "We soon started using the plumbing crew to build aboveground and inground pools."
The company then took on hot tub sales, adding display models into the plumbing showroom. "We started with a few customers, building just a few pools a year, selling a few hot tubs out of a 400-square-foot showroom," says McQuaide. "Now, we have moved into a 6,000-square-foot facility with a 2,700-square- foot showroom. And our volume has climbed to almost $4 million in revenue." The company also continues to offer leak repair, maintenance and remodeling for plumbing and heating services.
With a customer-first business model, Matley Swimming Pools and Spas has nurtured a strong and loyal client base over the years. "For example, if something, such as a vinyl liner, does not meet our expectations, we will replace it at no cost to the customer, regardless of the circumstances," says McQuaide. "We extend ourselves fully to make sure everyone is satisfied with our work."
Active on YouTube, the company has a series of information on chemicals, pool and spa care, and demonstrations to help buyers feel confident both prior to and after the sale, long into their hot tub or pool ownership. Facebook posts also help keep customers informed, with frequent product photos and promotions, as well as employee accomplishments. One employee, Sabrina Najjar, even wrote her college thesis on Matley Swimming Pools and Spas, asking the company's Facebook followers to participate in a case study designed to help refine business operations and improve customer service.
As Matley Swimming Pools and Spas continues to grow, the business looks for opportunities to give back to its community. A major step in its philanthropic initiatives was to implement a community service requirement for each employee. "Elderly services are largely important to us, and we try to extend our help to senior citizens whenever we can," says McQuaide of his own interest in charity.
"In the next few years, we hope to expand our maintenance services for our customers and increase the number of builds we do each season. We hope this family business will continue for the generations to come."
This article first appeared in the April 2023 issue of AQUA Magazine — the top resource for retailers, builders and service pros in the pool and spa industry. Subscriptions to the print magazine are free to all industry professionals. Click here to subscribe.