Photos courtesy Ashley Hill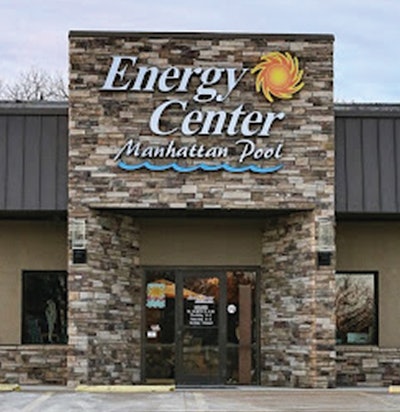 "We work closely with our customers to make their dreams a reality."
—Kimberly Weber, Co-owner, Energy Center-Manhattan Pool
For over 50 years, Energy Center-Manhattan Pool has been a pillar of the Little Apple community. The company went from providing residents with basic energy in the 70s to supplying them with pools and spas, state-of-the-art fireplaces and backyard accessories to meet the area's changing needs.
The surrounding community continues to be Energy Center's focal point. "We strive to ensure our customers feel special by going to great lengths to make them feel heard," says Kimberly Weber, co-owner. With that in mind, in addition to providing distinguished customer service, Energy Center gives back. "We love to show the Little Apple community appreciation for the support we have received over the years by giving back to local charities." The company has donated to local schools, the Ronald McDonald House, Special Olympics, and many more local causes.
Walking into the Energy Center-Manhattan Pool store is an enjoyable experience: On the east side of the store, one will find its current grills and fireplaces, which can be turned on for customer interaction. On the opposite side are the pool and spa chemicals, patio furniture and, under the twinkling lights of a pergola, a display of Marquis spas. Enclosed with curtains for privacy, any customer is invited to partake in a wet test, which contains Microsilk — a water treatment that moisturizes and hydrates the skin, making bathers feel silky and reducing the appearance of fine lines and wrinkles — while watching a skin and beauty treatment video.
Energy Center — which executes a number of inground pool builds each year — also utilizes industry-specific technology: Pool Studio, a 3D swimming pool design software, gives customers an idea of what their backyard will look like before any project gets underway. "This software, coupled with Google Earth, sets us apart from a lot of our competition. It allows us to meet customers' unique needs and wants," says Brian Weber, co-owner. The company can make recommendations on what may work or not work for customers, depending on existing backyard conditions.
"We also use Podium, a communication platform that allows us to keep in constant contact with our customers, 24 hours a day," says Kimberly.
Currently, Energy Center-Manhattan Pool is redeveloping its website for accessibility and ease of use, and plans to include an e-commerce function. "In the years to come, we intend to incorporate more advanced technology to elevate our customer experience and adopt new software programs that allow us to keep up with our growing community. The Little Apple community deserves the best," says Brian and Kimberly.
This article first appeared in the April 2023 issue of AQUA Magazine — the top resource for retailers, builders and service pros in the pool and spa industry. Subscriptions to the print magazine are free to all industry professionals. Click here to subscribe.