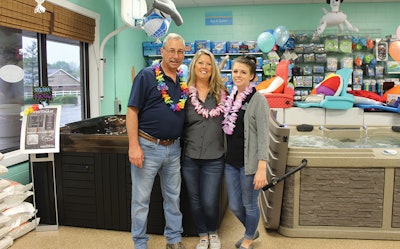 Photos courtesy Reva Long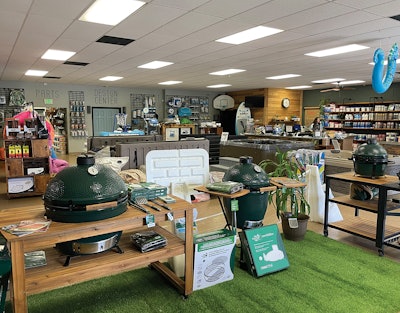 "Our company's core philosophy is to go above and beyond to provide our customers quality products and honest service."
—Angie Lauth, Founder, Angie's Pool & Spa
For years, Angie Lauth, the founder of Angie's Pool & Spa, traveled from door to door performing a weekly pool service from her van, which she continued to work out of for six years. Her husband, Paul Lauth, later joined as vice president of the company, bringing carpentry skills to the table. Together, they grew the company, adding custom inground pool construction to their services, which led to opening their first retail store in Greenwood, Ind., in 1996. Ensuring the growth of the family business, Angie and Paul have been joined by their daughter, Reva Long, and her husband, Colby Long. Today, they make a formidable team, complementing each other's strengths and working together to achieve the company's goals.
Since the company's inception, Angie and Paul have made it their mission to ensure every employee is well-trained and knowledgeable in every aspect of the pool and spa business. "It's crucial that our staff is well-trained because it allows for unmatched customer service over the phone, in person and out in the field," says Angie. "In turn, customers are confident about maintaining their backyard investments."
The company makes it a priority to showcase timely and in-demand products, so that when a customer first enters the Angie's Pool & Spa showroom, they are greeted with just what they need (i.e. pool opening products in the spring, closing products in the fall). "We also recently became a certified Big Green Dealer and have an entire section dedicated to their line, allowing customers to browse new and exciting products," says Angie.
Angie's Pool & Spa offers customers weekly and monthly sales, and holds yearly customer appreciation weekends. The company has managed to generate a large customer base by outsourcing a marketing agency, as well as staying active on social media. "Growing our advertisement and social media presence has allowed us to grow relationships, get our name out there and bring more faces into the store," says Angie. Facebook and Instagram are also a great way to recognize her team, as she does a weekly "Employee Spotlight" post, sharing fun facts about each employee and what they love most about working in the pool and spa industry.
Angela's hard work has not gone unnoticed: She was previously recognized with the Starkey Entrepreneurial Woman Award. This award celebrates her courage, tenacity and selflessness. "The award represents our company, our employees, and our commitment to best serve our customers," she says.
And big developments are on the horizon: Angie's Pool & Spa will open its second location this year. "Expanding our business allows us to have a bigger team and reach more new and existing customers," says Angie. "We hope that in five years, both locations are thriving and that we exceed every goal we have set in place."
This article first appeared in the April 2023 issue of AQUA Magazine — the top resource for retailers, builders and service pros in the pool and spa industry. Subscriptions to the print magazine are free to all industry professionals. Click here to subscribe.