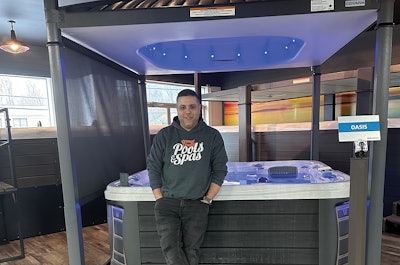 Photos courtesy Vincent Moscatello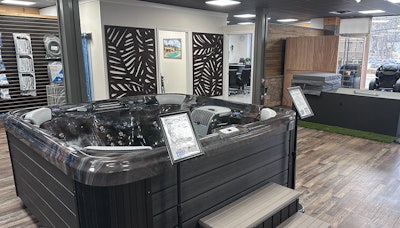 "When someone walks into our store, they're warmly welcomed into 'our family.' We don't sell them on whatever we can or whatever works best for our stock list and numbers — we tailor the experience to their needs and concerns."
—Vincent Moscatello, President, Orange County Pools & Spas
Orange County Pools & Spas opened its first store in Middletown, N.Y., in 1969. The family owned company initially focused on building aboveground pools and selling chemicals. "As the industry began to grow, we pushed ourselves to always be on the cutting edge of new products and smart innovations," says Vincent Moscatello, president. "And to meet the ever-changing needs of our customers, we knew that meant expansion."
Thus, the company's second store in New Windsor was born, offering custom inground pools, onground pools and hot tubs. The spa market really started to explode shortly thereafter, so Orange County expanded even more to offer swim spas, saunas and luxury massage chairs, along with an in-house service department. Each of the company's locations are modern and clean, with an upscale yet "at- home" feel.
"It is very important that our showrooms do not feel like a converted warehouse," says Moscatello, "nor a large, open area with products scattered and wedged where extra space exists." Its newest location, Wellis New England, was created with a high-end, luxury car dealership in mind. "The store is stunning — postmodern with high ceilings, a wide-open floor plan and unique accents."
Orange County Pools & Spas works with The Get Smart Group (TGSG), a digital advertising agency that specializes in pool and spa marketing. "They've helped take our digital presence to the next level with a modernized website that promotes interaction while providing a wealth of information," says Moscatello.
TGSG also helps the company by keeping track of leads and customer interactions. Additionally, Orange County Pools & Spas is active on multiple social media platforms such as Facebook, Instagram and YouTube. "From our constantly updated website, to our multiple social media pages, we are determined to make our presence known in the digital world," says Moscatello.
Orange County Pools & Spas plans to open a few more stores in the next five years, and really focus on improving its customers' physical and mental health in the aftermath of the pandemic. "Our products — and our company — make your life better," says Moscatello. "Mental health, in particular, has come to the forefront as an issue that millions of Americans are struggling with — and we want to help. We believe organic interest in our products will increase as we focus on customer wellness."
This article first appeared in the April 2023 issue of AQUA Magazine — the top resource for retailers, builders and service pros in the pool and spa industry. Subscriptions to the print magazine are free to all industry professionals. Click here to subscribe.