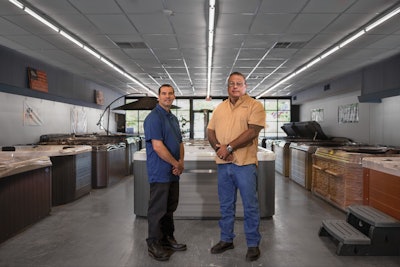 All photos courtesy 36dview
Back in October of 1996, Ernest Canelli began his illustrious pool and spa career with $10,000 and a dream – starting with just three hot tubs that were delivered to his home. By December of that same year, he had already sold 36 hot tubs out of his own backyard.
He shifted into distribution, helping people from all over the country – including a dealer in England – get their retail stores off the ground. Business was booming. But then in 2008, due to some hardships in his personal life, Canelli lost everything he had worked so hard for.
"I went through a very tough time in my life," says Canelli. Those that work in the pool and spa industry understand the hold this industry can have on you, and he says he desperately wanted to get back. Canelli saw an opportunity — towards the tail end of 2021 — to do just that, opening Factory Spas Direct, located in Hyde Park, N.Y.
Not only did Canelli rebuild his business, he came back stronger than before, quickly growing from one store to three buildings within the same plaza. "I'm known as 'Hot Tub Ernie' within my community now," says Canelli. "It feels great to be back doing what I love."
We spoke with Canelli about his successful business, from customer service to store layout to marketing strategy.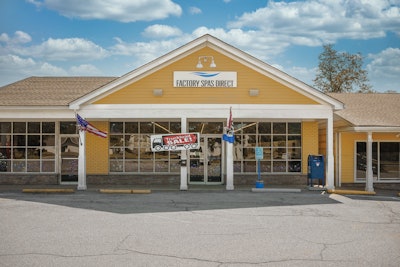 GETTING CUSTOMERS IN THE DOOR
The marketing behind Factory Spas Direct is strategic. "I don't sit here, and let business come to me. I'll go out and get it," says Canelli. With that in mind, he has several unique advertising channels in place to help garner store traffic. On top of doing several home shows throughout the year, he has three local billboards, which receive a lot of engagement. "I have people call me and say, 'Hey, we are looking at your billboard. Where are you located? We want to come take a look.'"
His service van is also successful in getting leads, with one memorable encounter taking place in the Home Depot parking lot. "Someone called me and said, 'I'm out by your van, and I'm interested in a hot tub.' I said, 'Just give me a minute, let me get in touch with my employee, and he will meet you outside,'" recalls Canelli. "You have to be right on the spot. You can't give people time to think. When people want a spa, I find it's typically an impulse buy."
His most successful advertising platform, though, is the Facebook Marketplace. He finds that people often look to the Marketplace for used hot tubs and, when they realize they can get a new one at an affordable price, will jump on his listings quickly.
"I usually do a general ad, with a group picture of a number of different hot tubs, not just one in particular," says Canelli, who also notes his friends are kind enough to share the listings to generate more response. "And I advertise that they are available for immediate delivery."
The posts are sometimes timed around major holidays: Veterans Day, Memorial Day, Labor Day, etc., and make note of a holiday sale: "$500 off, veterans get a free cover lifter and chemical startup kit, stuff like that," says Canelli. "All geared to get people in the door."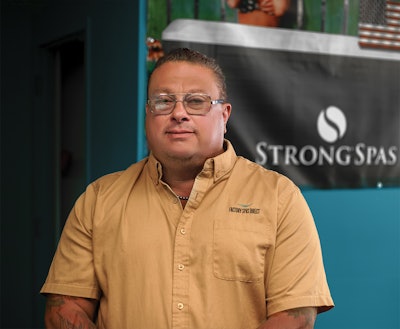 A FLEXIBLE SHOWROOM EXPERIENCE
When customers walk into the Factory Spas Direct showroom, they are immediately met with an ample amount of inventory, as the company likes to have no less than 50 hot tubs, notably working with manufacturers like Strong Spas, on the showroom floor at one time.
Canelli starts each sales process with an assessment. Questions like: How many people do you wish to sit in the spa? How many jets are you looking for? How often are you going to use it? Is this your first spa? "These questions help me lead customers toward what I feel is the best value for their money. From there, if they choose to go higher, that's up to them," says Canelli. "I don't upsell anyone or put pressure on them. I'm just not that way."
Not only does Factory Spas Direct sell hot tubs — Canelli predicts they will sell 500 spas this year — they branch out into fire pits, chemicals, cover lifters, outdoor heaters, and more. "Sometimes I combine our accessories as a sales tool," says Canelli. "'If you buy this hot tub today, I'll throw in a free fire pit.' That kind of thing."
A more out-of-the-box item he sells? Mattresses. "I found a very niche mattress called the Alaskan King Bed," says Canelli. "It's 9-feet-by-9-feet in size, and there's not a lot of them around. We have sold quite a few. Sometimes people will come in for a mattress, realize we have hot tubs, and leave with both. They weirdly compliment each other."
But as far as making a sale, Canelli is rather flexible. "I discount everything — I don't ever sell anything at retail price," he says. "If someone is standing in front of me, and they only have $5,000, for example, and the hot tub is listed for $6,000, I am going to let that hot tub go for five. I have the mentality of, 'I can just get another one tomorrow.' The customer gets a good price, and I still sell a hot tub."
Canelli also gives customers with a lower budget a "trade-in" discount if, within a year, they want a bigger hot tub. "A customer might say, 'I only have $4,000 down.' I direct them to a molded plastic tub, and if they want a bigger hot tub down the road, I give them their full purchase price back towards a bigger spa."
Factory Spas Direct is moving into the rental hot tub market, too. While the service takes further planning than other endeavors, Canelli argues it is well worth the investment and offers this advice: "Anyone looking to get into the rental market needs to remember to give enough time for the hot tub to heat up, as the wiring is not the same as an installation," he says. "It takes longer to heat. A customer may want a hot tub on Sunday, but that means dropping it off on Wednesday."
Canelli is still working out the details, but if a customer likes the rental hot tub, he plans to apply the amount of money they spent on the rental towards their later hot tub purchase.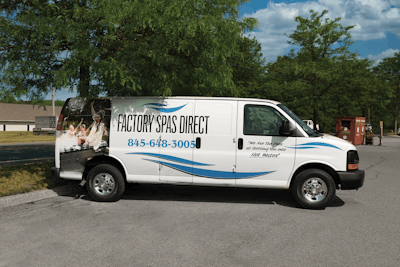 DELIVERY HAPPINESS
Factory Spas Direct partners with Hot Tub Movers, a company based out of Newburgh, N.Y., for a lot of its deliveries. "This simply ensures that we can confidently accommodate any installation scenario," says Canelli. "If a hot tub is on a third-story deck, Hot Tub Movers has the ability to lift it up on a crane safely. That's just one example."
Together, they not only hook up new hot tubs but, if necessary, haul the old ones away. "We've also built customers' decks, cement pads — it's important that we are not just dropping it off in the driveway," says Canelli. "We are getting it in place, in accordance with what they want, helping them and answering questions so ultimately, when they are telling their neighbor about the spa, they can say, 'Not only did we get a great deal on this hot tub, the customer service was even better.'"
Canelli has delivered hot tubs from Virginia to Maine to Ohio, "wherever we have to go, we go," he says. And not just on business days. He once made a hot tub delivery on Christmas Eve. "I had a customer who wanted a hot tub for his family on Christmas day, so I physically drove my tractor — which I used as a forklift — in the freezing cold the three miles to his house, so that he would have it in time for Christmas."
He also makes himself available for any troubleshooting by giving customers his personal cell phone number. "They can call me on a Sunday afternoon at five o'clock if they have an issue," says Canelli. "I might not be able to answer, but I will get back to them as soon as I possibly can."
Eighty percent of problems Canelli can fix over the phone, while the others he will travel onsite to assess the situation. "In the case that a customer needs a new part, we keep a lot of parts in stock," he says. "That way I can get customers up and running quickly. But a lot of the time, someone simply pushed the wrong button, and it's a common fix, which I complete over FaceTime."
SHOWING GRATITUDE
Ultimately, Canelli is so grateful to be back doing what he loves. "My motto is, 'Never put off until tomorrow what you can do today.' And that has really helped me throughout the years. I'm back in business now, I'm applying everything I know, and I'm only well-known because my relationships are made by taking care of my customers.
"I've had people that purchased hot tubs from me 25 years ago say, 'We're so happy we found you and that you are back in business again.'"
This article first appeared in the July 2023 issue of AQUA Magazine — the top resource for retailers, builders and service pros in the pool and spa industry. Subscriptions to the print magazine are free to all industry professionals. Click here to subscribe.