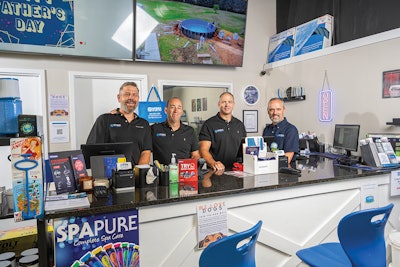 All photos courtesy Frank Zayas Photography
"Let's start at the beginning," says Clay Norman, now one of four managing partners at Hydra Hot Tubs & Pools, located in Fort Mill, S.C. He is joined by partners Peter Steiner, Rod Mclean and Jason Jones, each having an equal share in Hydra.
"Before the four of us went into business together [in 2017], myself and Peter were already working together," says Norman. The two co-owned The Hot Tub Loft, and would frequent many home shows along the Southeast. With no store location at the time, the shows were a staple, as they provided a "home base" to sell their hot tubs from.
"We were looking for people to deliver and service our hot tubs," says Norman, "and that's when we were introduced to Rod and Jason who owned Absolute Installations."
Norman was impressed with the duo's work ethic from the start. "Rod and Jason could get deliveries done for us with no excuses, everything was handled, which was not the case with other companies. I mean, some people would charge us an additional $60 to get the spa around a rock."
So, the two pairs started working together. "Before we knew it, we were all attending home shows," says Norman. "And it wasn't long before we would separate to knock out two different home shows in the same weekend."
It seemed what one company lacked, the other had. "Absolute Installations, on top of hot tub deliveries, was also building aboveground pools," says Steiner. "Back then, the pool business and the spa business were busy at different parts of the year. When we were busy selling hot tubs in the winter, Rod and Jason were slow. When they were busy building pools in the summer, Clay and I were slow. Ultimately, the idea was, ''Wouldn't it be great if we were busy all the time?'"
And that's how it started. Absolute Installations and The Hot Tub Loft were dissolved, and the group of four, now great friends, went all in on one business: Hydra Hot Tubs & Pools.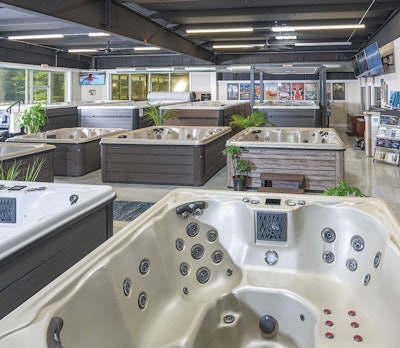 Behind the Storefront
One major motivator, if not the biggest, behind Hydra's inception was the shared need for a central business address. "When you go to sell a customer a hot tub or swimming pool at a home show, it's tough to be asked, 'Where are you located?'" says Norman, "and for you to say, 'Well, we really don't have a store. We do it online, but this is where I live.' It doesn't help you very much."
"There are a lot of people that go to home shows that don't want to buy from you there," adds Steiner. "They want to go to a brick-and-mortar store. That was the impetus to have the storefront, as we felt like we missed 30% of the sales because, by not having a place for them to come and see us, they didn't know if we were fly-by-night."
So upon the grand opening of Hydra's first storefront, there was a huge sigh of relief for all involved. "The first time we could answer where we were located was amazing," says Jones. "It took a huge weight off our shoulders, because we felt legitimate."
While both companies brought with them a well-established list of clients and referrals, the group invested in online, pay-per-click and search engine marketing right from the start. That, combined with an attractive website, was helpful in getting Hydra off the ground. It didn't take long before the need for a second showroom arose.
"With our first location, because it's mostly warehouse space, people can come in and feel like they are getting a great deal because they can clearly see we don't spend money anywhere else," says Norman. "That has really worked well and to our benefit.
"But with our second location [which opened in September, 2022], we wanted to do something different, especially because our two stores are about 15 miles apart, and we didn't want to bastardize ourselves from one store to the next."
The result is a swim spa superstore, "one of very few in the Southeast," says Steiner. "We've had prospective customers tell us they can't find another within a few hundred miles."
With 10 hot tubs on the showroom floor (the company works with Viking Spas) and four swim spas, prospective customers can touch, feel and see the product, which makes all the difference. "That's what distinguishes this location from our other store and from our competitors," says Norman. "By putting their hands in an active swim spa, we are able to close more sales. Just yesterday, we had someone come in asking about fiberglass and left excited about swim spas. It's already a huge part of our business."
In pre-pandemic conditions, he adds, the price for an inground swimming pool around Fort Mill, S.C., averaged less than $50,000. "The same inground pool is now worth $100,000. And the fact that you have to wait a year and a half to get it, those are the people that are converting to swim spas. It's far less money, and it's easier."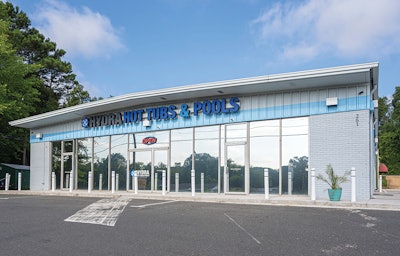 Pandemic Period
Norman remembers exactly where he was when the Coronavirus hit. "At that point in time, we were a hardworking company, but Hydra wasn't a huge company, not yet anyway.
"We had lots of overhead after just starting up, and had ordered truckload after truckload of inventory for the upcoming home show season. Then suddenly, manufacturers are calling, asking us, 'Are you canceling? Are you canceling?' A lot of companies in the area had canceled their orders, because, due to health concerns, all of the home shows had backed out."
The group had a decision to make. Like most pool and spa professionals, they were afraid of the unknown. "But after a few weeks, we saw what was happening and instead of canceling our orders, we took a huge gamble. We doubled and tripled our hot tub orders," says Mclean.
The company had about 15 months where every hot tub coming in was sold before they even arrived, but — due to careful planning — there was never a time when spas were out of stock. "That's not to say we didn't get a little sparse on the floor," says Norman. "We weren't able to double-up on models, for example. But we made sure to only sell our floor models if we knew we could restock them right away."
"We had to fight to stay at it," adds Jones. "It wasn't easy. It was a full-time job just cold-calling people and searching the internet to find something as easy as a skimmer. That was the crazy part on my end."
The hard work paid off, as Steiner credits the pandemic period with having helped Hydra to open its second location. "We put ourselves in a better financial position, because we were responsible when business exploded," he says.
Now, with 40 hot tubs always in stock and ready for immediate delivery, he feels the company is set up to properly deal with the influx of business. "Sales are on the downswing, but being that I'm sales focused, you just have to close a higher percentage right now," says Steiner. "It was easy for a year and a half, two years. It's not easy anymore."
Steiner also notes that the post pandemic buying cycle has evolved. "We are having to alter the way we sell to people," he says. Hydra has sold more products on the phone than ever before — where customers don't even come into the store. And when they do, it's no longer mostly on weekends.
"Prior to the virus, Saturdays were extremely busy," says Norman. "Eighty percent of our sales were done on Saturday. Now, I dare say that 40% of our sales occur on Saturday. People can visit the showroom in the middle of a weekday now, because they're working from home."
This can make staffing a bit more challenging, as it's harder to predict how many employees should be on hand and when. Fortunately for Hydra, all four business partners are ready to fill in gaps where they can. "We take the overflow, so people don't have to wait. And we've cross-trained almost all of our employees, so they can do multiple things. Nobody in the office is above testing water, for example," says Norman.
In addition to the four partners, the company has 11 employees on its payroll, for a total of 15, most of which have been on staff a long time, due to a family-like management approach.
"We really take care of our people," says Norman. Even on the busiest of industry days, for example, the team has found it boosts morale to take off. "The 4th of July, Memorial Day, all of these holidays that are traditionally sales holidays in retail, not only do we take them off, but they're paid time off for our employees. Is that a smart business move for a retail shop? Probably not, but we do it anyway."
Feeling Grateful
No matter the challenges of today's market, Jones says, Hydra leadership takes them on as both friends and business partners. "One question we always receive is, 'How do you guys make this work with four different people? How do you not rip each other's heads off?' And the answer is that we have a good thing. We have comradery, we have respect for each other's opinions.
"We all come from different backgrounds and think a bit differently, yet we somehow share 25% of this company. I think that's what helps our business to stand out — there's more thought that goes into each decision, which eventually turns into an agreement."
"And it doesn't hurt that we sell happiness," says Steiner. "I enjoy the fact that we are selling a product that is more of a want than a need. People that buy a pool or spa, they're happy, they're getting quality family time, sitting in the backyard — and that is really gratifying for all of us."