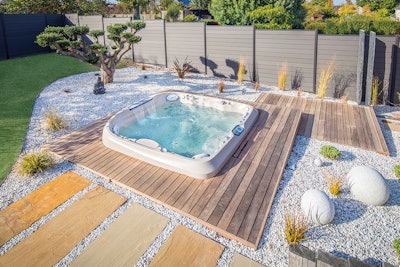 Photo courtesy Shutterstock
The spa sector saw enormous growth over the past few years and sales continue at a historically elevated level. In celebration of that, we asked a variety of hot tub and spa manufacturers to submit and comment on a recent installation that stood out to them.
These installations were made to impress — whether the hot tub was placed in front of a stunning backdrop, completes a newly built home, or simply displays a newer model, this hot water processional celebrates the art of the portable spa.
On top of the installation, some entries also discuss the technological features and wellness benefits to the model. So not only do these tubs provide uninterrupted, quality time with family and friends, they improve the health of their users.
With that said, let us introduce you to a versatile and exciting product roundup, an ode to the best of the best in recent hot tub and spa installations, and the manufacturers that help to push the sector forward.
---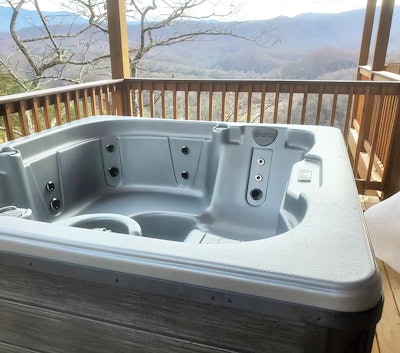 Celtic Hot Tubs
The Resort Series hot tubs, one of which is pictured here, are often placed in vacation settings. Whether that be a cabin on the lake, in the woods or in the mountains, these tubs were not only built to endure harsh weather, but also to accommodate high bather loads. Because reliability is a must, the Resort Series was further designed with intuitive controls — making them easy to operate, and ultimately, easy to enjoy.
All of the Celtic Hot Tubs manufactured in the United States were inspired by century-old Celtic traditions. The company has over 10 decades of industry experience and is dedicated to providing high quality products with long-lasting performance and dependability, with the ultimate goal of creating durable products that are engineered to satisfy the needs of any and all customers.
celtichottubs.com | (270) 306-6220
---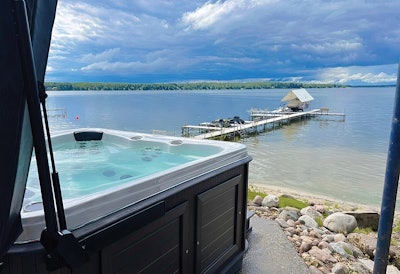 Arctic Spas
After previously purchasing an Arctic Spa for their primary home, this couple was motivated to purchase a tub for their vacation property, too.
The Custom Series Cub Legend provides an added level of luxury to the shore of this already picturesque vacation home. This three-seat, five person spa, complete with a 40-jet and three-pump hydrotherapy system, offers an invigorating massage that promises elevated rejuvenation. The intimate design of this tub, in combination with the power provided by the spa's hydrotherapy system, makes The Cub a perfect choice for people looking to relax and connect with those closest to them.
For this couple, the luxury of their Arctic Spa doesn't end with the interior — it radiates into the remote, cutting edge water monitoring system, Spa Boy, and is also found in weather-conscious structural design elements like the unique Free Heat System and one-of-a kind Mylovac Cover.
To elevate their vacation experience, the couple placed their Arctic Spa on the stunning Bondiss Coast, turning this summer getaway into a vacation property that can be enjoyed year round. Whether they are watching the waves crest on the shoreline of the summer village, or are enjoying the winter snowfall from the warmth of their personal hot tub, "the couple trusts that our service, technology and support will keep their vacations stress free," the company says.
arcticspas.com | (780) 789-2626
---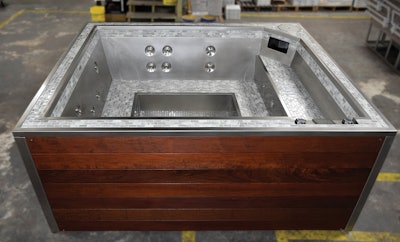 Bradford Spas
This Signature Series 786 residential spa was handmade by Bradford's craftsmen and finished with inlaid subway tile trim and beautiful Ipe wood skirting. The particular model featured here is complete with frame mounted equipment and is ready to be shipped. Built for a confidential client in the Western United States, this bespoke hot tub is destined for a mountain getaway where the stainless steel shell will easily withstand the harsh environment of sun, wind, rain, cold and snow.
Bradford says one of the standout features of a stainless steel spa is its stunning aesthetic appeal. With its sleek design and timeless finishes, it effortlessly complements any home setting. The brushed, stainless steel surface not only exudes elegance but also reflects light through water, adding a touch of brilliance to any personal oasis. The spa becomes a focal point that enhances the overall ambiance of the space.
Bradford Signature Spas are renowned for their exceptional durability, ensuring that the customer's investment will stand the test of time. Stainless steel is highly resistant to corrosion, warping and fading, making it an enduring choice for homeowners. Unlike traditional hot tub materials — such as acrylic or fiberglass — stainless steel is robust, requiring minimal maintenance, allowing users to enjoy the spa without the hassle of frequent repairs or replacements.
For over 40 years and 10,000-plus installations, Bradford has been making spas and pools for the world's finest hotels, casinos, skyscrapers and homes.
bradfordhome.com | (800) 438-1669
---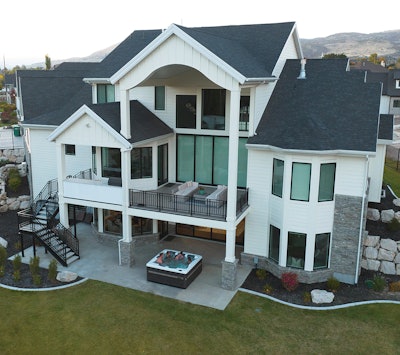 Bullfrog Spas
The owners of this beautiful, newly constructed, modern farmhouse-style home opted for the 2023 A7D by Bullfrog Spas. The home is located in Highland, Utah, a suburb of Salt Lake City nestled in the foothills of the Wasatch Mountains. With nearby peaks rising well over 10,000 feet in elevation, the mountain views from this southeast-facing backyard are stunning.
The purple-red sunrises visible over the mountains each morning are almost as tranquil and relaxing as the all-new A7D spa itself. The A7D is a unique, dual-lounge model that is ideal for full-body therapy and relaxation, perfect for this family of five with two busy working parents that often need to really kick back and relax, and their three children, ages four to 10, who seem to like splashy spa time more than anything else they do all day.
bullfrogspas.com | (801) 307-3676
---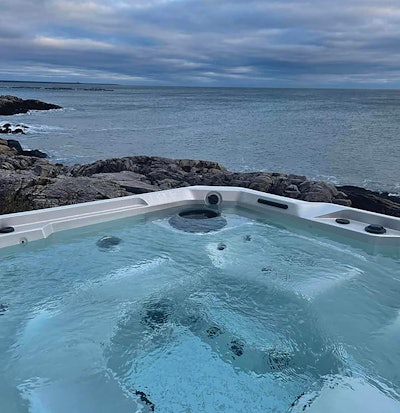 Hot Spring Spas
This Hot Spring Relay hot tub was placed in a perfect position, enabling the homeowner to blissfully enjoy the breathtaking ocean views from their very own backyard.
With room to hold up to six people at a time, this tub offers plenty of space for friends and family members alike. The array of comfortable seats, combined with the purposefully arranged jet systems, further allows users to indulge in a soothing massage from their neck all the way down to their feet, especially when relaxing in the lounge chair.
hotspring.com | (800) 999-4688
---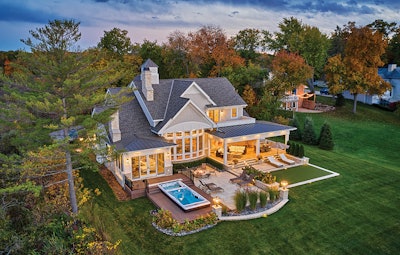 Master Spas
The H2X Trainer 19D Swim Spa by Master Spas is the centerpiece of a stunning outdoor living space that has seamlessly integrated the spa into its design. The swim spa features a generous swim area and a separate hot tub, making it perfect for relaxation and exercise. This design includes a custom deck with a multi-level patio, putting green, and raised covered porch that transition gracefully into an outdoor living space. The overall design plays with elevation using retaining walls, raised and ground-level planting beds, and stone pillars that tie everything together. The result is a beautifully integrated space.
The Master Spas H2X Trainer 19D Swim Spa can be enjoyed year-round, and its size makes it suitable for virtually any outdoor living space. The design of this swim spa is both elegant and functional, allowing homeowners to enjoy the benefits of a swim area and a separate hot tub all in one. The swim area can be set to a personalized comfort zone in the 80s and features a high-performance swim current with an adjustable speed. On the other hand, the hot tub side can be adjusted to a temperature of up to 104 degrees Fahrenheit, providing users with a full-body experience of aquatic exercise and hydrotherapy. With 31 jets and ergonomic seating, the hot tub side is specifically designed to rejuvenate the mind, body and spirit, offering a remarkable solution for relieving tension, aches and the stresses of the day.
---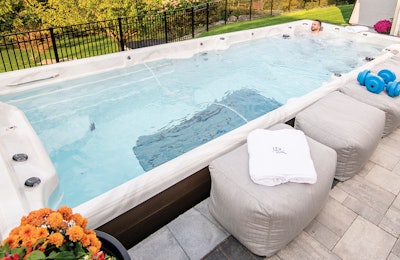 PDC Spas
The PDC Spas Swim Spa collection requires a quick and simple installation, with proper planning of only a level, concrete surface combined with a dedicated, electrical connection.
Proudly made in the United States, the company, which says it has consecutively been voted "Swim Spa of the Year," offers 19 unique swim and fitness spa designs. With a 35-year warranty, energy-saving innovation and patented propulsion TruSwim technology, it's no doubt that PDC Spas is a great swim spa choice.
PDC Spas' collection of swim and fitness spas are the pinnacle of performance and style, providing improved wellness and a better quality of life while at home. With a PDC Spas swim or fitness spa, anyone can achieve their personal health and exercise goals with the added resistance of the TruSwim dual propulsion hydraulic, superior jetted swim or fitness currents. The spa has a variety of lengths, current styles and exercise features, making it customizable to fit both the customer and their home. Simply swim, run, walk or perform a favorite aquatic exercise whenever's convenient, and ultimately, enjoy an improved life.
pdcspas.com | (800) 451-1420
---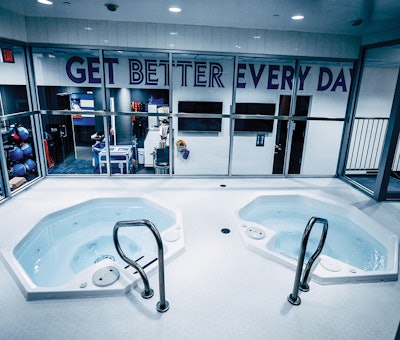 PPL Group
This installation of two HydroTher Commercial Hot Tubs was conducted inside the Toronto Blue Jays clubhouse at the Rogers Center. The dual H-600 spas are operated as a hot and cold tub to compliment each other and help the athletes prepare and rehab for the 162- game major league baseball season grind.
The HydroTher H-600C model has a pre-plumbed shell with five large jets, a NSF-approved skimmer, one floor suction/drain, two side-wall suctions, two air controls, two return inlets and a water level controller. It can seat five to six people — or, in this case, athletes — at a time depending on the setting's jurisdictions.
hydrother.com | (905) 890-3111
---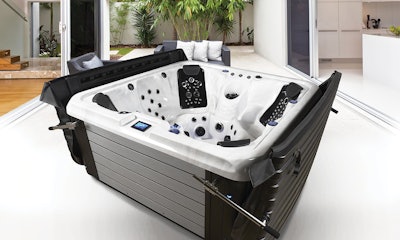 Strong Spas
"With challenges brought on by inflation, a softening economy and oversupply, retailers need a way to grab the attention of hot tub buyers," says Strong Spas. "Cookie-cutter products won't do. Customers will be drawn to dealers' showrooms that prioritize innovation, quality and curb appeal over bargain basement prices."
Enter Iconic Spas! Iconic Spas offer a modern aesthetic and industry leading innovation inside and out, and attracts the discerning buyer.
At the heart of Strong Spas' Iconic Spa series is the company's HYDROPOD individualized massage pods, offering customizable massage via deep tissue rotational jets and acupressure patterns. Centralized trunk lines significantly reduce shell perforations, resulting in a significant reduction in plumbing and leak potential.
Engineered to be superior from the ground up, an industrial-grade galvanized steel frame is integrated into the patented DURA-BASE. Impermeable and pest-resistant, DURABASE creates a thermal barrier and provides even load distribution. Only minimal site preparation is required.
Iconic Spas' crowning glory is its integrated spa cover with built-in cover lift technology. "This is not your ordinary spa cover," the company says. "We went bigger and so much better." Customers can choose among patented soft-cover styles with built-in OEM lift-assist mechanisms, as well as the DURA-SHIELD HardCover. Unpleasant spa cover experiences and high-energy usage need no longer be deterrents to making a spa purchase. Fade-resistant, high-performance outdoor fabric offers a modern aesthetic and lasting protection.
From its innovations in plumbing to quality-of-life upgrades, Iconic Spas commands attention both on the showroom floor and in a customer's home.
strongspas.com | (800) 787-6649
---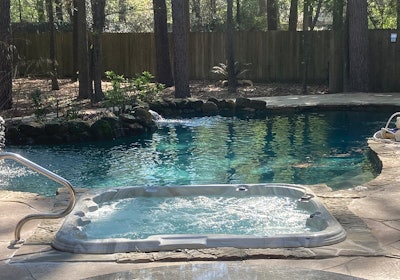 Sunbelt Hot Tubs
The gigantic LS950 by Sunbelt Hot Tubs has a unique size (95-by-95-by-48) and is an impressive addition to this home backyard oasis, elevating the pool area and transforming it into a haven of relaxation and luxury. This portable spa was made as an exclusive inground project with 45 powerful jets.
The choice combines an elegant, large-size inground with a distinctive design that seamlessly integrates easily with the surroundings, providing both aesthetics and functionality. Beyond its spacious seating for up to eight people, this exceptional spa also boasts special features like the Foot Dome and invigorating Neck Jets, ensuring a truly immersive and rejuvenating experience.
With breathtaking natural beauty and natural light, this refuge becomes a sanctuary for family and friends to unwind on weekends and provides a daily escape for revitalizing hydrotherapy sessions with pure bliss.
sunbelthottubs.com | (281) 575-9814
---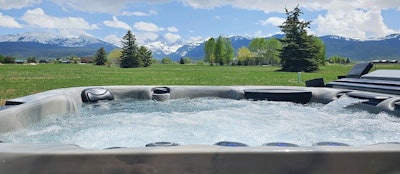 Superior Wellness
The Platinum Spas Palma hot tub captures the essence of relaxation. This client was adding a new spa to their newly purchased home, which has a stunning view of the Idaho side of the Grand Tetons.
The Palma was designed and sculpted with the human body in mind for maximum comfort and improved well-being with Superior Aristech Acrylic. With one lounger and five seats, the Palma is perfect for up to six people to enjoy at a time, and with the company's LED lighting and integrated Bluetooth system, it makes the perfect party setting, too.
All of Superior Wellness' hot tubs now come with the Platinum Premium Shield, as well as five different types of insulation through the Superior Heatlock Insulation Process (SHIP), which includes: reflective foil wrap on the base; thick, foil-coated insulation panels fitted into the cabinet; several layers of ultraefficient spray foam in the shell; and an additional 360-degree wall of reflective foil wrapped around the steel structure.
---
This article first appeared in the September 2023 issue of AQUA Magazine — the top resource for retailers, builders and service pros in the pool and spa industry. Subscriptions to the print magazine are free to all industry professionals. Click here to subscribe.