Photo courtesy Gibbons Pools
Ask Ronnie Gibbons to list the similarities between installing custom residential spas and commercial spas, and he's quick with a response. "They both have gunite in them," says the president of Gibbons Pools, a design and construction company in Islandia, N.Y., laughing. "Other than that, they're really very different."
Which is why Gibbons Pools, a third-generation family operation that has been in business for almost 50 years, has always installed both.
"From the beginning, we've been doing a mix of residential and commercial work," Gibbons says. "Commercial projects are definitely worth doing, especially the larger ones. And there is plenty of commercial work out there. They're also good fill-ins, because they're easier for us compared to residential jobs."
Indeed, from apartment complexes and housing developments to hotel chains and athletic clubs, commercial work is out there for builders and installers willing to take it on. Gibbons estimates about half of the commercial pool projects his company does also include a spa. One expansive new project on Staten Island is expected to bring in $2.8 million for the company, he says, while another one is a grant-based government job in the Bronx.
Regardless of whether you focus on residential spa installations or have branched out into the commercial world, the desired outcome remains the same: Satisfied customers that result in repeat business and priceless word of mouth.
AQUA asked two installers for their tips regarding custom residential spa projects (Anthony Penna, owner of AMP Pools and Spas LLC in New Fairfield, Conn.) and commercial spa projects (Gibbons). Here is what they had to say.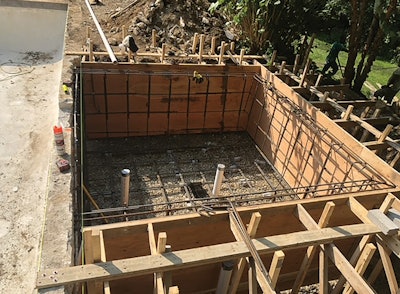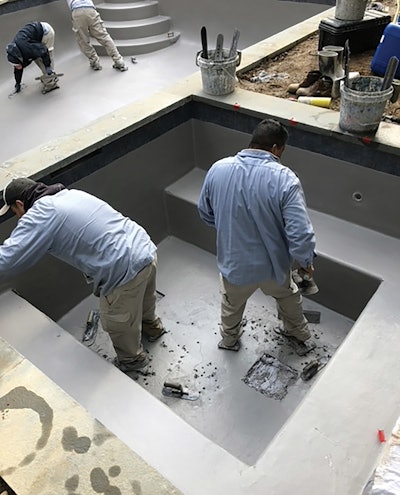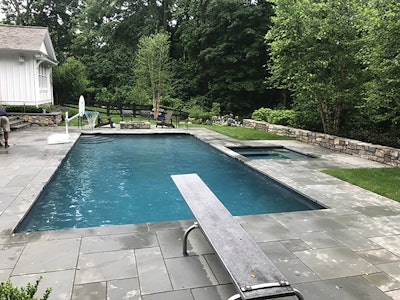 Residential Installations
The process of creating a custom spa for a residential client begins with Penna asking questions as if he were a news reporter: Why do you want a spa? How are you going to use it?
"Some people want every bell and whistle," says Penna, whose company installs Diamond Spas and focuses on pool and spa installations and renovations. "They want the stereo system, they want stonework and fountains, all this stuff. And others, even though they may have the money for bells and whistles, don't want them. Some people just want to use hot tubs for therapy. So the main thing I do is talk to the person, see what they're looking for and go from there." Penna shares his portfolio of work with the client, going over a variety of design options and price points. "I like to educate the customer, and then put the ball in their court," he says.
Once the ball is in the client's court, it's up to Penna to keep it from going out of bounds. He'll make design recommendations based on physical surroundings and budget. He recalls one client who envisioned a negative-edge hot tub looking over the home's hilly backyard landscape, but when Penna informed the homeowner the price tag would increase by about $50,000, the client changed his vision.
Typically, Penna will provide samples of three or four different types of stone based on the client's backyard color palette (both natural and otherwise, including existing patios and decks, plus home color, planters and other accessories). He then will make recommendations for coping and stonework that would blend in well with the surroundings. "A lot of times, customers don't know all of the design options they have, and I'm going to tell them what I think will look good," Penna says.
He also looks for the best location on the property to install the spa — where equipment can be hidden, noise levels can be contained and electrical lines or propane lines can be run safely and economically. Additionally, he recommends remaining mindful of the third parties that also might be doing work on a given project and ensuring they have the access they need to work efficiently, as well. While AMP Pools and Spas typically does all of the plumbing work, Penna says he does subcontract for other tasks such as shooting spa shells, installing the patio and placement of tile.
Sometimes, projects hit delays, like the time Penna and his crew encountered barriers while hand-digging a hole for the hot tub. "We were hitting boulders like you wouldn't believe," he recalls. "Boulder after boulder after boulder. It turned out I had to go rent an excavator, which delayed the job for about a week. We had to dig down about 12 or 15 feet."
It also added about another $4,000 to the overall cost, which — considering the project already was in the high five figures — wasn't a sticking point with the homeowners in question. Penna says they were "really nice people" who, in the end, "were happy that everything was working, and the job was done."
Penna's bachelor's degree in small business management nevertheless comes in handy when unexpected challenges arise on a spa (or pool) project. "I took a lot of courses about managing people, organizational behavior and psychology," he says. "So I know I have to be calm when things happen, put myself in the customer's situation and treat others the way I would want to be treated. I try to assure them that I'm going to get the job done for them — and done right. I speak to them with assurance and confidence, and I treat each project as if it were mine, as if my kids were going to be in that spa."
When the time comes to wrap up a job, Penna doesn't view it as the end of the relationship between installer and homeowner. He hopes to be the maintenance and service professional that customers will rely on for years to come. But upon immediate completion of a job, Penna goes through an operations checklist to make sure the homeowner is comfortable with how the spa works and asks if the client has any questions for him.
"Then we start the weekly service plan," he says.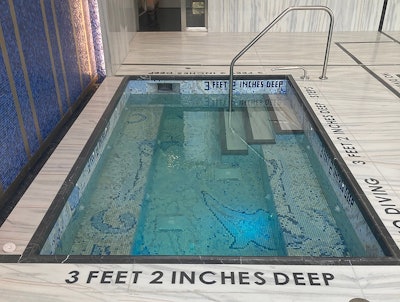 Commercial Installations
As noted previously, commercial spas can be found in such places as hotels, fitness centers and various multifamily housing developments that serve residents of diverse income levels. Many are simple projects that can be completed quickly — but with caveats (more on that later). Others, however, can involve high-end investors that allow for greater creativity. As examples, Gibbons points to commercial projects that his company has installed at luxury buildings in New York City featuring stainless steel and decorative interiors.
That said, customization usually is minimal, according to Gibbons. Usually, basic commercial spas seat eight to 12 people, with one jet per person. Compare that to the 40 to 60 jets on some residential projects, and it's clear that commercial spa installations require a different mindset.
"Typically, we are provided with plans, because the architects planning the developments have already designed the pools and spas as placeholders in the building," Gibbons says. "Then we come in and do the engineering and structural planning, lay out the plumbing and all those things. We get the architect's plans, and we turn them into board of health-approved projects. I'll tell you this, though: You'll never meet with the owner on a commercial project, because they leave everything to the architects, job supervisors or project managers."
That's just one major difference between residential and commercial work. Gibbons recommends installers dipping their toes into commercial waters be "very cognizant" of insurance requirements for each project. Developers often require higher minimum policies, he adds — say, $5 million for commercial work instead of $2 million for residential. That increased coverage could be cost-prohibitive for some residential installers, depending on the commercial project.
Another significant contrast involves the billing process, which usually is based on a system developed by the American Institute of Architects that has become the standard way in which contractors submit paperwork to architects.
"Some of these jobs are 120 or 180 days on payment, with retainage," Gibbons says. "Retainage means they hold 10% of every payment until the final job is completed and signed off. Our residential jobs are paid by phase the next day. So with commercial work, you're laying out a lot of money, and then you're waiting for money. You've got to make sure you're prepared to do that. For us, the residential payments come in quicker and cover our overhead."
One last thing: Residential pool and spa builders interested in commercial spa work should expect to start small — which likely means cookie-cutter rectangles and squares at hotel chains and apartments complexes. "You have to have commercial jobs under your belt in order to do the bigger jobs," Gibbons says. "You have to start somewhere. Then you work up."