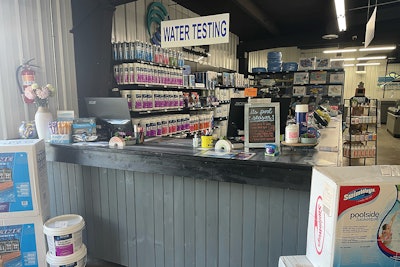 Photo courtesy Southern Pools & Spa
A Pool and Spa Retailer's water testing station should be treated as more than just a service because it represents a critical weapon in the ongoing battle to attract and retain more customers.
As such, dealers should be actively promoting their water testing stations and taking steps to make their stations more visible to customers upon entering their showrooms — instead of, perhaps, tucking them away in an inconspicuous corner of the store.
We asked three different water testing retailers — Kathi Belcourt with Aqua- Tech Pool, Spa & Bath; Josh Arnold with Southern Pools & Spas; and Tracy Bond with Great Valley Pool Service — for advice and examples on how they effectively incorporate their stations into their stores.
Here, we reveal the five strategies they all commented on that will make your retail water testing station stand out — helping to capitalize on said retail weapon and win over new and existing customers alike.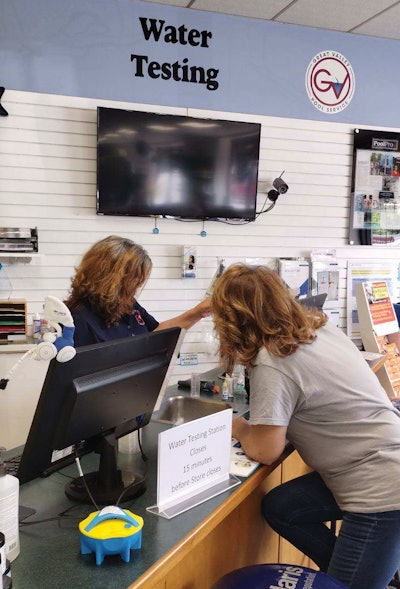 NO. 1: SIGNAGE
Having clear signage — both inside and outside of the store — that directs customers to the water testing station, as well as explains to them how the station works, is crucial for an efficient ebb and flow of consistent, customer traffic.
"To draw customers to our water testing station, we have water testing signs hanging above the testing computers," says Arnold. "We also have a chalkboard behind the counter with any savings or deals happening that week."
Outside of direct, water testing signage, it is also important to draw the customer's attention with other types and forms of company announcements.
"We like to display our many company awards and accolades on the walls and shelves near the testing station so customers can view and read them, hopefully promoting trust," says Bond. "We've also installed a television monitor on the wall behind the test station that serves as a sort of electronic bulletin board. We display product videos and photos to help increase our sales. And lastly, we promote our special events, such as pool school sessions, sales, store hours and other miscellaneous information on the monitor."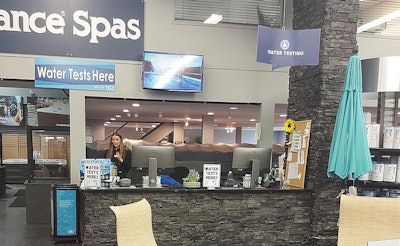 NO. 2: LOCATION
Water testing centers can be placed in a number of different locations within a showroom — whether front and center, in the back, or even middle — so long as it makes sense within your store layout, stands out to your customers and brings your business the most sales.
"We actually just moved our water lab back to where it was 10 years ago," says Belcourt. "Our recently changed strategy was to have the lab closer to the entrance for max attention and focus; however, I began to wonder if we were losing the opportunity to sell more of our other offerings since water testing customers were no longer required to walk through the entire store.
"We did a heat map, and my gut guess was right. A whopping majority of customers — 76% to be exact— just came in, got their water test and chemicals, and then left. These customers weren't exploring our store, and therefore, they weren't interested in buying all our other offerings, so we moved the lab back to the far side of our showroom."
Similarly to Aqua-Tech, Great Valley has chosen to place their water testing station at the back of their store, albeit, for different reasons.
"We like to create a feeling of openness and organization in our store, which is why we use wide aisles for easy browsing and fluidity between customers," says Bond. "The rows are angled to focus on our computerized water testing station and our pool equipment floor display. Both are located at the end of our aisles in the back, rather than up front, so that our customers are encouraged to walk through the aisles, looking at products along the way."
A different approach could be simply combining your water testing station with your checkout counter, too. "Our water testing station is in the middle of our store with the checkout computers," says Arnold. "We have done this to ensure an easy, streamlined process. It also helps get customers who might not know we offer water testing to see the quick and easy process we could provide to them."
NO. 3: PERIPHERAL ITEMS
From practical to fun, placing products around and on your water testing station is a great way to give your customers something to look at or, better yet, something to buy while they wait for their test to be completed.
"We have hot tub filters close to the water testing station to remind customers that a filter every two to three water tests is always a good purchase," says Belcourt. "We really try to keep the items that people know they need away from the water lab and keep the 'inspirational items' close by."
Southern Pools stocks similar items to the ones aforementioned, but they also include products that were simply chosen for customer entertainment purposes and nothing more.
"We stock anything that is needed for a spa behind our water testing system," says Arnold. "For example, we have chemicals, filters, cleaners, spa salt, tray tables and testing strips, as well as a majority of pool balancing chemicals.
This helps us keep the customer's visit to our store quick and easy; we strive to be efficient with whatever time our customers grant us with because we know it's invaluable. We also decorate our counter with some fun items like fish bowls that have little, blow-up toys in them."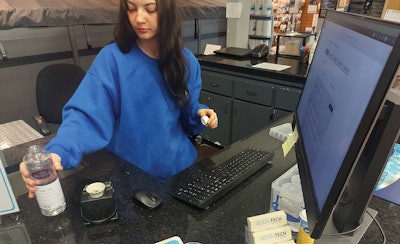 NO. 4: MARKETING
Advertising, whether it be organically or inorganically, is vital in order to make people aware of your water testing services. "We market our water testing on platforms like Facebook and Instagram, as well as some print advertising and radio ads," says Belcourt. "With all the new bodies of water out there that we didn't sell, we really want to get those customers in to meet us and see what we are all about."
Outside of raising awareness, marketing can also act as a tool to streamline the customer's water testing process, by way of appointment.
"We promote our water testing services on our website and in our email blasts to our customers," says Bond. "Customers are able to book an appointment in a 15-minute slot on our website, so they can skip the line in store. Our website also offers a virtual water treatment assistant that helps solve customers' various water treatment problems."
NO. 5: DIFFERENTIATION
From convenience to no cost, differentiating your water testing station or process is another great way to stand out amongst the competition.
"We actually offer outside water test drop offs, and I don't think we will ever stop doing that," says Belcourt. "It offers a great way for customers to get a super accurate in-store water test at their speed. They can drop it off when taking their kids to soccer in the evening, or early in the morning on their way to work — or even during the day when the store is open, but they are in no rush for the results."
Another great way to provide fast, easy service is to go mobile. "Because it can get very busy in the summer, we also provide our staff with the ability to check customers' previous water test results and access our inventory on their mobile devices," says Bond. "The ability to check water test results, customer equipment information and product inventory from anywhere in the store really keeps the feelings of openness and organization, while also making our customer shopping experience a positive one."
Besides convenience, customers also love to be given free services, and your hopes should be that, in return, they will pay for your other products and service offerings.
"We offer water testing as a way to build rapport with our customers," says Arnold. "This is a free service we provide to ensure we help support our customers even after their purchase. This has given the customer a name and face to feel comfortable with, while simultaneously getting real-time, exceptional customer service."
Overall, these examples and advice gleaned from exceptional pool and spa retailers will help to make your water testing stations pop and, ultimately, attract and retain more retail customers. Happy water testing!
This article first appeared in the July 2023 issue of AQUA Magazine — the top resource for retailers, builders and service pros in the pool and spa industry. Subscriptions to the print magazine are free to all industry professionals. Click here to subscribe.