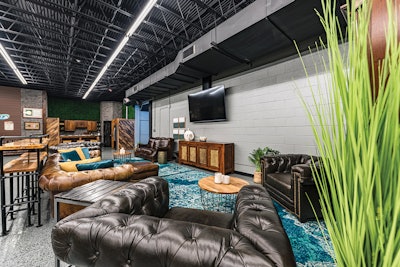 All photos courtesy Asheville Pictures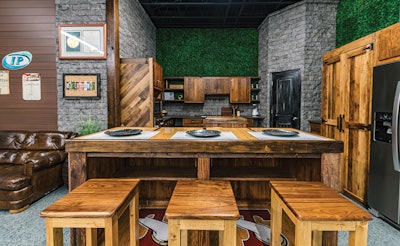 When Isaac Pools & Spas (Johnson City, Tenn.) opened a new operations facility in 2021, Owner David Isaacs — who believes employees are at the heart of any business — was faced with a unique opportunity.
Below his new, innovative showroom sat 3,000 square feet of vacant space. What was he to do with it?
"I was just going to leave it as a warehouse space," says Isaacs, "but after being inspired by a few other amazing companies in our industry, I decided to convert the space into an employee recreation center."
Isaacs' decision was largely influenced by the growing need to retain employees within the company, which has always been a concern for his business, but was made even more urgent by the pandemic, he says.
"Replacing an employee is substantially more expensive than taking additional measures to keep current employees. The COVID environment added numerous challenges to the workforce that we, as a company, have never experienced: people who were afraid to come to work, people who had enough benefits that they could just choose not to be in the workforce, national and international competition with the "work-from-home" model, and competition from other local businesses who, because of high demand for products and a shrinking workforce, were willing to pay higher- than-average wages. We certainly made adjustments to pay, but I believe employees are looking for a better experience — a better cultural fit — and the employee rec center helps us to achieve that."
Thus, a nine-month renovation ensued. "We started by gutting all of the walls and ceilings, leaving a bare concrete floor, walls and bar joists above," says Isaacs. "We applied some paint, epoxied the floor — and we were off to the races."
First came the hot tub and gym. The exercise portion of the rec center especially appeals to the company's millennial and Gen Z workforce, which was not exactly intentional. "I really created the space for people across every spectrum, but I will say they've been utilizing the gym the most," says Isaacs.
"We continued by adding a pool table, foosball table [employees can win everything from gift cards to extra paid days off ], lounge area — complete with leather chairs and couches and a flat-screen television — and a fully operational kitchen."
Now, not only does the space allow staff to unwind and partake in some selfcare, it plays host to both business and personal events, led by staff and/or Isaacs.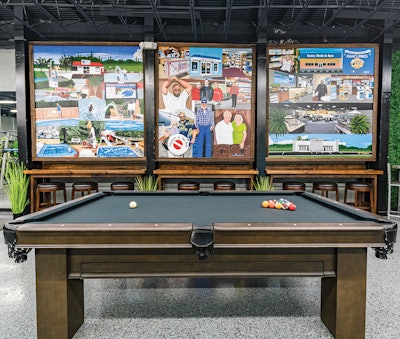 UNIQUE PIECES
Isaacs was able to decorate the space with some exclusive items made by local schools for a program called "Battle of the Build" — a competition he created six years ago through the Johnson City area's Home Builders Association, where groups of students from surrounding schools are given a $500 stipend towards materials and are asked to build something, really anything, unique.
The competition has grown from five participating schools to 10 and, after gaining national recognition, the chairman of the National Association of Home Builders even flies down each year to sit on the panel of judges.
"So because I wrote the rubric and helped to get that program on its feet, I have early access to the student's creations," says Isaacs. "The program serves as a fundraiser for the schools, so that's how I purchased some of the coolest pieces for the rec center."
His crown jewel is a 1956 Ford truck bed pond made by Carter County Schools, located in the foyer of the facility. He has also acquired a "cool, concrete table, a multi-colored wood podium, a dartboard, a kind of mancave-bar, and a very neat kitchen island, which was built using the basketball floor from an old gym" — all handcrafted by Tennessee students.
The focal point of the facility is the magnum opus, three amazing 8-feet-by-8-feet murals hand painted by artist Frank Fitsimmons. A friend of the Isaacs family, Fitsimmons actually worked for the company on and off during the 80's.
"I was elated when he said he would bring my idea — to tell the story of our 45-year journey in the pool and spa business — to life," says Isaacs, who also owns Bullfrog Spas of Tri-Cities. "I worked for about six months finding as many family pictures as I could, getting them organized in chronological order, and building the hanging walls onto which Frank would paint."
Fitsimmons used acrylic paints and painted on sheetrock for six months, bringing the project's grand total of time to just under one year. Isaacs framed them with wormy chestnut wood, and hung them from the bar joists.
"The first mural shows pictures of my father, mother and grandfather back when we were building concrete fiberglass pools and had a small showroom in our hometown of Elizabethton. Those pictures range from 1978 up until the early 1990s. The second mural shows my grandmother, brothers, grandfather, father and mother during the years of the early 1990s up until around 2011. And the third shows my mother and me in our new location from 2011 up to the present.
"My favorite painting is the first one — my favorite part being in the top left corner. My father never liked to pose for pictures, but for some reason, he posed for a homeowner in the late 70's while he was pouring concrete, and I got my hands on that polaroid picture. The picture represents everything that makes our company what it is today. It is a constant reminder that hard work, integrity and honesty matters."
That same photo was also used to create a life-sized, 6-foot-4-inches neon sign, a perfect outline of Isaacs' father, that greets staff as they walk in.
"I found a neon sign artist, Charlie Wiley, and pitched the idea to him," says Isaacs. "About two months later, we installed the sign in the foyer and lit it for the first time. I was totally unprepared for what happened next; we all stopped what we were doing, the room went silent, and we just stared at the sign. I don't know if we were stunned by the beautiful colors of the neon or if it hit us, in that moment, what that sign represented. It was both overwhelming and inspirational."
The name, Isaacs Underground, also has meaning — not only because the facility is mostly underground, but because Isaacs' father made his name building underground, or inground, swimming pools, "so it's entirely appropriate and sufficient," he says.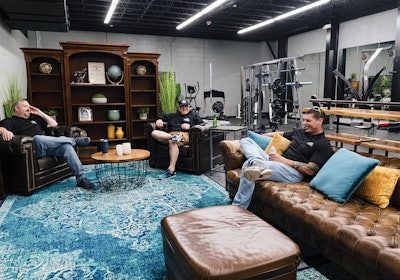 IMPORTANCE OF LEGAL
Of course, more went into the facility than just its design, as Isaacs had to think a great deal about the legality of it all, too. There were important considerations — such as monitoring who comes in and out, maintenance of equipment and furniture, employee safety and more.
"I started thinking, 'Oh, my goodness. I'm just basically opening the door to this facility. I don't know who is going to be here, who the staff might bring with them, what kind of party they may have.' I needed to think about this further."
Isaacs started by installing a key card system that he controls, so when a staff member opens the door with their card, he knows immediately who is coming in and out. "We equipped the facility with cameras to make sure that if any event happened, I could go back and look through it. I also wanted staff to be able to bring friends and family over [for example, one employee actually hosted his family Christmas party there last year, and others utilize the hot tub while their kids do homework in the lounge area], so I needed a standard set of rules to make that happen."
He ultimately worked with an attorney to create a release of liability and general agreement — writing down each rule he wanted — and held an employee meeting where the company went through everything, the employees signed the agreement, and received key cards to access the rec center and parking lot. There have been no problems.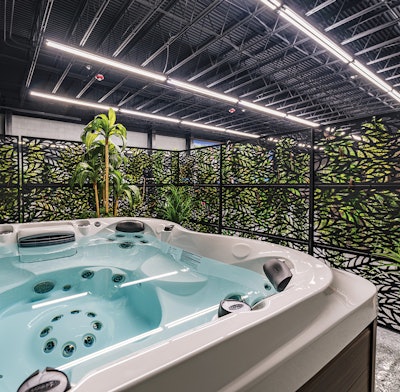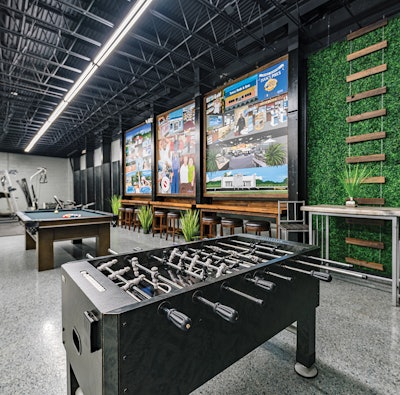 THE GRAND OPENING
Isaacs Pools & Spas, alongside Bullfrog Spas of Tri-Cities, held a launch event on November 10, 2022 where around 70 people — including the artists, close family members, friends and employees — gathered to celebrate the grand opening of the rec center, which was dedicated to Isaacs' father.
"I covered the murals with three king-sized bed sheets," says Isaacs. "And we unveiled them in front of the artist, who took questions about the work."
Improvements are still being made to the facility, and new art will appear as Isaacs acquires more items from Battle of the Build. "I'll eventually donate the stuff I can't fit anymore," he says, "and always strive to have unique pieces."
Between the student projects, the grand murals, and the comradery that is created by spending time with peers, Isaacs hopes the facility will serve as a reminder to his employees that they are a part of something bigger.
"The rec center is special to me because not only does it tell my family story, it contains pieces from all over the community, and reflects that larger picture. I hope it reminds my employees that, after 45 years, the business is more than what they see day to day."
This article first appeared in the June 2023 issue of AQUA Magazine — the top resource for retailers, builders and service pros in the pool and spa industry. Subscriptions to the print magazine are free to all industry professionals. Click here to subscribe.