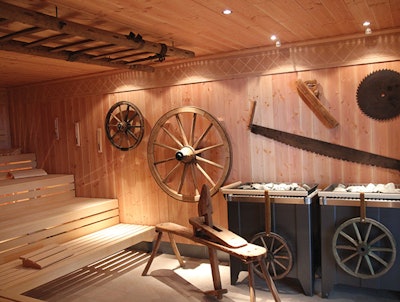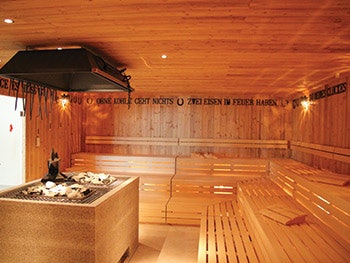 We've covered a lot of saunas on the waterfront. We've shown you floating saunas, burger saunas, surfer saunas, Polar saunas and solar saunas. And now for something completely different: cultural saunas that immerse the user in both heat and local history.
In the picturesque little town of Weißenstadt on the edge of the Fichtel mountains in the region of Franconia, not far from Nuremburg, Germany, a wellness resort opened recently with a mission to "harmoniously combine the history of spa culture and the traditions of the region with timeless modern architecture and energy-efficient technology."
The new center of health and wellness is called Siebenquell GesundZeitResort (bless you), and together with its adjoining 4-star hotel, it provides guests with something called "GesundZeitReise" — which translates roughly to "health time journey."
RELATED: This Burger King Has an Unexpected Amenity
Indeed, according to the resort's website, visitors can span the epoch from 1250 B.C. to the modern age immersed in the timeless therapies and working traditions of different eras.
For example, the blacksmith's sauna (top, right) – an homage to the heyday of nail forgery in Weißenstadt – features an anvil and historic forging tools, while in the wood workshop sauna (top, left), historic wooden wheels and blocks as well as saw blades give guests a lasting impression of this particular craft.
And there are other historical/cultural saunas. There is the beer sauna (can't really have a cultural exhibit in southern Germany without beer) and a miners' sauna, which allows guests to take an imaginary journey back to the 16th to 18th century, when residents of Weißenstadt dug for rock crystal in mines deep underground.
We think the idea could catch on, and one day we'll see resorts equipped with cultural saunas to celebrate the histories of places like Williamsburg and Tombstone.