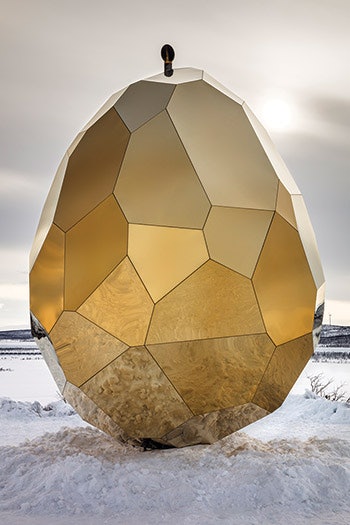 Last year, Swedish architectural firm Bigert & Bergstrom unveiled the "Solar Egg," a gold-plated 16-foot-tall wood-and-steel sauna designed for up to eight people. The wood-burning sauna was part of a community redevelopment project led by Swedish developer Riksbyggen in the nation's northernmost city of Kiruna. Equal parts sauna and environmental artwork, the Solar Egg's exterior — made from a special stainless gold-mirror alloy — reflects the surrounding environment while making a distinct visual statement in the Nordic landscape.
Inside, the sauna features a cast-iron sauna stove and a beautifully crafted wooden interior made of pine with cedar benches. When not in use, the sauna can be broken down into 69 sections and transported to different locations. Since its creation, the Solar Egg has been assembled in a variety of different places and has garnered widespread attention.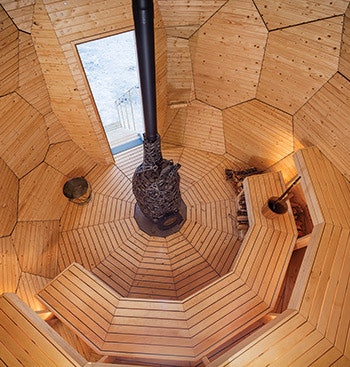 RELATED: The Sauna at the South Pole
The city of Kiruna, an iron-ore mining town, is undergoing a complete transformation that essentially involves moving the entire town to a more-iron-rich area. The project has had dramatic impact not only on the town but also on the surrounding landscape. The Solar Egg was designed as a "social sculpture" where local residents and visitors can meet and discuss these challenges while also celebrating the region's cultural attachment to the sauna experience.
According to the architects, the egg breaks up the surrounding into different mirror images: "Landscape, mine, town, sky, sun and snow are here combined into a fragmented image that can evoke associations with the complexity spanned by today's discussion about climate and sustainable community development."